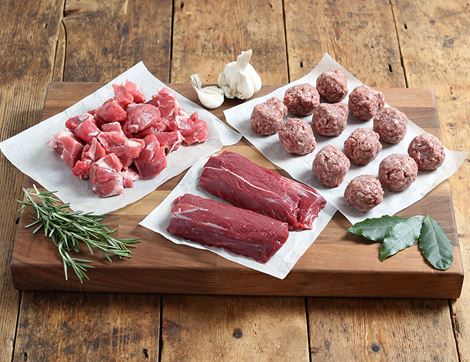 Every organic or sustainably wild cut comes from British farms, with plenty of
pasture for their animals and a healthy lifestyle for them to enjoy. You'll truly taste the difference when it comes to your meaty mealtime.

These cuts of meat will be packed alongside your other chilled produce. On occasion we may be left short of certain cuts of meat. If that ever happens, we'll be sure to pop something similar into your box. Our photos don't show the actual quantities or contents
Monday 27th September
Monday 4th October
Beef Mince, Organic, Eversfield Organic (400g)
This is organic mince made from prime cuts of organic meat. It's the ultimate mince, in other words. It'll help make your burgers, spaghettis, lasagnes, and cottage pies absolutely phenomenal.

Contains 5-10% fat.
Country of Origin - England
Chicken Leg, Diced, Organic (400g avg)
Organic G-free Pork Sausages (400g min, pack of 6)
Beef Meatballs, Organic (336g)
Diced Lamb, Organic, Daylesford (300g)
Wild Venison Minute Steaks (250g min)
These venison steaks, from Chris Chappel and Stephen Crouch's stunning Hampshire woodland, are perfect for barbecue season as they are nice and thin cut. They cook really well if flash fried in a hot pan as well. Dinner in a flash! Beautiful!
Allergen information: Abel & Cole handles celery, celeriac and nuts on site. Due to our packing process and re-use of boxes there is a risk of cross-contamination from these, and all other allergens.
On occasion we may be left short of certain meat and fish. If that ever happens, we'll be sure to pop something similar into your box.
You might also like to try...