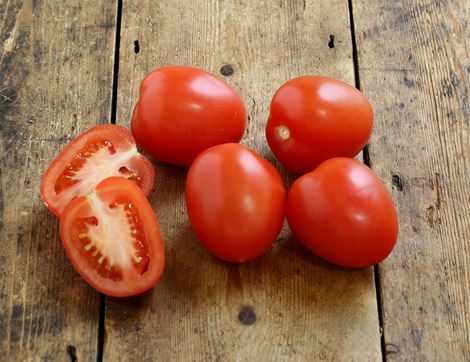 Plum Tomatoes, Organic (500g)
Serve up the perfect, seasonal salad with our organic Plum Tomatoes. Often used in Italian-inspired dishes, plum tomatoes have a distinctive egg-shape and are packed full of delicious, juicy flavour. Ours are perfect for creating your own, all-natural tomato sauces and pastes. Or why not try them sliced and served in a salad – simply drizzle them with a little olive oil and sprinkle with a touch of salt to dial up the flavour even further.

Country of Origin - Spain
The Gimenez brothers grow these plum tomatoes in the Almeria region of southern Spain. The warm sunny climate, good soil and lack of frost provide the perfect conditions for what we call the ratatouille vegetables - peppers, tomatoes, aubergines and courgettes.
Remember to wash all fruits & veggies before eating.
You might also like to try...