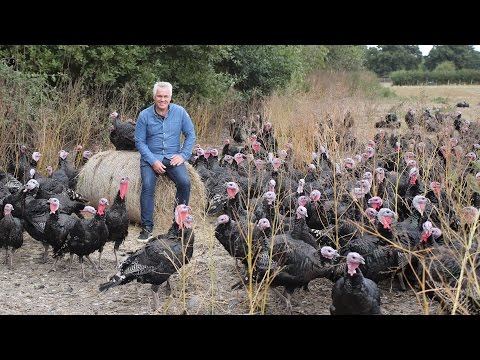 Turkey Crown, Organic KellyBronze®, Small (2-3kg avg)
Order now for deliveries from 20th December
Our organic, free range KellyBronze® turkeys are treated like royalty (they've been called the Rolls Royce of turkeys). They're slow-grown and given time to mature on Paul Kelly's beautiful farm – giving the turkeys a natural layer of fat for extra moistness – where they romp around open countryside gobbling and foraging. They're then dry plucked by hand and hung for two weeks, which gives the meat an amazing texture. If you're entertaining a slightly smaller group of merrymakers and want to have your Christmas dinner cooked quicker than a whole turkey, this turkey crown is perfect. You'll still get all of that beautiful succulence and juiciness that you've come to love from your roast turkey.


Cook the perfect Christmas roast for up to 8 people with this lovely bird, based on 500g per person.
Our top turkey farmer is Paul Kelly, who rules his roost on his farm in Essex. Things began back in the 1970s for the family Kelly, with white turkeys, but wanting to differentiate themselves from the pack they soon switched their attention to bronze turkeys, the original and more traditional variety. Ever since, Paul has been raising bronze turkeys in line with the highest standards of welfare and it truly shows in the excellent flavour.




Keep refrigerated. Suitable for freezing. Remove all packagings. All appliances vary, the following are guidelines only. For fan assisted ovens reduce ovens reduce temperature according to manufacturer's handbook. IMPORTANT: if turkey juices do not run clear when the deepest part of the turkey is pierced with a sharp knife, continue cooking until they do run clear. If using stuffing, stuff only the neck end and include the weight of the stuffing with the weight of the turkey to calculate cooking time. Preheat the oven to 190ºC/375ºF/Gas Mark 5. Place in a roasting tin breast side down, brush with a little melted butter or oil and cover loosely with foil. Cook for 15 minutes per 500g plus an additional 25 minutes. For a more golden, crisp skin remove foil 20-30 minutes before the end of cooking. Once cooked allow to stand for 10 minutes before carving.
You might also like to try...
(£1.88 per 100g)

Shortlisted for the BOOM Awards 2017