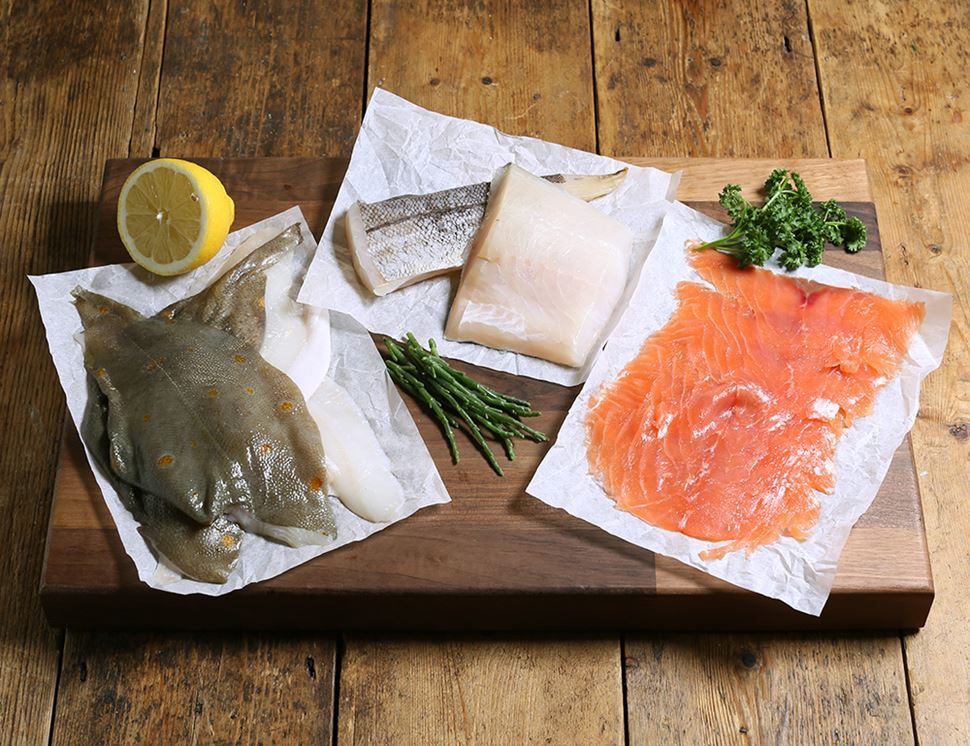 This box of 3 sustainably sourced fish changes weekly. You'll get one ready to eat fish, one to cook and one to freeze for later in the week, each feeding 2 people. A friend to your veg box, plus you'll save a bob getting fish this fantastic way.

All of the fish in the box is sustainably sourced and rated 1-3 in the Marine Conservation Society's good fish guide, which means the fish stocks are in good health and that the fisheries use sustainable, environmentally aware methods to catch and land their stock.

To make sure you get the best, most sustainably sourced fish, we may have to send you a different fish to the ones listed. For some weeks the selection may include shellfish, including crab (crustaceans).
Monday 6th July
Monday 13th July
Haddock fillets (260g min)
Haddock is a white fish, ideal for battering and frying, but equally delicious roasted or steamed.
Plaice fillets, Celtic Coast (320g min)
Plaice is delicious grilled, with a little lemon juice. It comes filleted with the light skin on, to hold it together during cooking.
Our plaice is demersal otter trawled, and comes from Cornwall/Devon. It has an MCS rating of 2. Caution: Although every care has been taken to remove bones, some may remain.
Smoked Mackerel Fillets, Severn & Wye Smokery, Pack of 2 (160g)
These two smoked mackerel fillets are traditionally smoked over oak fires to give them an incredible oaky and creamy flavour. Ready to eat straight away, they give a lift to any fresh veg box or salad.
Coley Fillets, Celtic Coast, pack of 2 (260g)
The new cod on the block, our sustainably sourced Coley is a delicious alternative, saving you a few quid too. Thanks to the coley's decades-long image problem (totally undeserved) stocks have thrived, making it one of the safest options for anyone worried about over-fished species such as Atlantic cod or halibut. Our coley is Demersal Otter trawled, and comes from Iceland or West of Scotland. It has an MCS rating of 1/2. Caution: Although every care has been taken to remove bones, some may remain.
FSH07 - Handpicked 50/50 Cornish Crab, Seafood & Eat It (100g)
A marvellous mix of white and brown crab to evoke the classic taste of the British seaside. Handpicked in Cornwall, arguably the most seaside-y part of Britain.
Lemon sole fillets (320g min)
Our lemon sole fillets come by way of Celtic Coast Fish Company, who source fish with sustainability and freshness in mind. They come with the skin left on which holds the delicate flesh together when cooked and tastes incredible when fried. A fish with a sweet taste, it's at its best when simply grilled lightly with a little lemon juice.
Our lemon sole will come from the Eastern English Channel or the North Sea and it will be Seine Net-caught. It has an MCS Rating of 2.
Allergen information: Abel & Cole handles celery, celeriac and nuts on site. Due to our packing process and re-use of boxes there is a risk of cross-contamination from these, and all other allergens.
You might also like to try...
8 salad & veg portions every week. (This is a set box so we can't offer any replacements to the planned contents)