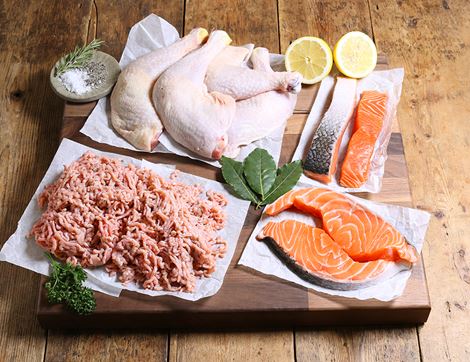 Large Fabulous Meat & Fish Box
Enjoy a weekly meat and fish box delivery with our Large Fabulous Meat & Fish Box, filled with delicious cuts to feed the whole family. Every week, you'll receive generous, double portions of free-range, organic meat and sustainably sourced, seasonal fish, perfect for feeding four.

All of our fish and seafood is responsibly sourced and independently graded 1-3 by the Marine Conservation Society (MCS). This means that the stocks the fish come from are in good health, and that the fishers use sustainable, ocean-friendly methods to catch and land their stock. Our organic meat comes from trusted farms with high welfare standards, where animals can roam freely, and are treated with care and respect.

We guarantee that you'll always have three days, including delivery day, before the expiry dates on your meat and fish, and everything is suitable for freezing. You'll even save when choosing our meat and fish subscription boxes compared to buying individual cuts, and your weekly box will be delivered sustainably to your door.

On occasion, we may be short of certain meats or fish. If that ever happens, we'll be sure to pop something similar into your box.
Monday 16th May
Monday 23rd May
2 x Beef Mince, Organic, Daylesford (400g)
2 x Cod Fillets, Celtic Coast, pack of 2 (260g min)
There's a reason cod is our most popular fish. This pair of fillets are perfect in batter, or try them pan fried, steamed, or roasted. A super easy, quick fish to cook and only needs little seasoning as it's brilliant tasting all by itself. Our cod will come from both Icelandic and Norwegian Seas, it will be caught by longline, gill net, or demersal otter trawl, and will have an MCS rating of 1/2. Caution: Although every care has been taken to remove bones, some may remain.
Chicken, Whole, with Giblets, Organic (1.7kg)
This whole chicken is ready to be popped straight into your oven. Once out, it'll be golden, juicy, and the skin will have a crispness to die for. Couple it with a lemon or two to give it some zing. It comes with giblets, so you'll be able to whip up some lovely stock too.
Country of Origin - England

Winner of a Best of Organic Market Award 2016
2 x Diced Chicken Breast, Organic (300g avg)
This diced chicken breast is as tender as it gets. All the prep's been taken care of. They're ready to be thrown in to a stir-fry or popped onto skewers to make some lovely shish kebabs.
Country of Origin - England
2 x Fish Pie Mix, Celtic Coast (340g)
In this fish pie mix you'll get a helping of white fish, smoked haddock and organic salmon. Our fish pie mix changes ever so slightly with the seasons and salmon may very occasionally be replaced with another white fish.
2 x Minute Steak, Organic, 100% Pasture Fed, The Green Butcher (300g)
Allergen information: Abel & Cole handles celery, celeriac, peanuts and nuts on site. Due to our packing process and re-use of boxes there is a risk of cross-contamination from these, and all other allergens.
On occasion we may be left short of certain meat and fish. If that ever happens, we'll be sure to pop something similar into your box.
Turn it into one of these
You might also like to try...