Plastic Pick-Up
We want to provide easy ways for you to help the planet. That's why we've introduced our game-changing Plastic Pick-Up scheme, collecting hard-to-recycle plastics from your homes. It's a part of our Packaging Promise – our commitment to help you slim your bin.
How it works
To get started, add a Plastic Pick-Up bag to your next order. Then simply…

Separate any plastic bags and wrapping from your items. These can be from any retailer.

Rinse them to remove any food residue, then dry them off to help prepare them for recycling.

Put the rinsed, dry packaging into your Abel & Cole Plastic Pick-Up bag and seal it.
When your bag is full and sealed up, put it out with your boxes for your driver to collect.
What to put in your bag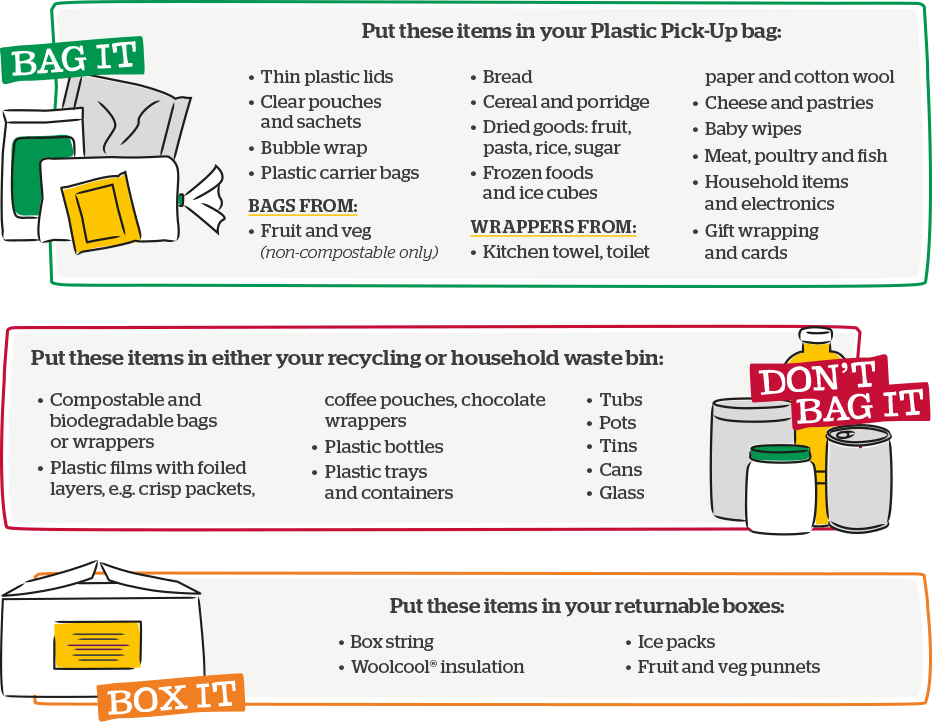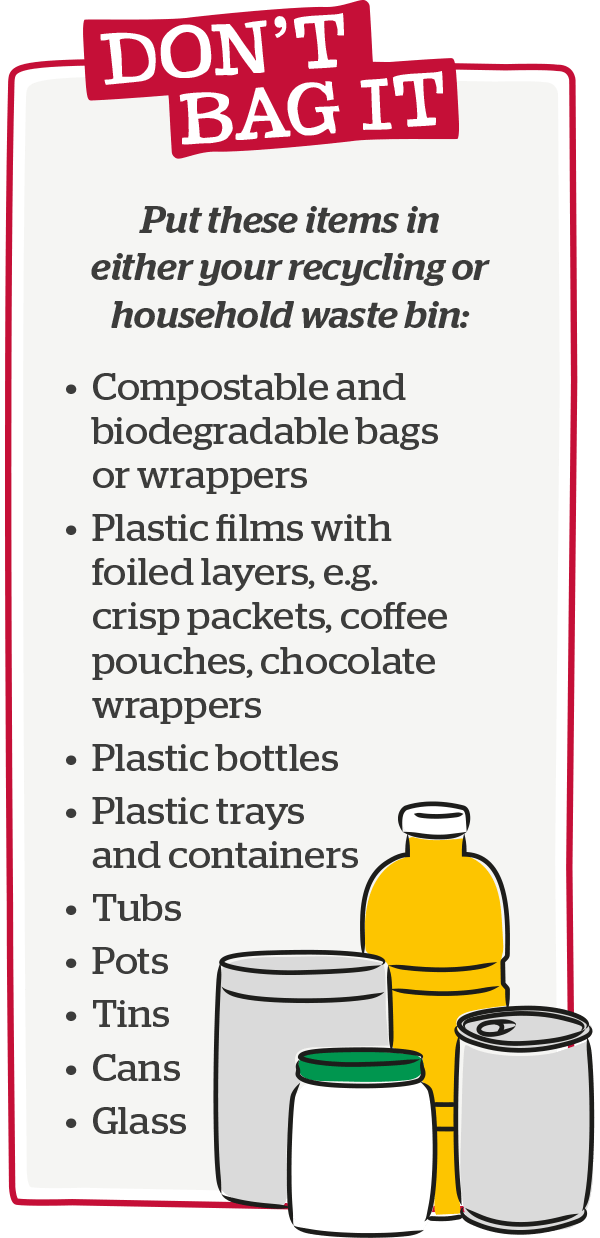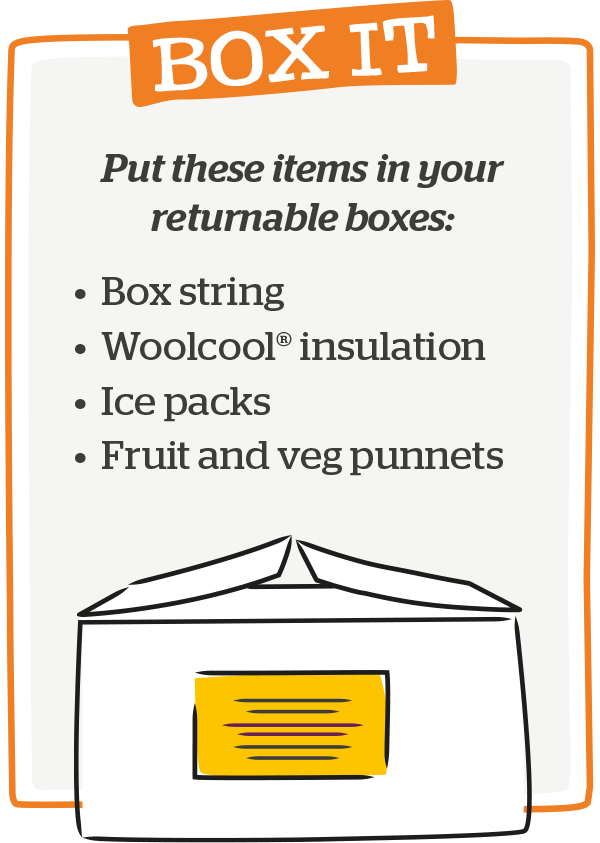 FAQs
How does Plastic Pick-Up work?

We've tried to make the whole process as easy as possible. Just add a Plastic Pick-Up bag to your next order – you can adjust how frequently you want to receive these. Then once your bag has arrived, there are just three simple steps you need to follow to help prepare your packaging for collection and recycling.

1. Unwrap it:

Separate any plastic bags and wrapping from the products in your weekly shop

2. Rinse it:

Rinse the plastic to remove any food residue and dry it off to help prepare it for recycling

3. Bag it:

Pop the rinsed, dried packaging into your Plastic Pick-up bag.

When your bag is full, seal it and leave it out with the rest of your boxes for your driver to collect.

What happens to the plastics we collect?

The plastic we collect is sorted by our partner, Regent Hill, before it's transported to Coveris for conversion into groundsheets. Groundsheets are an integral waterproofing feature in building construction and can be recovered after demolition to be recycled again. In the future, we hope to convert the flexible plastics we receive back into packaging grade material or even food contact materials. This will be possible once we can ensure a high enough level of purity in the recycled materials we receive.

Why is recycling flexible plastic important?

Whilst it's our responsibility as a retailer to eliminate as many of these materials as possible from our packaging, flexible plastic films are, in many cases, the most effective material for the job. These plastics can't be easily replaced and this is especially the case for a lot of meat and dairy packaging. These materials are not normally collected for recycling because they are very hard to identify, but they have value and can be recycled. It's therefore important for us to make sure that any plastic bags and wrapping that we do use is sent to a facility that can process them, and not to landfill. But this arrangement requires close collaboration between retailers and recyclers, which is why we've created Plastic Pick-Up.

Does Plastic Pick-Up only take Abel & Cole packaging?

We're happy to collect waste materials from any retailer so long as they fit within the 'Bag It' list above.
Got more questions about Plastic Pick-Up? Learn more by heading to our FAQs page,

here