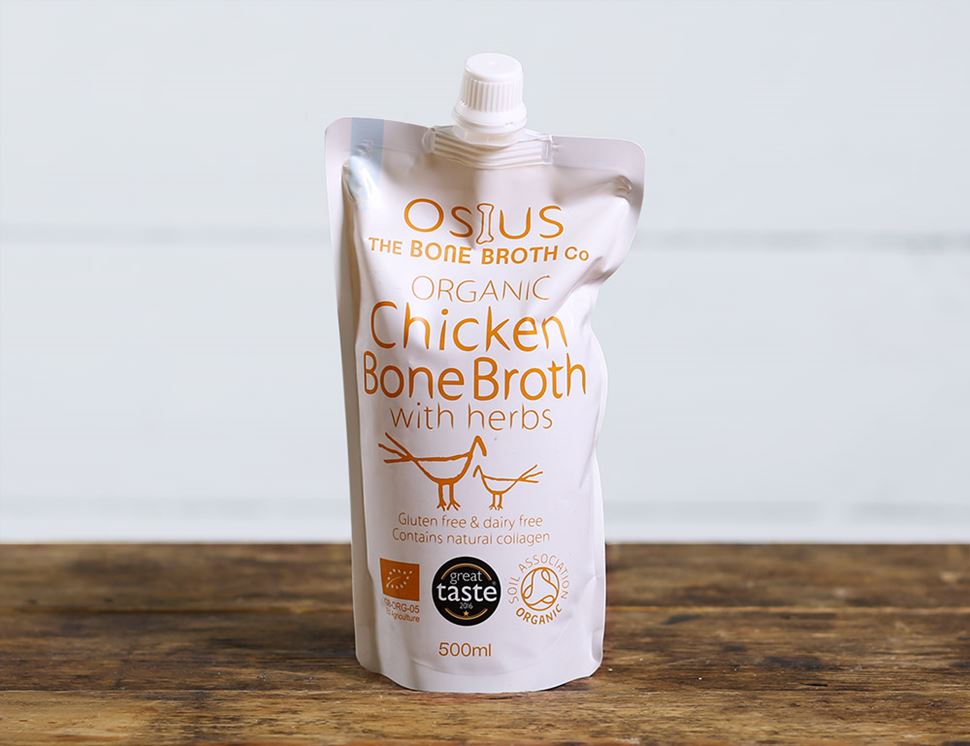 Chicken Bone Broth, Organic, Osius (500ml)
This wholesome, organic, chicken bone broth is simmered gently, on a low heat for a few days, so all the goodness from the collagen-rich joints and bones - the gelatine and minerals, amongst other things - are gently released. It's then combined with herbs like sage and parsley for added flavouring. What you then get is a magical little tub that flavours your stews, soups, risottos, curries, gravies, and that nourishes and restores your body as well.
Osius believe to make truly good broth it has to be fully organic, pasture fed, simmered for days, free from any additives, and made with British bones. We couldn't agree any more with them.
Chicken carcass* (50%), filtered water, onion*, celery*, carrot*, apple cider vinegar*, sage, parsley*
* = produced to organic standards. For allergens, including cereals containing gluten, see ingredients in bold.
Nutritional Information per 100g/ml Energy (kJ): 81.0 Energy (kcal): 19.0 Protein (g): 4.2 Carbohydrate (g): 0.3, of which sugars (g): 0.3 Fat (g): 0.1, of which saturates (g): 0.1 Salt (g): 0.18
Keep refrigerated, once opened consume within 5 days. Can be frozen on day of purchase, once defrosted & opened consume within 5 days. Take required quantity and heat gently - do not boil. Can be taken neat or added to hot water. Also can be added to food during cooking as a stock.
You might also like to try...