Wild Venison Tacos
Prep: 15 mins
Cook: 20 mins
Venison and Central American cuisine mightn't see each other much, but when they get together they get on like a house on fire. Tonight's supper can be made (and devoured) faster than you can say 'fajita'.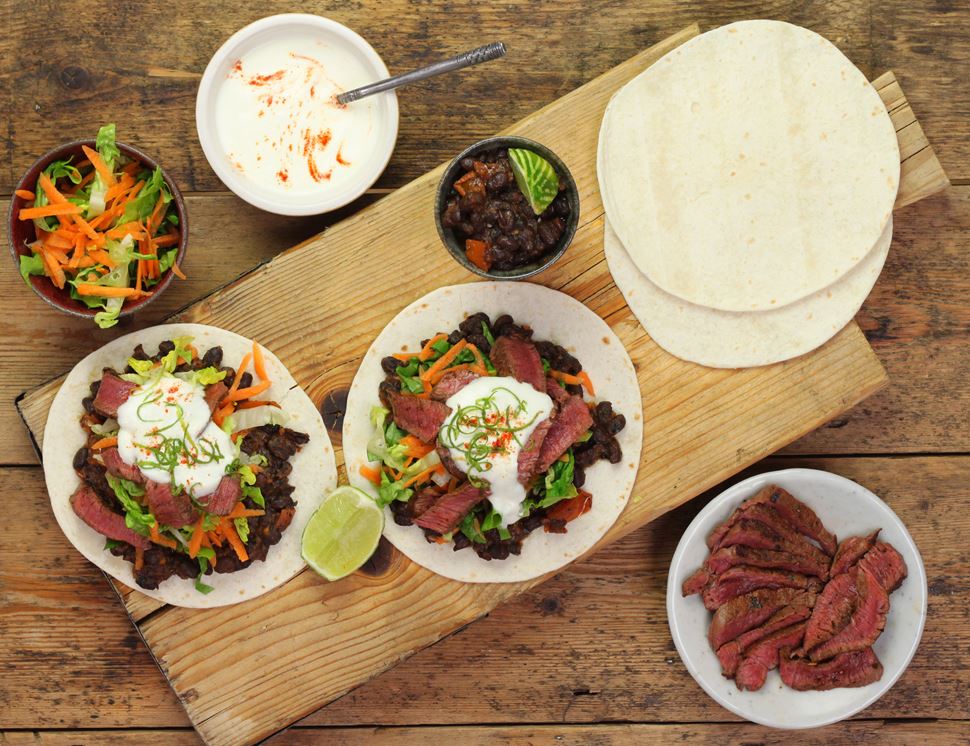 Ingredients you'll need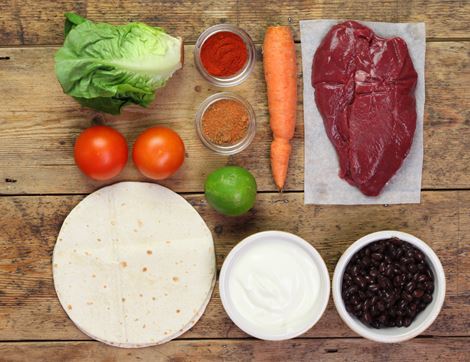 2 wild venison minute steaks
1 tbsp cajun rub
A tin of black beans
2 tsp smoked paprika
2 tomatoes
1 carrot
½ lettuce
1 lime
4 white tortillas
A pot of yogurt
From your kitchen
1 tbsp + 2 tsp olive oil
Sea salt and freshly ground pepper
2 tbsp cold water
You'll need
A couple of frying pans with a lid
Foil
Bowl
Step by step this way
1.

Heat your oven to its lowest setting. Take the venison steaks out of the fridge. Rub 1 tbsp olive oil and 1 tbsp of the cajun seasoning into them. Put to one side to marinate.

2.

Heat your frying pan on a high heat till smoking hot. Fry the steaks for 3-4 mins on each side to keep them pink, or a minute or two longer for medium. Wrap them with foil on a plate to keep warm.

3.

Turn the heat under the frying pan down to a medium-low temperature and add 1 tsp olive oil.

4.

Drain the black beans and tip into the frying pan. Add 1 ½ tsp of the smoked paprika. Season well and cook for 1 min.

5.

Roughly chop the tomatoes and add them to the pan along with 2 tbsp cold water. Cover, and continue to cook for 6-8 mins till the tomatoes have started to break up to make a sauce.

6.

Peel and grate the carrot. Finely shred the leaves from half the lettuce. Combine the two together in a bowl. Zest and juice the lime. Add the juice to the bowl with 1 tsp olive oil and a little salt and pepper.

7.

Warm a separate frying pan. Add the wraps, one at a time. Warm the wraps for 30 seconds on each side so they're soft and pliable. Pop on a heatproof plate in the bottom of your oven to keep warm.

8.

Slice the venison steaks into thin strips. Assemble your tacos with a good dollop of the beans and some of the tangy slaw. Finish with a spoonful of yogurt, a grating of lime zest and a sprinkle more of the paprika.