Wild Garlic, Lemon & Asparagus Carbonara
Prep: 15 mins
Cook: 15 mins
A super seasonal veggie twist on an Italian favourite. A tangle of organic spaghetti with foraged wild garlic and grassy asparagus in a creamy cheese sauce, pepped up with the zing of fresh lemon.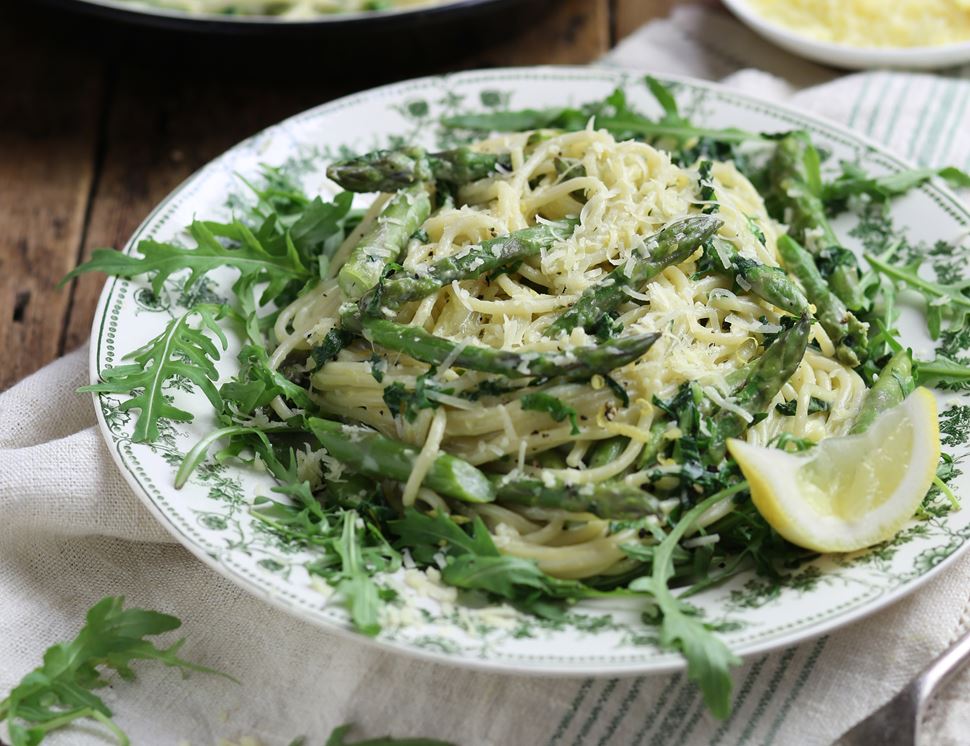 Ingredients you'll need
1 egg
4 tbsp double cream
100g cheddar
30g wild garlic
1 lemon
200g spaghetti
200g asparagus
50g rocket
From your kitchen
Sea salt
Freshly ground pepper
Step by step this way
1.

Place a large pan of salted water on the heat to boil. Meanwhile, separate the egg and place the egg yolk in a medium bowl (see our tip for the egg white). Stir in 4 tbsp double cream. Grate in half the cheddar. Grate the remaining cheddar and set to one side.

2.

Finely shred the wild garlic and add to the bowl. Zest in the lemon and squeeze in 1 tbsp of the juice. Add plenty of salt and pepper and mix thoroughly.

3.

When the water is bubbling, drop in the spaghetti and simmer for 5 mins. While the spaghetti cooks, snap the woody ends from the asparagus. Cut the tender asparagus spears into thirds.

4.

When the spaghetti has cooked for 4 mins, add the asparagus and cook for a further 4 mins, till the spaghetti is al dente (soft with a slight bite) and the asparagus is tender. Drain, saving a cupful of the cooking water.

5.

Tip the spaghetti and asparagus back into the pan and place it on a low heat. Pour in the wild garlic and cheesy cream sauce. Using tongs or a couple of forks, mix everything together to coat the spaghetti in the sauce. Add a trickle of the cooking water, if necessary, to loosen it. The heat form the spaghetti will lightly cook the egg, coating the pasta in a velvety smooth sauce.

6.

Taste and adjust the seasoning, adding a little more lemon, if you like. Divide the rocket between 2 bowls. Tangle the creamy, garlicky spaghetti on top and scatter over the remaining grated cheddar and plenty of black pepper.
Tip

All white
Your leftover egg white will keep for a couple of days, covered, in the fridge. Beat the egg white till light and fluffy. Fold into couple of beaten eggs with a good handful of herbs and seasoning. Pour into a hot buttered pan for a light fluffy omelette.