Warm Squash, Lentils, Swiss Chard & Halloumi
Prep: 15 mins
Cook: 20 mins
This recipe is part of our partnership with The Sunday Times and Florence Knight. Florence says: "Red onion squash have a distinctive tear drop shape and deep, almost burnt pink-orange skin, without the ridges of a pumpkin. Their firm flesh has a delicate sweetness and mellow nutty flavour that sums up autumn."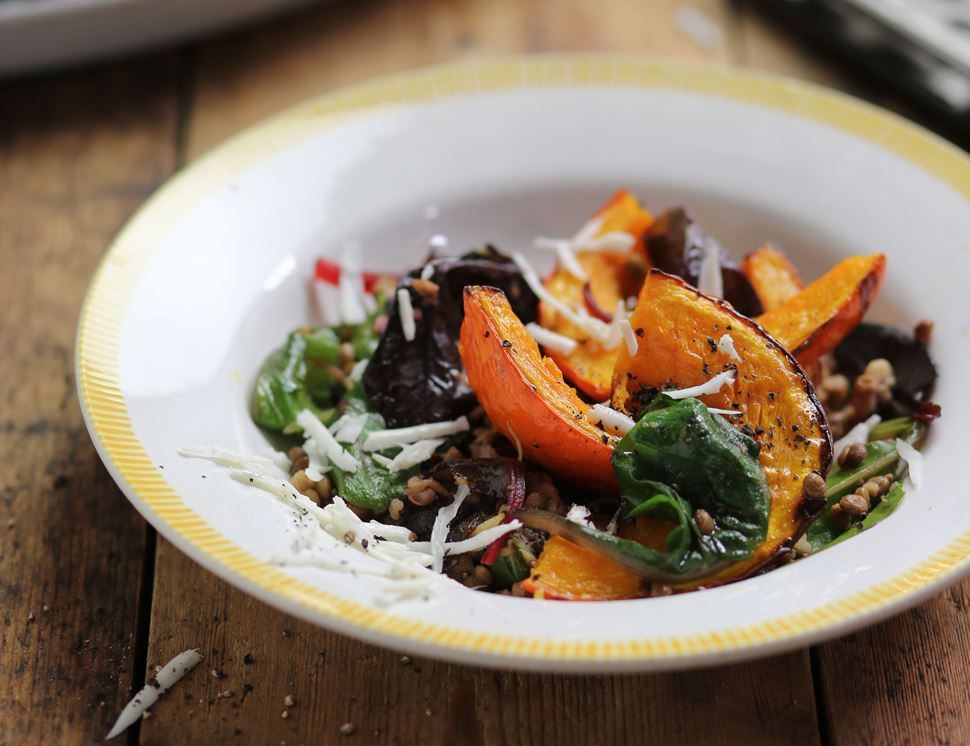 Ingredients you'll need
1 red onion squash
1 lemon
1 garlic clove
140g Swiss chard
400g tin of green lentils
100g halloumi
From your kitchen
2 tbsp olive oil
¼ tsp + a pinch sea salt
Freshly ground pepper
4 tbsp extra virgin olive oil
Step by step this way
1.

2.

3.

Heat your oven to 220°C/Fan 200°C/Gas 7. Trim a little off the base of the squash to keep it stable on the chopping board. Cut it in half and scoop out and discard the central flesh and seeds with a large tablespoon. Cut each half into crescent moon pieces about 3cm thick, leaving the skin on.

4.

Zest the lemon into a bowl and cut in half. Cut one half into slices.

5.

Lay the squash in a large roasting tin and combine with the lemon slices, 2 tbsp olive oil and a pinch of salt and pepper. Place the tin into the hot oven and cook for 15-20 mins, or till tender with a little colour.

6.

Meanwhile, finely grate the garlic into the bowl with the lemon zest and stir through 4 tbsp extra virgin olive oil and ¼ tsp salt. Drain the lentils in a sieve and rinse well under cold running water.

7.

Prepare the chard by washing it in cold water and trimming a few mms off the stalk. If any stalks are large, cut through them lengthwise, keeping the chard in one whole piece.

8.

Put the lentils in a medium pan and set over a moderate heat, stir through the lemon and garlic dressing and grate over a little halloumi. Place the chard on top and cover with a lid for 3 mins or till the leaves have wilted with tender stalks.

9.

Spoon the warm lentils and wilted Swiss chard onto plates. Lay over a couple of roasted squash pieces and grate over plenty of halloumi.
Tip

Halloumi to you
Halloumi, one of the national cheeses of Cyprus, is eaten raw, dried, or cut into finger-thick slices and cooked over a hot grill. Its saltiness lends itself to the squash, though it's also moreish with a spoonful of honey or, in the summer, with a slice of watermelon.