Warm Beef & Green Lentil Salad
Prep: 25 mins
Cook: 15 mins
"It is typical of Mediterranean cooking to use vinegar to tenderise tougher cuts, giving the meat an appealing 'agro dolce' flavour, which is deepened by the softened, sweet red onion."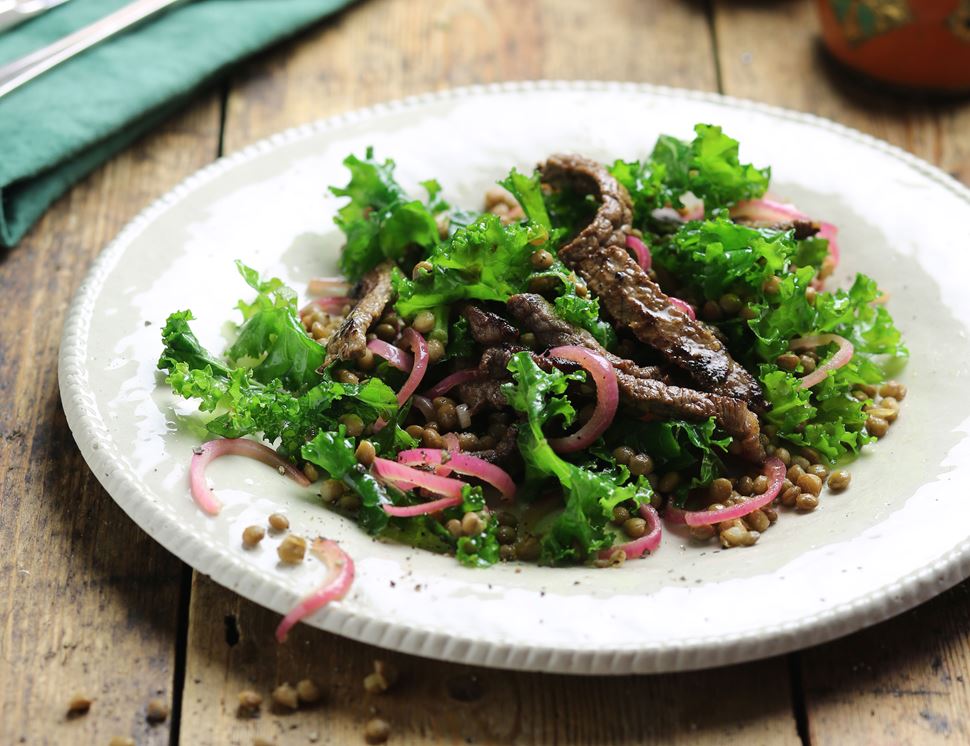 Ingredients you'll need
1 red onion
250g beef stir fry strips
4 tbsp red wine vinegar
1 tbsp caster sugar
¼ tsp red chilli flakes
45g kale
1 lemon
¼ garlic clove
400g tin of green lentils
From your kitchen
Sea salt
3 tbsp extra virgin olive oil
2 tbsp olive oil
Freshly ground pepper
Step by step this way
1.

Peel, halve and slice the red onion into medium half moon pieces. Place the sliced red onion, beef stir-fry strips, 4 tbsp red wine vinegar, 1 tbsp sugar and ¼ tsp chilli flakes into a large, non-metallic bowl. Set aside for 15 mins.

2.

Meanwhile, weigh out 45g kale (see the tip for what to do with the rest). Prepare the kale by removing and discarding any large stalks. Roughly chop the leaves down to 1½in pieces. In a large bowl, combine the kale with a pinch of salt and 3 tbsp extra virgin olive oil. Peel and grate ¼ of a garlic clove into the bowl. Grate in the zest from the lemon and squeeze in the juice from one half.

3.

Heat a medium pan over a low heat. Add 1 tbsp olive oil, the red onion from the beef dish and a pinch of salt. Tip any excess vinegar from the beef into the onions using a slotted spoon to keep the beef in the bowl. Cover. Cook for 8-10 mins or till soft, vibrant pink but without caramelisation.

4.

While the onions are cooking, drain the lentils into a sieve and rinse them well under cold running water.

5.

Remove the onions from the pan and add them to the kale and lentils. Return the pan to a high heat. Rub the beef strips with 1 tbsp olive oil and a pinch of salt.

6.

Add the beef to the hot pan. Cook, undisturbed, for 2-3 mins or till the edges have caramelised but each strip is still pink in the centre. It's important to make sure the pan isn't overcrowded, so cook in two batches if necessary and don't be tempted to stir the meat too much.

7.

Add the hot beef to the lentils and kale and combine with salad spoons. Divide between plates and finish with a few more chilli flakes to taste. Eat warm.
Tip

Florence's Top Tip
Keep your leftover kale in the fridge. Try shredding it and sweating it in a little butter with some chopped anchovies or capers and a little crushed garlic.