Vietnamese Style Hake with Turmeric & Dill
Prep: 20 mins
Cook: 10 mins
Cha ca thang long is must-try dish for anyone visiting Vietnam's capital city, Ha Noi – but we thought we'd save you the trip. It balances the earthy spice of turmeric with grassy dill and fresh fish, and this version serves it up with stir-fried noodles and plenty of veg.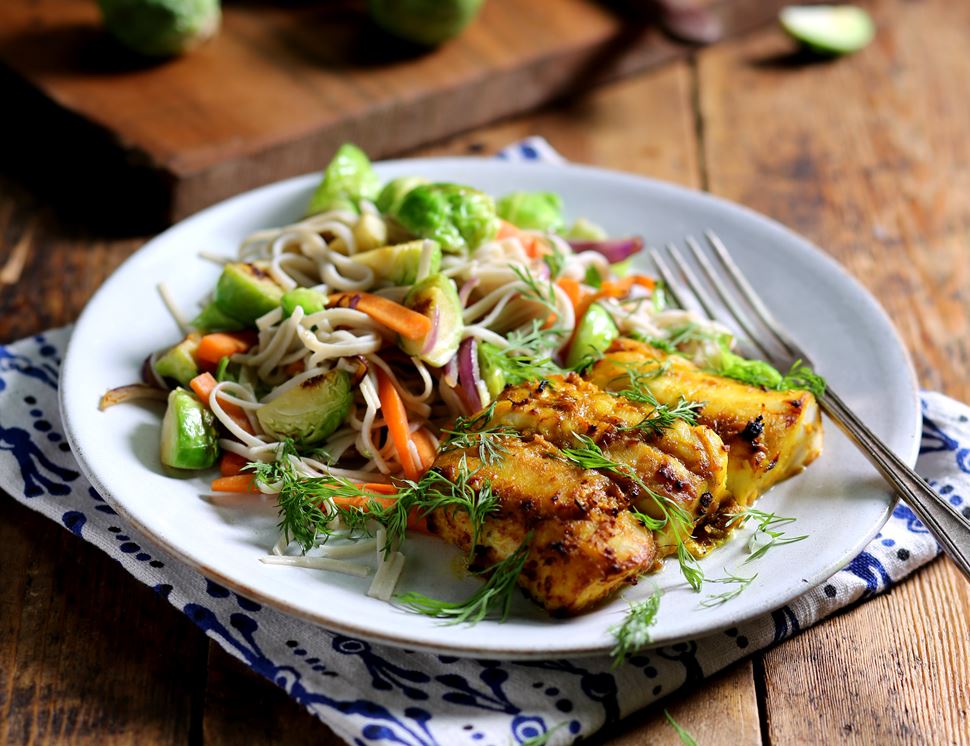 Ingredients you'll need
1 tbsp Worcester sauce
1 tsp turmeric
10 black peppercorns
1 garlic clove
A thumb of ginger
2 hake fillets
1 red onion
1 carrot
250g Brussels sprouts
½ x 250g Thai brown rice noodles
A handful of dill, leaves only
1 lime
From your kitchen
2 tsp olive or coconut oil
Sea salt
Step by step this way
1.

Put a large pan of water on to boil. Pour 1 tbsp Worcester sauce and 1 tsp turmeric into a dish. Add the peppercorns to a pestle and mortar and roughly crush them. No pestle and mortar? Use a small bowl and a jam jar or the end of a rolling pin. Add the crushed peppercorns to the dish.

2.

Peel and crush or grate the garlic. Peel and grate the ginger. Add them to the dish with 1 tsp oil and a pinch of salt. Stir to make a paste, then add the hake fillets and turn them in the marinade to coat. Set them aside to marinate while you prep the veg.

3.

Peel and finely slice the red onion. Trim and peel the carrot, then slice it into batons about as big as your little finger. Trim the bases off the Brussels sprouts and pull off any ragged leaves. Quarter the sprouts.

4.

Heat your grill to high. Line a baking tray with foil and place the hake fillets on the tray. Slide under the grill for 8-10 mins till the fish is browned and flakes easily when you press it with a fork.

5.

While the fish grills, put a wok or large frying pan on a high heat for 2 mins. Add 1 tsp oil, the red onion, carrot and Brussels sprouts. Stir fry for 5-6 mins till they start to brown and soften.

6.

The water in the pan should be boiling. Add half the pack of noodles and simmer for 3 mins, then drain and add to the veg. Toss to mix.

7.

Arrange the noodles on 2 warm plates. Top with the grilled hake fillets. Pick the dill fronds off the stalks and scatter them over the fish. Serve with the lime, sliced into wedges, for squeezing.
Tip

Oodles of noodles
You just need half the pack of noodles in this dish, although you can use the whole pack if you prefer (this will affect the nutritional information). You can use up the leftover noodles by soaking them in cold water for 30 mins. Stir fry a mix of veg, such as mushrooms, peppers, red onions, in a small frying till tender. Drain the noodles and stir them in. Whisk 4-6 eggs with a dash of tamari, some crushed garlic and grated ginger and pour over the noodles and veg. Fry for a few mins to set the bottom, then transfer to a grill and cook until set. Serve in wedges with sweet chilli sauce.