Vietnamese Chicken Stir-Fry
Prep: 20 mins
Cook: 30 mins
So quick and simple we should call it a 'Vietnameasy' chicken stir-fry. Organic chicken breast and bright green broccoli are stir fried with a zingy mix of garlic, ginger, chilli and mint and served with nutty brown basmati rice.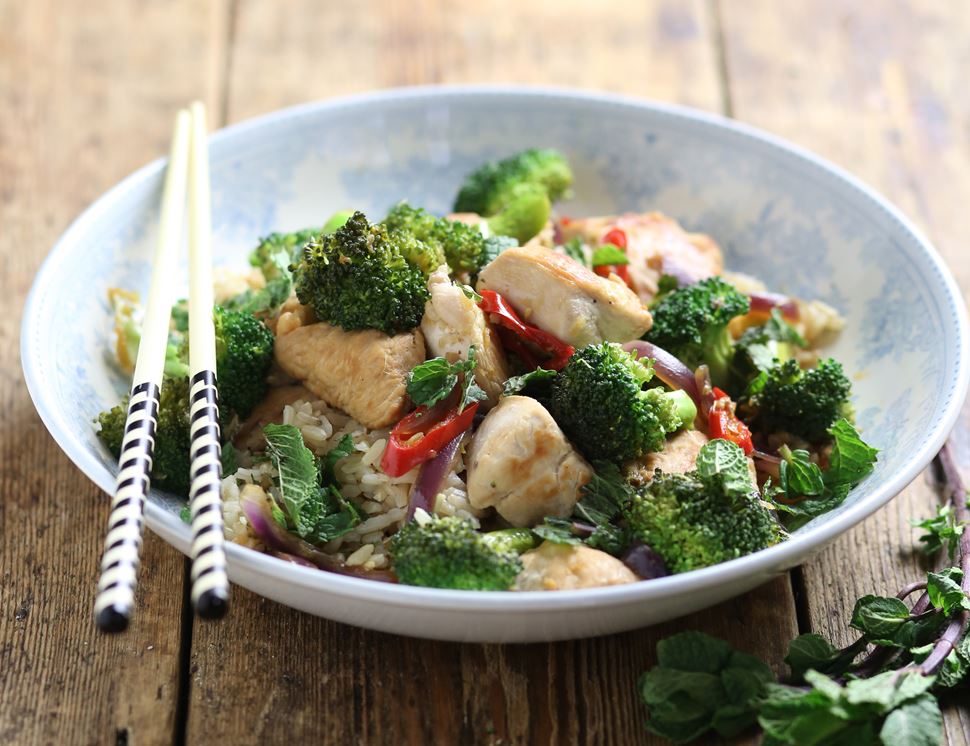 Ingredients you'll need
150g brown basmati rice
A head of broccoli
1 red onion
1 garlic clove
A thumb of ginger
1 chilli
250g chicken breast mini fillets
1 tbsp tamari
1 tbsp brown rice vinegar
A handful of mint, leaves only
From your kitchen
400ml + 300ml
boiling water
Sea salt
1 tsp olive oil
2 tbsp water
Step by step this way
1.

Tip the rice into a bowl. Cover with cold water and whisk for 1-2 mins till the water goes cloudy. Drain the rice and tip into a small pan. Pour in 400ml boiling water and add a pinch of salt. Pop on a lid. Bring to the boil, then turn the heat right down and very gently simmer for 25 mins till all the water is absorbed. After 25 mins, take off the heat and let the rice sit in the pan for 5 mins, lid on, to finish cooking.

2.

While the rice is cooking, break the broccoli into small florets. Peel and finely slice the red onion. Peel and grate the garlic and ginger. Finely slice the chilli (remove the seeds and white bits for less heat). Finely slice the mint leaves. Chop the chicken into bite-size chunks.

3.

Warm 1 tsp olive oil in a deep frying pan or wok. Add the chicken. Stir fry for 8 mins till golden all over. Lift out of the wok and set aside on a plate.

4.

Add the onion to the wok with 2 tbsp water. Stir fry for 5 mins till the onion is soft. Add the garlic, ginger and chilli to the pan. Stir fry for 1 min till the pan smells aromatic.

5.

Add the broccoli and chicken to the wok with 300ml boiling water. Pop on a lid and simmer on a high heat for 4-5 mins to soften the broccoli.

6.

Measure out 1 tbsp each of the tamari and the brown rice vinegar. Add to the wok with a splash more water if it needs it. Stir fry for 2-3 mins till the pan smells aromatic and the chicken is cooked through.

7.

Taste the stir-fry and add more tamari or vinegar if you think it needs it. Fluff the rice up with a fork and divide between 2 warm bowls. Top with the chicken stir-fry. Garnish with the shredded mint.