Venison Kofta Masala with Spiced Naan Breads
Prep: 25 mins
Cook: 30 mins
Channel your inner guru with these wild venison koftas simmered in a spiced Indian coconut and tomato masala, served alongside fluffy naan bread to scoop up the sauce.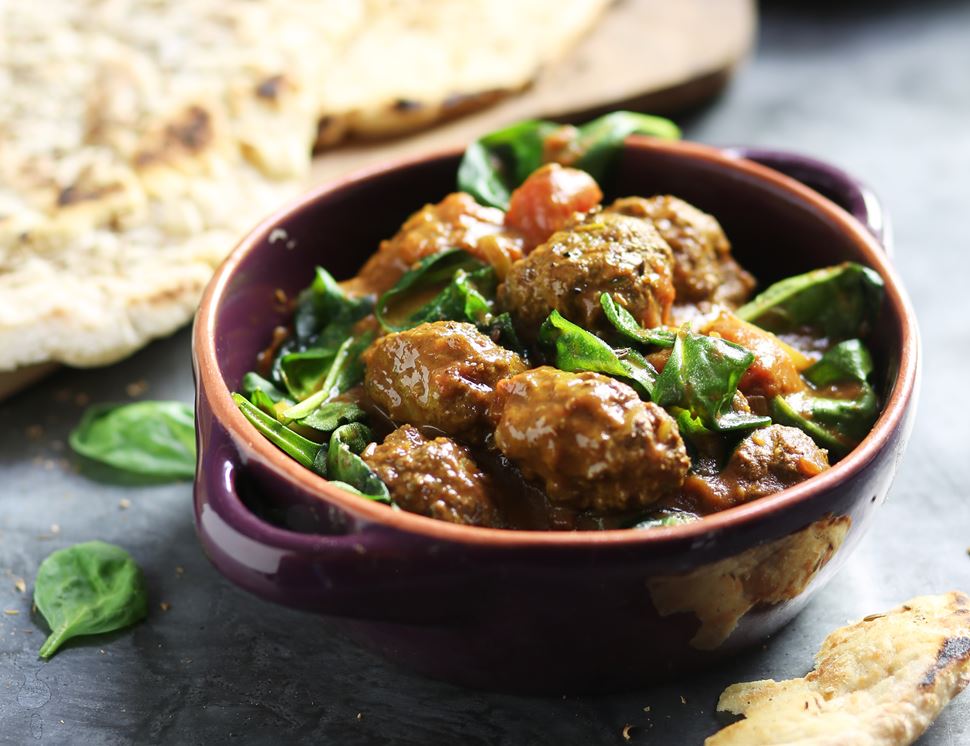 Ingredients you'll need
1 onion
2 garlic cloves
1 green chilli
2 tsp turmeric
250g venison mince
2 tsp fennel seeds
2 tsp cumin seeds
2 tsp coriander seeds
1 tsp garam masala
400g chopped tomatoes
200ml coconut milk
150g plain flour
1 tsp baking powder
150g Greek style yogurt
100g baby leaf spinach
From your kitchen
Sea salt
Freshly ground pepper
1 tbsp sunflower or olive oil
You'll need
A couple of bowls
Deep frying pan with a lid
Spice or coffee grinder (optional)
Frying pan
Step by step this way
1.

Peel and finely chop the onion. Scoop half into a bowl. Peel and grate 1 garlic clove into the bowl. Halve the chilli. Finely chop it (flicking out the seeds and white bits for less heat). Add to the bowl. Stir in 1 tsp turmeric.

2.

Add the venison mince to the bowl. Season with a little salt and pepper and use your hands to mix everything together. Shape the mixture into little balls (koftas) about the size of a walnut and pop on a plate. Cover with cling film and chill in the freezer for 10 mins.

3.

Measure 1 tsp each of the fennel, cumin and coriander seeds into into a dry deep frying pan (that has a lid) and toast for 2 mins till they smell aromatic. Tip the seeds into a spice or coffee grinder and grind, or tip into a bowl and grind with the bottom of a jam jar.

4.

Peel and grate or crush the remaining garlic clove. Put the frying pan back on the heat and warm for 1-2 mins. Add 1 tbsp oil and the koftas. Fry over a medium heat for 5 mins till they're browned all over. Add the onion and season. Cook and stir for 3 mins.

5.

Add the garlic, ground spices and another 1 tsp turmeric to the pan. Add 1 tsp garam masala. Cook and stir for 1 min. Tip in the tin of tomatoes. Shake the tin of coconut milk a few times before opening, then pour into the pan. Cover and simmer for 20 mins till the koftas are cooked through.

6.

While the koftas simmer, sift the plain flour into a bowl. Add 1 tsp baking powder and a pinch of salt. Tip in the pot of yogurt and stir together to make a soft dough. Turn the dough out onto your work surface. Knead for a few mins, then divide into 2 balls.

7.

Pat the dough into 2 flat rounds. Sprinkle another 1 tsp each fennel, cumin and coriander seeds onto the naans and press them in. Warm a separate frying pan for 2 mins. Lay 1 naan in the pan. Fry for 4-6 mins till golden underneath, then flip and fry for 4-6 mins more. Slide onto a plate. Repeat with the second naan.

8.

Taste the kofta sauce and season. Add the spinach and stir for 1-2 mins to wilt it. Spoon the venison koftas into warm bowls and serve with the naan breads.