Venison & Cranberry Koftas
Prep: 20 mins
Cook: 15-20 mins
Pull up a chair to the dinner table. Rich, jewel-studded venison, peppery rocket and crisp cranberries are all set to tantalise your tastebuds.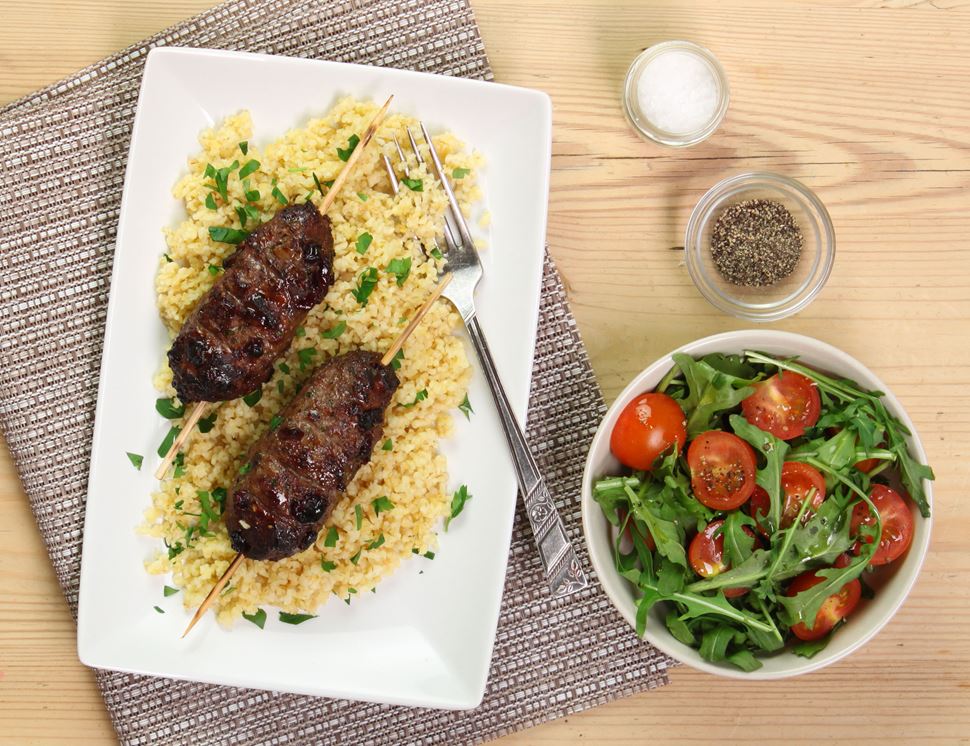 Ingredients you'll need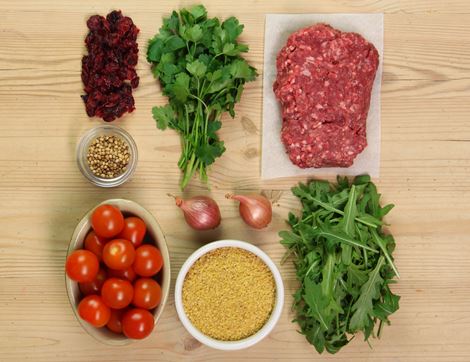 1 tsp coriander seeds
2 shallots
A handful of flat leaf parsley
A bag of dried cranberries
A pack of venison mince
A bag of bulgar wheat
A punnet of cherry tomatoes
A bag of rocket
From your kitchen
Sea salt
Freshly ground pepper
250ml hot water
1 tbsp olive oil
You'll need
Wooden skewers
Frying pan
Pestle and mortar, spice grinder or jar and small bowl
Food processor (optional)
Small pan with a lid
Foil
Step by step this way
1.

Soak four wooden skewers in cold water for 10 mins. Measure out 1 tsp of the coriander seeds. Tip them into a dry frying pan. Toast them over a medium heat for 1-2 mins till they smell nutty. Grind them in a pestle and mortar, with a spice grinder or use the bottom of a jar.

2.

Peel and roughly chop the shallots. Roughly chop half the parsley leaves. Pop them both in a food processor with the ground coriander seeds and half the dried cranberries. Add the venison mince. Season with salt and pepper.

3.

Blitz the venison kofta mixture to make a rough paste. Tip out into a bowl and stir in the rest of the dried cranberries. If you don't have a food processor, finely chop the shallots and parsley. Knead everything together with your hands.

4.

Divide the kofta mixture into four. Wrap each chunk around a wooden skewer to make a long sausage shape around 7 cm long. Pop on a plate. Chill in the fridge for 10 mins.

5.

Fill the kettle and boil it. Tip the bulgar wheat into a small pan. Pour in 250ml hot water. Cover. Bring to the boil. Turn the heat right down. Gently simmer for 8-10 mins till the water has been absorbed.

6.

Halve the cherry tomatoes. Pop them in a bowl with the rocket. Drizzle with 1 tbsp olive oil. Season with salt and pepper. Heat your grill to high. Line your grill pan with foil.

7.

Pop the koftas on a rack in the grill pan. Grill for 10-15 mins till the koftas are golden and cooked through. Turn every so often so they cook evenly. Serve the koftas with the bulgar wheat and salad.
Tip

A nice, long soak
You can also 'cook' the bulgar wheat by soaking it in hot water just like couscous. Pop it in a heatproof bowl, pour in enough hot water to cover and leave it for 20 mins.