Troutacular Chickpea & Pointed Pepper Couscous
A seafood stew with a Tunisian twist, this dish mixes up fiery chilli with Mediterranean flavours.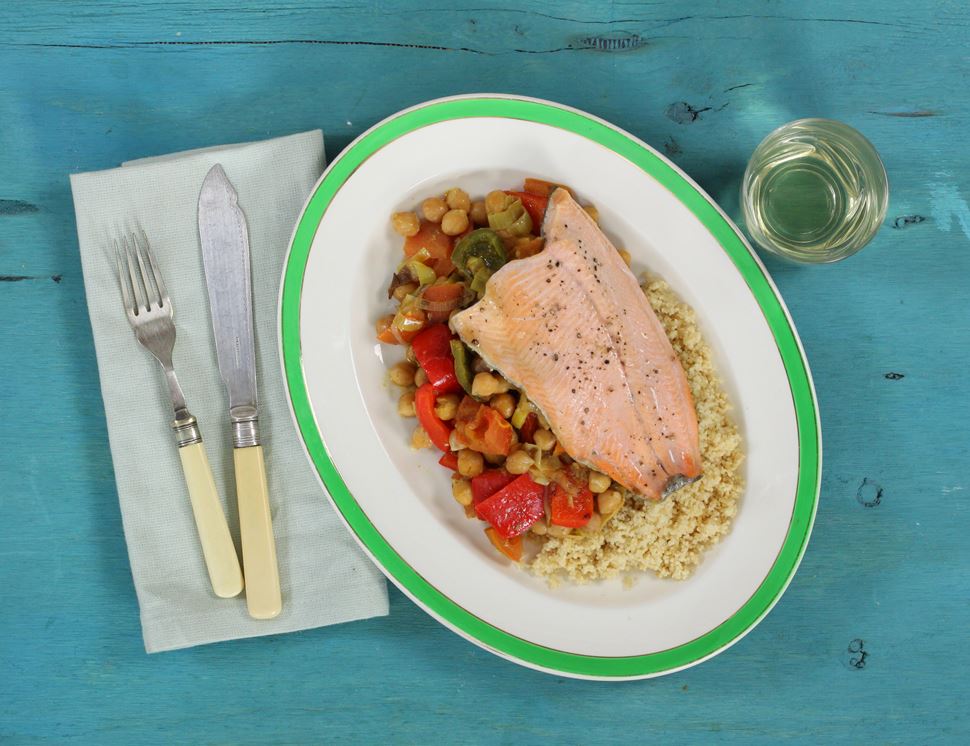 Ingredients you'll need
300g wholewheat couscous
2 leeks
2 red pointed peppers
2 green peppers
A bag of tomatoes
4 garlic cloves*
2 tsp cumin seeds
2 tsp chilli powder
2 tins of chickpeas
400g rainbow trout fillets
Step by step this way
1.

Put the couscous in a heatproof bowl. Add the hot water. Pop a lid on top or cover it with clingfilm. Put it on one side.

2.

Trim and rinse the leek(s). Slice into thin rings. Halve the peppers. Scoop out the seeds and stem. Roughly chop. Chop the tomatoes. Peel and grate/crush the garlic. Grind the cumin.

3.

Warm a splash of olive oil in a deep frying pan. Add the leek(s) and peppers. Season. Fry. Stir now and then till the veg are lightly coloured.

4.

Add the garlic, cumin and chilli. Stir them round the pan to flavour the oil.

5.

Stir in the tomatoes and chickpeas. Half fill the chickpea tin with water. Add that to the pan (add a whole tin if you're cooking for four). Pop on the lid.

6.

Let the stew simmer for about 5 mins. Taste. Season. Slide the trout into the pan. Pop the lid back on.

7.

Cook the trout fillets cook in the stew for a few mins till they're opaque. Rake the couscous with a fork to fluff it up. Serve the trout and chickpea stew with the couscous.
Tip

My mate marinate If you have left over cumin and chilli, grind the cumin and mix a pinch of both into yogurt with lemon juice. Use to marinate chicken or lamb before roasting or grilling.