Tree Top Penne Pasta
Prep: 10-15 mins
Cook: 10 mins
Make your way through a mini forest of broccoli florets and penne pasta, in a plate inspired, in fact, by our lovely friends in Sicily. I knew there was a raisin to eat this dish.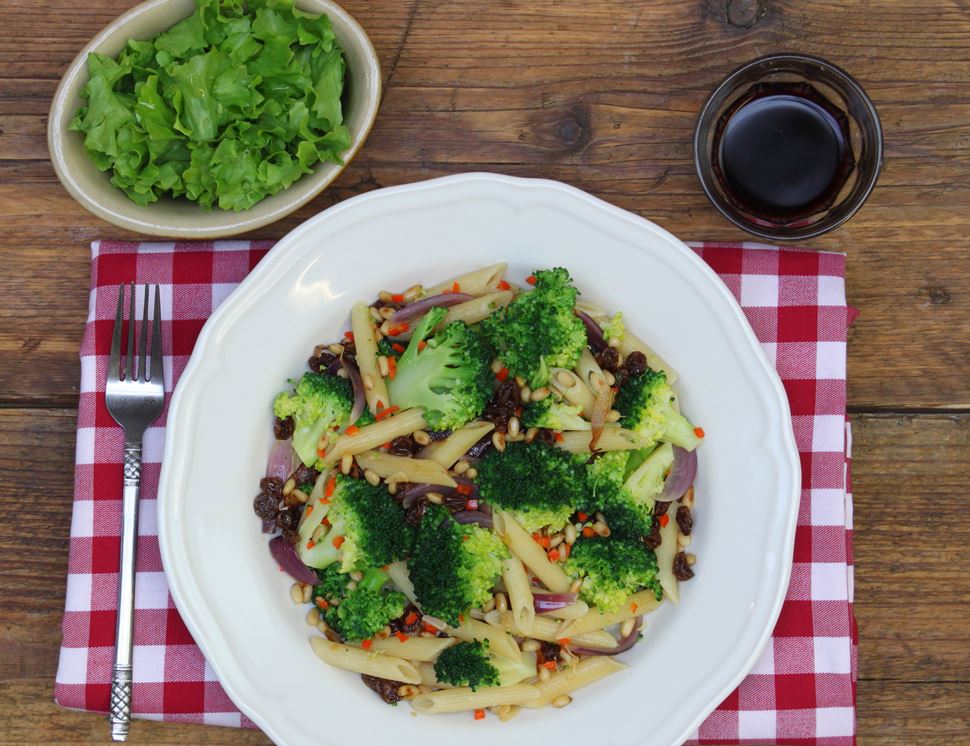 Ingredients you'll need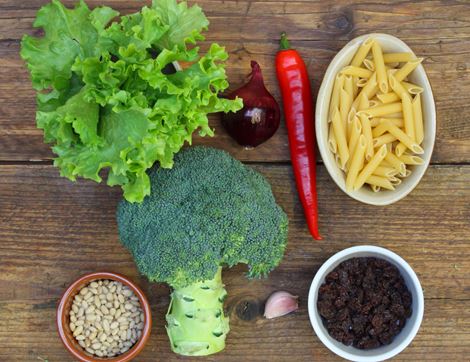 1 red onion
A head of broccoli
1 red chilli
1 garlic clove
A sachet of pine nuts
A bag of raisins
A bag of penne
½ a lettuce
From your kitchen
2 tbsp olive oil
Sea salt
Freshly ground pepper
You'll need
Colander
Deep frying pan or wok
A couple of bowls
Large pan with a lid
Salad spinner or kitchen paper
Step by step this way
1.

Peel the onion. Slice it into thin wedges. Rinse and trim the broccoli. Chop the florets into bite-sized pieces. Rinse and halve the chilli. Flick out the seeds and white bits. Finely slice it. Peel and grate or crush the garlic. Fill the kettle and boil it.

2.

Warm a dry frying pan or wok. Add the pine nuts. Toast them over a low heat for 2-3 mins till just golden. Shake every now and then so they don't catch. Tip onto a plate. Put to one aside. Pop the raisins in a small bowl. Cover with hot water from the kettle. Set aside.

3.

Heat 1 tbsp olive oil in the pan. Add the onion. Stir-fry for 5 mins till soft and glossy. Add the chilli and garlic. Cook and stir for 1 min. Drain the soaked raisins. Add to the pan. Take off the heat.

4.

While the veg cooks, fill a large pan with hot water from the kettle. Bring to the boil. Add the penne. Cover. Simmer for 5 mins. Add the broccoli florets. Simmer for 3–5 mins till the broccoli is tender and the penne is cooked with a little bit of bite.

5.

Chop the lettuce in half. Rinse the leaves from one half. Dry in a salad spinner or pat with kitchen paper. Tear into bits. Pop them in a bowl. Dress with a 1 tbsp olive oil. Season with a little salt and pepper.

6.

Drain the penne and broccoli in a colander. Return to the pan. Tip the chilli and raisin mixture in and mix together. Taste and adjust the seasoning.

7.

Serve the pasta with the toasted pine nuts sprinkled on top and the dressed lettuce on the side.
Tip

It's easy being green
Especially when you're a lettuce. Your leftover lettuce will keep for a few days in the fridge. Wash, dry and finely slice it. Mix with soft cheese, chopped herbs and lemon zest to make a fresh sandwich filling.