Topside with Rosemary & Balsamic Onions
Prep: 15 mins
Cook: 1hr
Topside is a beautiful, lean cut of beef that requires little cooking. It's perfect for a speedy roast.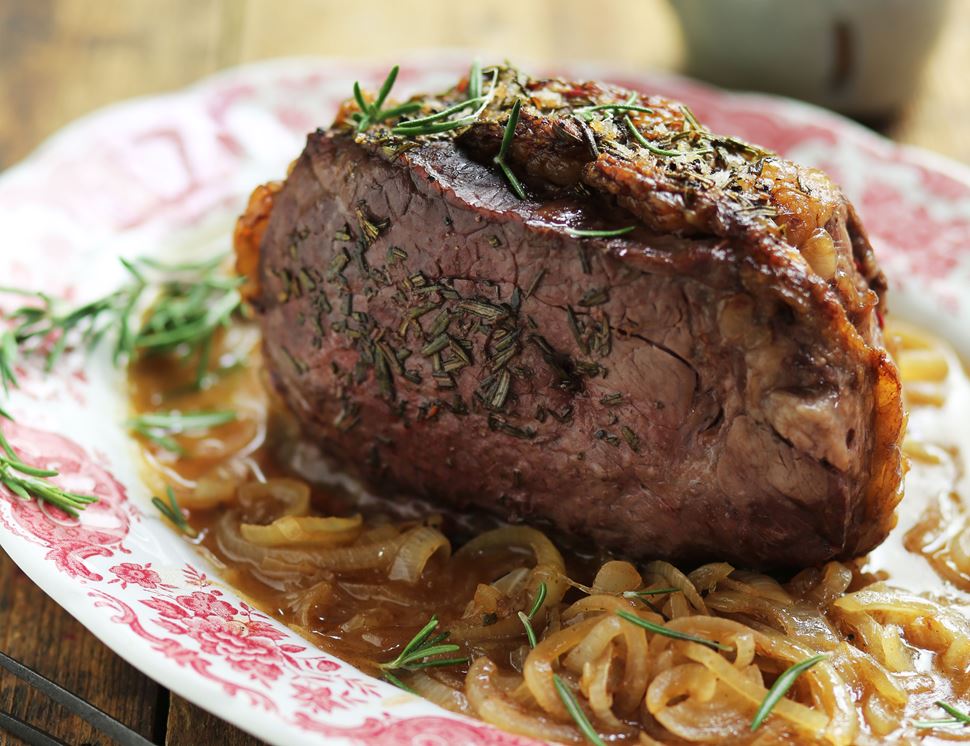 Ingredients you'll need
1½kg avg. organic topside joint
A handful of rosemary
3 onions
1½ tbsp balsamic vinegar
From your kitchen
Sea salt
Freshly ground pepper
A mug of water
250ml red wine or beef stock (optional)
2 tbsp plain flour (optional)
Step by step this way
1.

Preheat your oven to 220°C/Fan 200°C/Gas 7. Unwrap your beef. Pat it dry. Chop half the rosemary leaves. If you have a pestle and mortar, crush the chopped rosemary with a pinch of salt and pepper. If not, just mix everything together in a bowl. Rub it all over the beef.

2.

Arrange your sliced onions in a roasting tin. Make a little bed of the remaining rosemary in the centre. Place your beef on top. If the joint is tall and thin, rest it with a cut side down and cover the top cut side with a square of foil to keep it moist. If it's rounder or squarish with a good layer of fat on top, rest it fat side facing up and cover each cut side of the meat with a little square of foil. Pour in the mug of water.

3.

Pop in the centre of the oven, middle shelf. Turn the heat down to 180°C/Fan 160°C/Gas 4. Roast for 35 mins for rare, 45 for medium and 1 hr for well done.

4.

See our How to Cook the Perfect Steak video for tips on testing the doneness without cutting into your joint. Once done, remove your meat from the dish. Let it rest for at least 30 mins before carving.

5.

Spoon your onions into a pan. Strain the pan juices in, discarding the bed of rosemary the beef cooked on. Sizzle over medium-high heat to reduce the liquid down and to soften the onions further. Once the onions are meltingly sweet, swirl in the balsamic. Cook a little longer. Taste.

6.

If you want a richer gravy, add the red wine or beef stock. Let it reduce down. For a thicker gravy, place 2 tbsp flour in a mug. Ladle in 4-6 tbsp of the gravy.Whisk till you have a smooth paste. Gradually add the paste to the onion gravy. Let it gently bubble away till it's as thick as you like. Repeat using more flour/stock till you have the perfect consistency. Season to taste.

7.

Thinly slice the beef. Drizzle the warm onion gravy over the top.