Top Rump Minute Steaks with Parsnip & Blue Cheese Gratin
Prep: 20 mins
Cook: 30 mins
What goes better together than steak and potatoes? We reckon pan fried organic top rump minute steaks and a rich, bubbling gratin of sweet parsnips and creamy blue cheese might just have the classic meat and veg combination beat.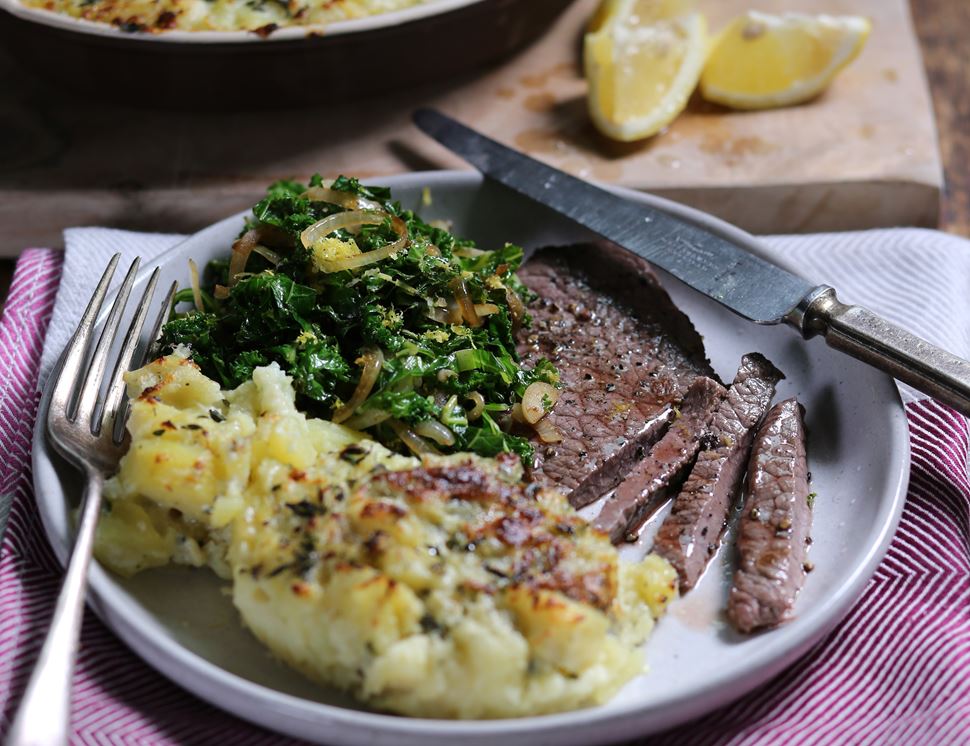 Ingredients you'll need
300g parsnips
300g potatoes
500ml full cream milk
1 bay leaf
1 onion
200g kale
1 garlic clove
1 lemon
½ x 150g Perl Las
A handful of thyme, leaves only
2 top rump minute steaks
From your kitchen
1 tbsp + 4 tsp olive oil
Sea salt
Freshly ground pepper
Step by step this way
1.

Peel the parsnips and potatoes. Chop both into 2cm cubes. Place in a pan.

2.

Pour in the milk. Drop in the bay leaf. Bring to a simmer over a medium heat, then turn the heat down and simmer for 10 mins till the veg is just tender when pierced with a sharp knife.

3.

While the veg are cooking, peel and thinly slice the onion. Finely shred the kale stems and leaves. Peel and grate the garlic clove. Zest the lemon.

4.

Heat your grill to medium high. No grill? Set your oven to its highest temperature. When the veg is tender, use a slotted spoon to lift it out of the pan (reserving the milk in the pan) and pop it into a small baking dish. Discard the bay leaf.

5.

Crumble half the pack of Perl Las into the dish. Add the thyme leaves, a pinch of salt and a good crack of black pepper. Lightly mash together with 2-3 tbsp of warm milk from the pan. It should be slightly loose. Slide the gratin under the grill for 5 mins till it's golden and bubbling.

6.

While the gratin is grilling, heat a frying pan. Rub 2 tsp oil into each steak and lightly season with salt and pepper. Place the steaks in the hot pan and cook for 30 secs-1 min on each side for rare steaks. Cook for 1-2 mins longer on each side for more well-done steak. Place the steaks on a plate or board, loosely cover with foil and leave to rest.

7.

Place the frying pan back on the heat. Drizzle in 1 tbsp olive oil. Throw in the onion, kale and garlic. Stir fry for 4-5 mins till the onion is softened and the kale is slightly crisp on the edges. Add the lemon zest, a pinch of salt and a little squeeze of lemon juice.

8.

Spoon the parsnip and blue cheese gratin on to a couple of warm plates. Serve with the steaks and zesty kale.
Tip

Easily cheesed
Your leftover Perl Las will keep for a week, wrapped, in the fridge. It has a lot of flavour, so a little goes a long way. Try mashing some into roast squash for a cheesey vegetable mash. Or crumble over pasta tossed with chopped figs, roast onions and sage.