Minute Steaks with Rosemary New Potato Smash
Prep: 15 mins
Cook: 30 mins
True to their name, these juicy, flavoursome steaks take just moments to prepare. A smashing side of rosemary-scented seasonal new potatoes, plus a tangle of fresh watercress, make this perfect summer eating.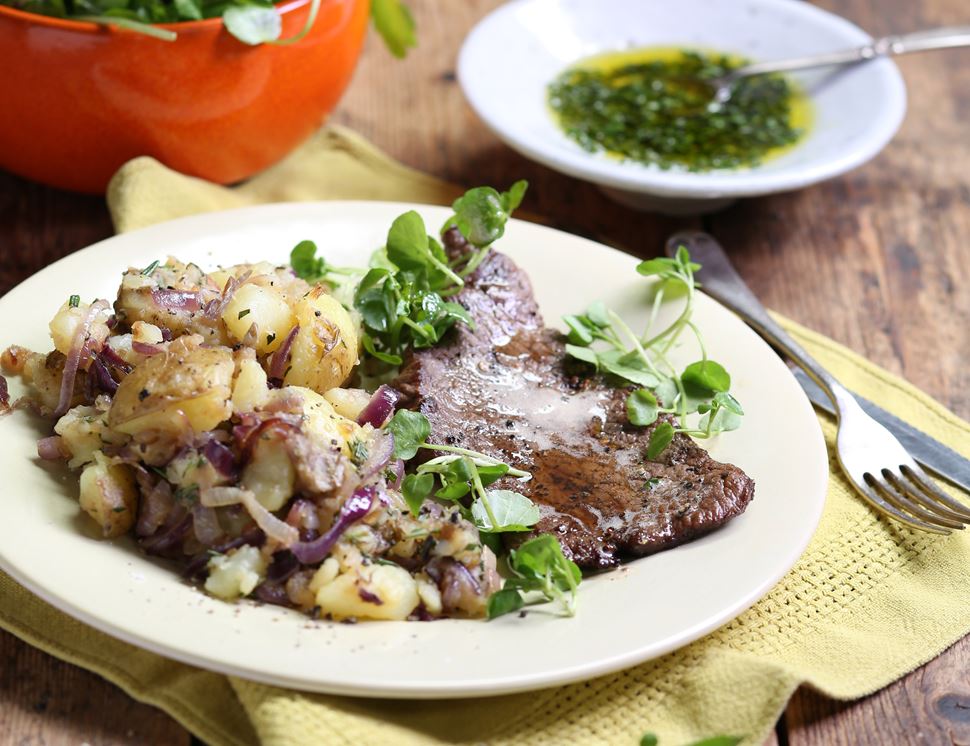 Ingredients you'll need
1 tbsp cider vinegar
1 tsp caster sugar
3 garlic cloves
A handful of chives
500g new potatoes
2 red onions
A handful of rosemary, leaves only
2 top rump minute steaks
50g watercress
45g butter
From your kitchen
Sea salt
1½ tbsp olive oil
Freshly ground pepper
Step by step this way
1.

Put a large pan of salted water on to boil. Pour 1 tbsp of the cider vinegar into a small bowl and add 1 tsp of the sugar. Peel and crush 1 garlic clove and add that to the bowl with 1 tbsp olive oil and a pinch of salt and pepper. Finely chop the chives and add them to the bowl, then whisk together to make a dressing. Set aside.

2.

Scrub the new potatoes and roughly chop them into small, equal-sized pieces. When the water is boiling, add the potatoes. Simmer for 10-15 mins, or till they're tender when pressed with a fork.

3.

While the potatoes cook, peel and finely slice the red onions. Warm a frying pan for 1 min over a medium heat. Add half the butter and onions. Season and fry for 8 mins, stirring now and then, till the onions have softened and caramelised.

4.

While the onions fry, peel and grate or crush the 2 remaining garlic cloves. Finely chop the rosemary leaves.

5.

When the potatoes are cooked, drain them and tip them back into the pan. Roughly mash them so they break into large clumps (not a smooth mash).

6.

Stir the crushed garlic into the onions. Cook, stirring, for 1 min. Add the potatoes to the pan with ½ tbsp oil. Cook for 10-12 mins, stirring once or twice, so the potatoes crisp up and turn golden.

7.

While the potatoes fry, put a frying pan on a high heat to warm up for 2-3 mins. Rub some salt and pepper into the minute steaks. Add the remaining butter to the hot frying pan and then add the steaks. Fry for 1 min on each side. Pop them onto a plate and loosely cover with foil. Rest for 2 mins.

8.

Whisk the dressing you made in step 1 again to make sure it's combined. Toss the watercress with the dressing.

9.

Stir the rosemary into the new potato smash. Serve the steaks with the rosemary smashed potatoes and the dressed watercress.