Tikka Spiced Coconut Cod
Prep: 20 mins
Cook: 25 mins
Gently poach sustainably sourced cod fillets in a creamy tikka spiced coconut sauce and serve with turmeric cinnamon rice and a side of chilli greens.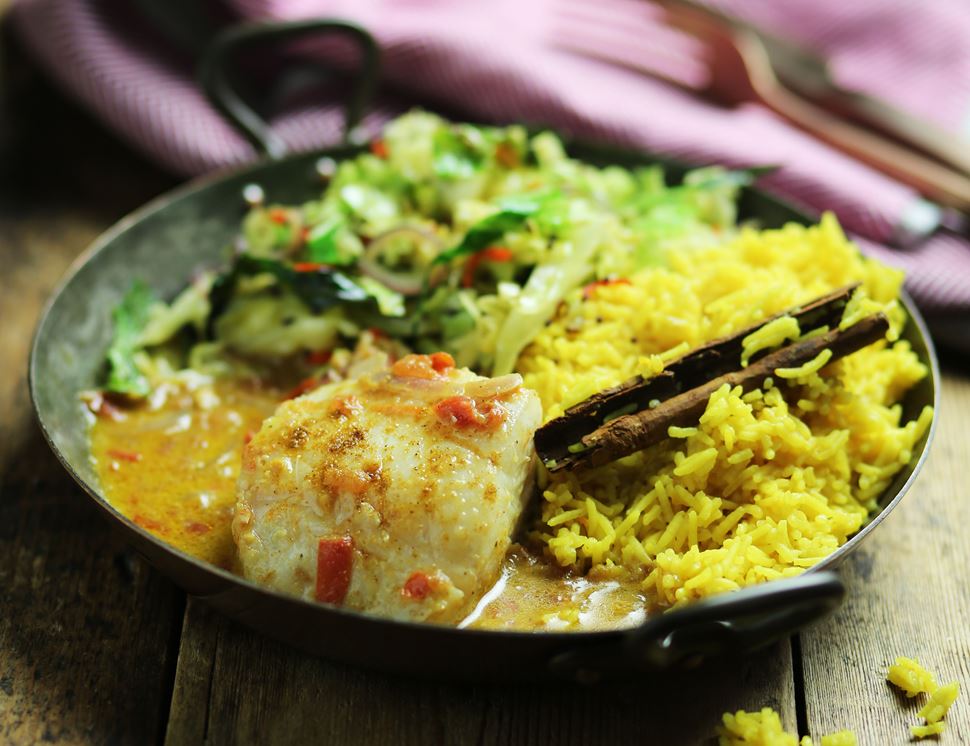 Ingredients you'll need
1 red onion
A thumb of ginger
2 garlic cloves
2 tomatoes
6 curry leaves
2 tsp tikka masala spice mix
200ml coconut milk
½ cabbage
1 chilli
A thumb of turmeric
1 cinnamon stick
150g white basmati rice
2 cod fillets
2 tsp mustard seeds
From your kitchen
2 tbsp coconut or olive oil
650ml boiling water
Sea salt
Freshly ground pepper
Step by step this way
1.

Peel and thinly slice the onion. Set half of it aside. Peel and grate the ginger and 1 garlic clove. Finely chop the tomatoes. These are your ingredients for the base of the cod sauce.

2.

Heat a medium pan for a few mins. When warm, drizzle in 1 tbsp olive oil or coconut oil. Add half the sliced onion, the ginger and the garlic. Fry for 2 mins till just softened. Add the tomatoes, curry leaves and 2 tsp tikka masala spice. Stir well and cook for a further 2 mins. Pour in the coconut milk and 300ml boiling water. Turn the heat to low. Pop on a lid and simmer for 10 mins.

3.

Finely shred half the cabbage. (See pur tip for what to do with the otherhalf.) Thinly slice the remaining garlic clove. Halve the chilli. Flick out most of the seeds. Finely slice it. Set to one side.

4.

Tip the rice into a large bowl. Cover with cold water and whisk for 1-2 mins till the water is cloudy. Drain and rinse.

5.

Peel and grate the turmeric into a pan. Drop in the cinnamon stick. Tip the rice into the pan. Cover with 300ml boiling water and add a pinch of salt. Simmer for 8 mins till the rice is tender and all the water has been absorbed. Remove from the heat and pop a lid on.

6.

When the rice has 5 mins left to cook, lower the cod into the bubbling coconut sauce. Pop on a lid. Cook for 5 mins.

7.

Heat a frying pan or wok. Drizzle 1 tbsp oil. Drop in the garlic, chilli and mustard seeds. Sizzle for 2 mins. Then drop in the cabbage and stir well. Pour in 50ml boiling water and cook for 2 mins.

8.

Taste and season the cod sauce, the rice and the cabbage. Spoon the golden rice into warm shallow bowls. Top with a cod fillet and spoon over the sauce. Serve with the spiced cabbage on the side.
Tip

Cabbage Patch
Spice up your slaw. Finely shred your leftover half cabbage. Grate a couple of carrots and a few beetroot. Whisk together a couple of tbsp. tahini, some lime juice and grated ginger. Mix everything together with a few handfuls of raisins and plenty of seasoning.