Thyme-Crusted Cod with Apple Celeriac Champ
Prep: 15 mins
Cook: 30 mins
To celebrate St Patrick's Day, we've given champ a rooty fruity twist with celeriac and apple. To top it off, there's sustainable cod coated in mustard and thyme for added flavour and texture.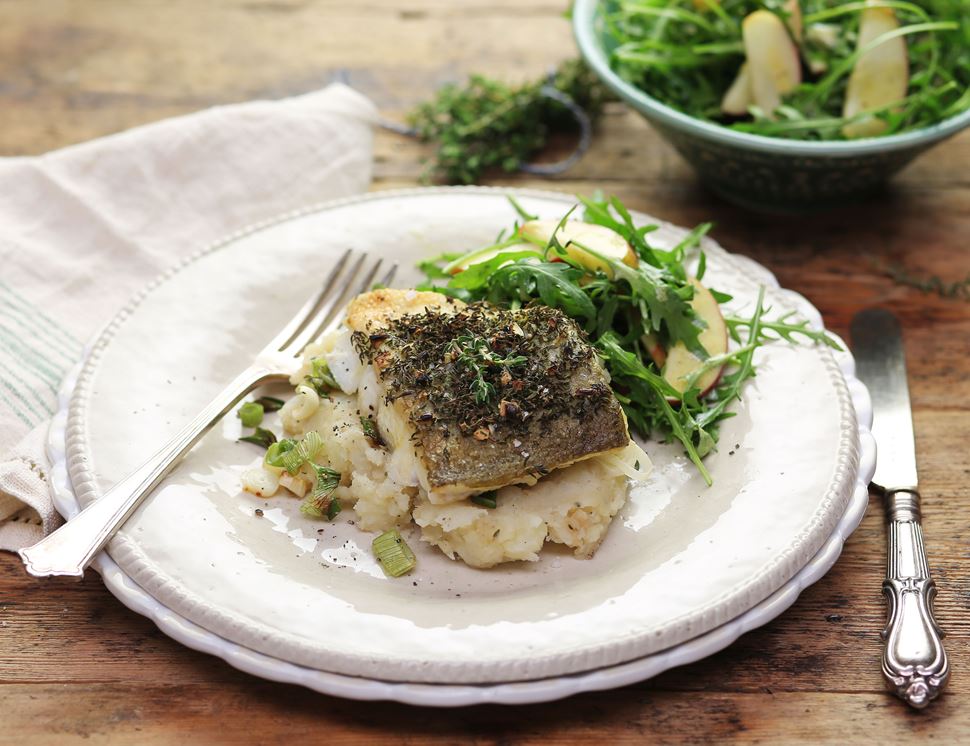 Ingredients you'll need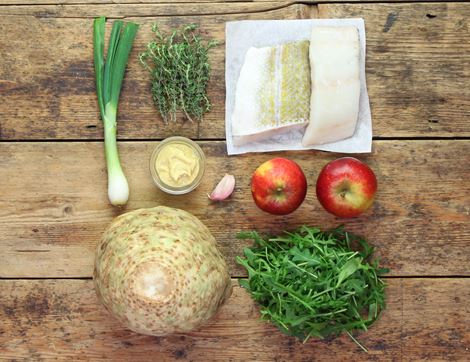 1 tbsp Dijon mustard
2 cod fillets
1 garlic clove
A handful of thyme
1 celeriac
1 salad onion
2 apples
A 50g bag of rocket
From your kitchen
Sea salt and freshly ground pepper
1 tbsp olive oil
2 tbsp cold water
You'll need
Medium pan with a lid
A couple of bowls
Small baking dish
Food processor (optional)
Step by step this way
1.

Heat your oven to 200°C/Fan 180°C/Gas 6. Halve your celeriac. Slice off the peel and roots, trying to leave as much celeriac behind as possible. Chop into 2-3cm wide chunks.

2.

Add the celeriac to a pan. Pour in enough boiling water to come halfway up the celeriac. Add a good pinch of salt and pepper. Bring to the boil. Cover and simmer for 20 mins or till tender when pierced with a fork. Remove from heat. Set aside, lid on, for a further 5 mins to steam the celeriac.

3.

While the celeriac cooks, whisk 1 tbsp mustard with 1 tbsp olive oil and 2 tbsp water to make a dressing. Season to taste with salt and pepper.

4.

Pop the cod in a small baking dish, skin-side up. Use a pastry brush or the back of a teaspoon to brush half the mustard dressing over the top of the cod fillets (keep the other half for later).

5.

Peel and finely chop the garlic. Finely chop the leaves of half the thyme. Scatter the chopped garlic and thyme over the cod with a pinch of salt and pepper. Set aside.

6.

Trim the roots and dry ends off the salad onion. Finely slice it. Arrange the salad onion around the cod. Pop into the oven to bake for 10 mins or till the cod is cooked through, is white and flakes easily.

7.

While the cod cooks, drain any excess water from the celeriac. Tip into a food processor. Peel, core and roughly chop 1 of the apples. Add to the celeriac and blend till smooth. No processor? Tip the celeriac back into the pan, add the apple and use a potato masher to crush everything together.

8.

Scoop out the salad onion from the cod dish. Stir into the celeriac mash, along with the remaining thyme leaves. Taste and add salt and pepper if it needs it. Toss the rocket with the remaining mustard dressing. Thinly slice the remaining apple, discarding the seeds and stem. Add to the rocket and toss to coat. Serve the cod with the celeriac champ, and the rocket and apple salad on the side.