Texan Ranch Bavette Steak
Prep: 15 mins
Cook: 30 mins
Bavette steak is also known as the butcher's cut because butchers used to snaffle them before their customers could get a look in. These juicy steaks are delicious eaten with roasted squash and a riot of lime soaked tomatoes.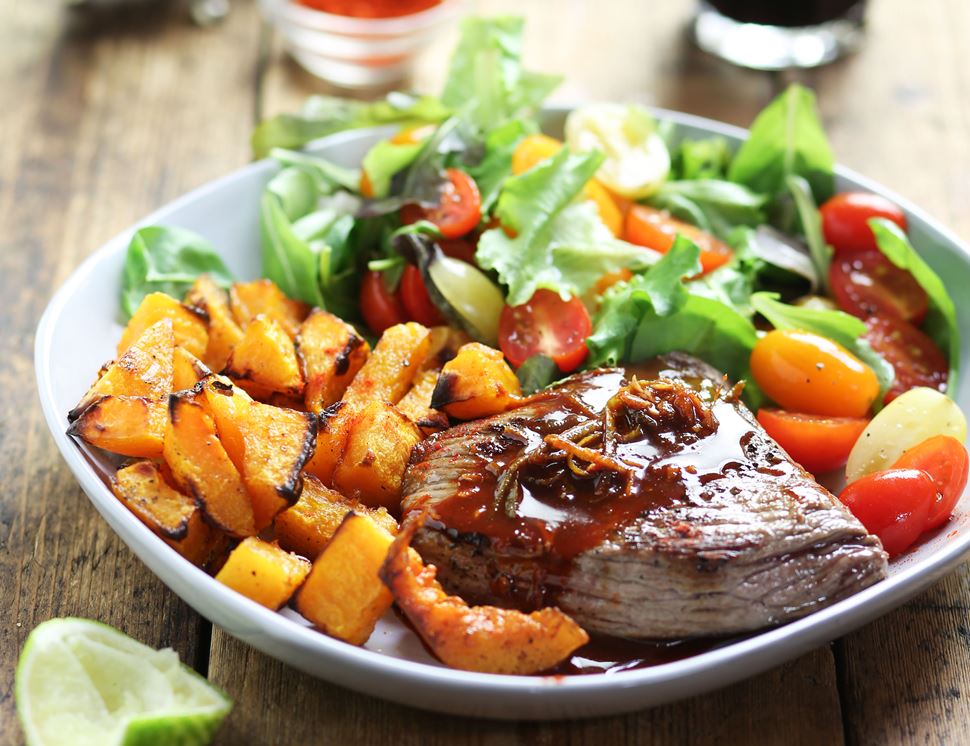 Ingredients you'll need
1 butternut squash
1 garlic clove
1 tbsp Worcestershire sauce
3 tsp demerara sugar
1 lime
1 tsp smoked paprika
250g heirloom tomatoes
2 bavette steaks
50g sweet salad mix
From your kitchen
1 tsp + 2tbsp olive oil
4 tbsp cold water
Sea salt
Freshly ground pepper
Step by step this way
1.

Peel the squash, halve and scoop out the seeds. Chop into bite-sized chunks. Tumble onto a baking tray. Drizzle with 1 tbsp oil and season. Slide into the oven to roast for 30 mins till softened and slightly crispy.

2.

Meanwhile, peel and grate the garlic into a large bowl. Pour 1 tbsp Worcestershire sauce into the bowl. Add 2 tsp sugar. Zest in the lime. Add 1 tsp smoked paprika and 4 tbsp cold water. Whisk together. Set aside.

3.

Cut the tomatoes in half. Pop them in a bowl or dish. Juice the lime. Whisk with 1 tsp oil and 1 tsp sugar. Pour over the tomatoes. Turn to coat them in the lime dressing. Set aside.

4.

Rub ½ tbsp oil into each steak and season generously. Heat a frying pan for 1-2 mins. Place the steaks in the pan. Cook for 3-5 mins on each side depending on the thickness of the steaks and how well done you like them.

5.

Place the steaks on a plate and loosely cover with foil. Leave to rest. Lower the heat under the pan and pour in the smoked paprika sauce you made in step 2. Bring to a bubble and simmer for 5 mins till the sauce has reduced and thickened.

6.

Place the steaks on 2 warm plates. Pour over the smoked paprika sauce. Serve with the roasted squash and a handful of salad leaves topped with the lime dressed tomatoes.

7.