Szechuan Tofu & Green Bean Stir-Fry
Prep: 10 mins
Cook: 25 mins
Szechuan peppercorns have an aromatic floral flavour and a hot, numbing heat that spices up this quick vegan stir-fry.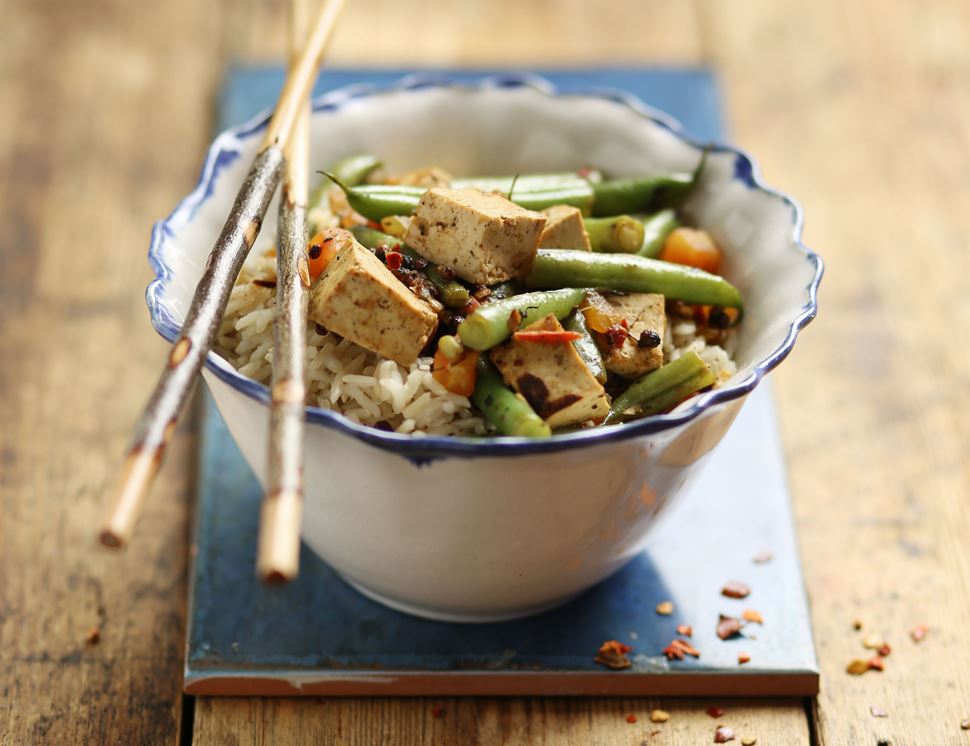 Ingredients you'll need
150g brown basmati rice
200g French beans
1 tomato
A thumb of ginger
2 garlic cloves
190g marinated tofu
1 tsp Szechuan peppecorns
1 vegetable stock cube
½-1 tsp dried chilli flakes
1 tbsp balsamic vinegar
From your kitchen
300ml + 200ml boiling water
1 tbsp coconut, sunflower or olive oil
Sea salt
Step by step this way
1.

Tip your rice into a bowl and cover with cold water. Swirl with a fork for a few mins till the water goes cloudy. Drain and rinse under cold water. Tip the rice into a pan. Add 300ml boiling water and a pinch of salt.

2.

Put a cover on the pan. Bring the rice to the boil, then turn the heat right down and gently cook for 25 mins till all the water has been absorbed. Take off the heat and leave to steam in the pan.

3.

While the rice cooks, trim the woody ends off the French beans and then halve them. Set aside. Finely chop the tomato. Peel and grate the ginger and garlic. Drain the tofu and chop into small chunks. Roughly crush the peppercorns in a pestle and mortar or a bowl with the bottom of a jam jar. Dissolve the stock cube in 200ml boiling water. You're ready to start stir-frying!

4.

Warm a deep frying pan or wok over a high heat for 2 mins. Add 1 tbsp coconut, sunflower or olive oil to the pan with the French beans. Stir-fry for 4-5 mins till the beans are starting to soften and colour.

5.

Add the garlic, ginger, Szechuan peppercorns and 1/2-1 tsp dried chilli flakes (or more if you like you food spicy). Stir everything for 30 seconds.

6.

Add the tomatoes and tofu to the pan. Stir-fry for 3 mins to just soften the tomatoes. Pour in 2the vegetable stock. Add the balsamic. Give everything a stir to mix. Simmer for 5 mins till the beans are tender.

7.

Taste the stir fry and add a little salt if you think it needs it. Fluff up the rice and spoon into two warm bowls. Top with the stir fry and serve.