Szechuan Peppered Minute Steaks with Stir Fried Noodles
Prep: 15 mins
Cook: 15 mins
A quick and simple supper of soft pad Thai noodles topped with organic veg and tender chunks of minute steak, infused with a touch of spice from freshly cracked Szechuan peppercorns, whose pleasantly numbing heat will make your mouth tingle.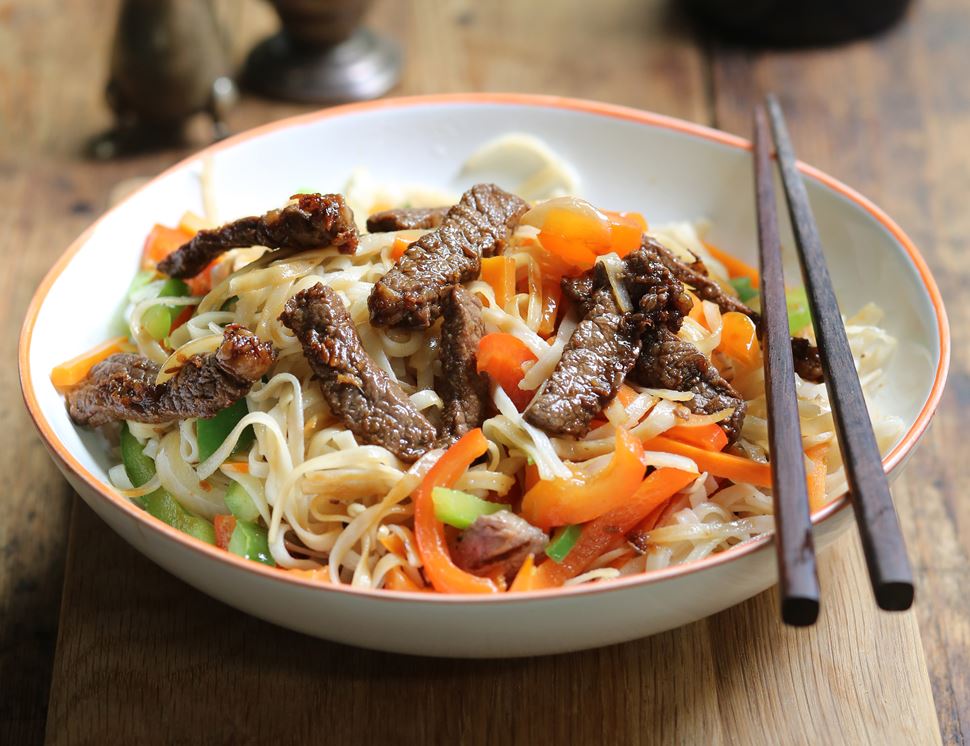 Ingredients you'll need
1 tsp Szechuan peppercorns
1 tsp cumin seeds
2 top rump minute steaks
1 onion
1 carrot
1 red pepper
1 green pepper
2 garlic cloves
A thumb of ginger
250g pad Thai noodles
50g tamari
2 tbsp brown rice vinegar
1 tbsp Demerara sugar
From your kitchen
Sea salt
1 tbsp sunflower, coconut or olive oil
Step by step this way
1.

Tip 1 tsp each of the Szechuan peppercorns and cumin seeds into a pestle and mortar and roughly crush them. No pestle and mortar? Use a small bowl and the bottom of a jam jar or the end of a rolling pin.

2.

Pop the steaks on a plate and pierce them a few times with a fork. Rub the steaks with the peppercorn and cumin mix. Set aside.

3.

Put a large pan of salted water on to boil. Peel and finely slice the onion. Trim and peel the carrot, then slice into small batons about as big as your little finger. Halve the peppers, scoop out the seeds and white pith and finely slice them into batons to match the carrot. Peel and grate the garlic cloves and the ginger.

4.

Put a wok or deep frying pan over a high heat for 2 mins. Add ½ tbsp oil and the steaks. Fry for 30 secs on each side. Set the steaks aside on a board and loosely cover with foil.

5.

Add another ½ tbsp oil to the wok and drop in the onion, carrot and peppers. Stir fry for 5 mins till the veg start to soften. While the veg fry, slice the steak into 1cm-thick strips.

6.

The water should be boiling by now. Add the pad Thai noodles and simmer for 3-4 mins, then drain and set aside.

7.

Add the garlic and ginger to the pan. Tip in the tamari, 2 tbsp vinegar and 1 tbsp sugar. Stir fry for 2-3 mins till the pan smells aromatic.

8.

Add the steak to the pan and stir fry for 2 mins to warm the steak through, then tip in the noodles. Use 2 forks to pick up and drop everything in the pan so it's all mixed together. Serve the steak noodles straight away in 2 warm bowls.