Sweet & Spicy Sausage Curry
Prep: 15 mins
Cook: 35-40 mins
Dates are the secret ingredient in this fresh tomato curry sauce, adding sweetness and richness while chilli flakes and garam masala add spice.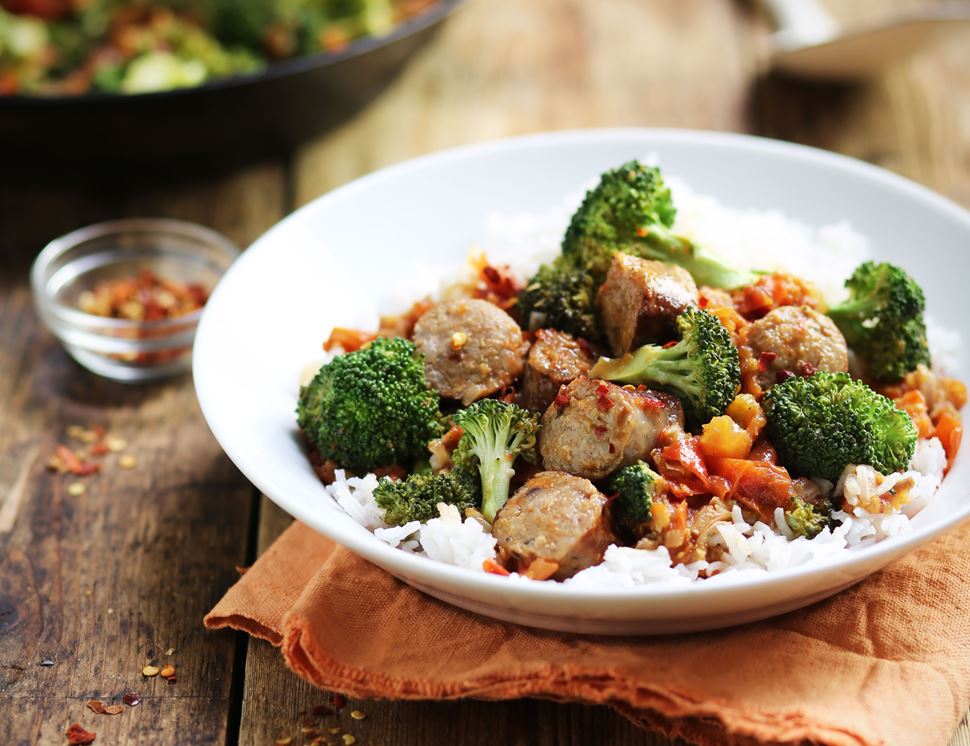 Ingredients you'll need
200g white basmati rice
4 Cumberland sausages
1 onion
A head of broccoli
1 garlic clove
A thumb of ginger
50g dried dates
400g tomatoes
1 tsp garam masala
A small handful of curry leaves
A pinch or two of dried chilli flakes
From your kitchen
½ tbsp olive or sunflower oil
Sea salt
Freshly ground pepper
200 ml + 400 ml boiling water
You'll need
Bowl
Sieve
Small pan with a lid
Measuring jug
Step by step this way
1.

Tip the rice into a bowl and cover with cold water. Whisk (you can use a fork) for a few mins till the water goes cloudy. Drain the rice, rinse it and tip back into the bowl. Cover with cold water and set aside to soak.

2.

Warm a medium pan over a medium heat for 1 min. Add ½ tbsp oil and the sausages. Fry for 5- 8 mins, turning once or twice, till the sausages are browned all over.

3.

While the sausages fry, peel and finely chop the onion. Lift the sausages out of the pan and pop on a plate. Add the onion to the pan with a splash of water and some salt and pepper. Turn the heat right down. Gently cook for 5 mins till the onion is soft and glossy. If it starts to dry out, add a little more water.

4.

Peel and grate the garlic and ginger. Finely chop the dates. Roughly chop the tomatoes. Take the sausages out of the pan and carefully slice them into bite-size chunks.

5.

Stir the garlic, ginger and dates into the onion. Add 1 tsp of the garam masala, a pinch or two of dried chilli flakes (they're spicy, so add as much or as little as you like) and the curry leaves. Cook and stir for 1 min.

6.

Return the sausages to the pan. Scoop in the tomatoes and potatoes. Add 200 ml boiling water. Season. Cover, turn up the heat and bring to a simmer. Turn the heat to medium and simmer for 15 mins, stirring occasionally, till the tomatoes have broken down and formed a thick sauce.

7.

Drain the rice and tip into a pan. Pour in 400 ml boiling water. Add a pinch of salt. Cover. Bring to the boil. Turn the heat right down. Gently cook for 8 mins till all the water is absorbed. Take off the heat. Set aside, lid on, to finish cooking the rice.

8.

Break the broccoli into small florets. Thinly slice the stalk. Add the broccoli to the tomatoes (add a splash more water if needed). Simmer for 5-8 mins till the broccoli is just cooked. Taste the curry and add more salt and pepper if it needs it. Serve in bowls with the rice.