Sweet Potato & Noodle Doodle Soup
Prep: 20 mins
Cook: 25 mins
Our take on laksa, the noodle soup from Malaysia, with added doodle. Okay, we made up the doodle bit. Unless doodle is short for delicious. In which case, it's definitely doodle.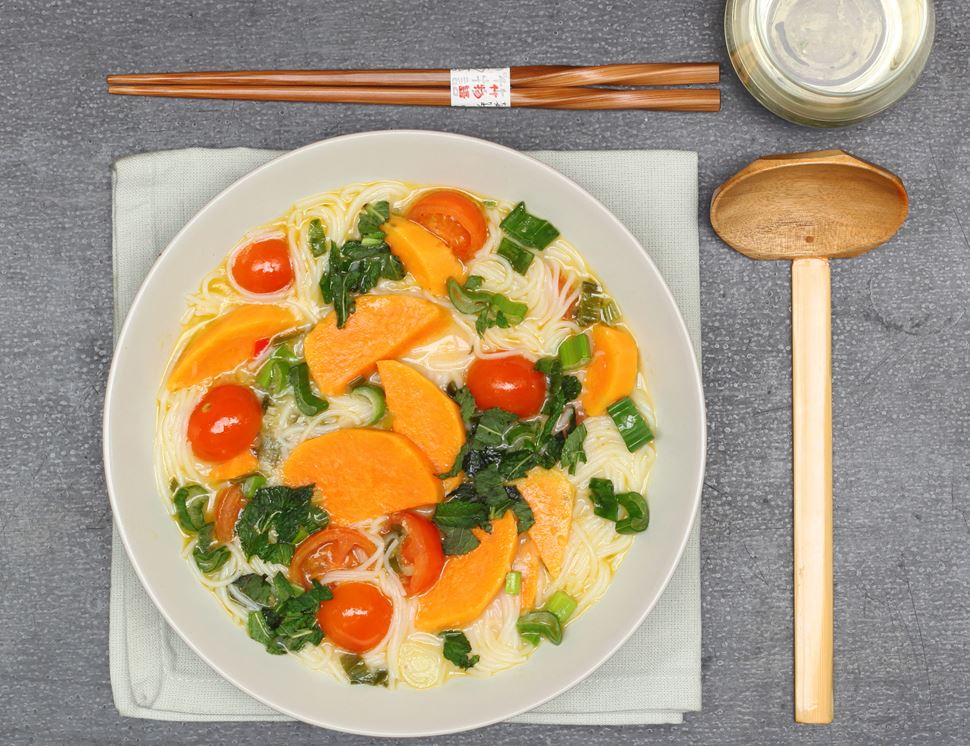 Ingredients you'll need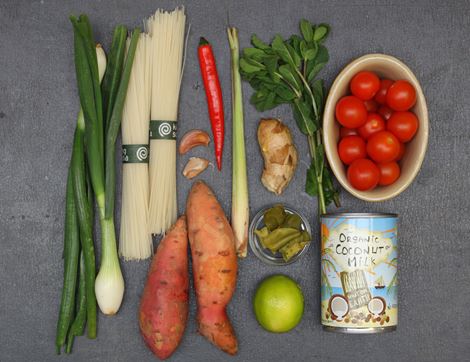 1 lime
A handful of mint
1 chilli
2 garlic cloves
A thumb of ginger
A stem of lemon grass
2 spring onions
2 sweet potatoes
A punnet of cherry tomatoes
A sachet of lime leaves
A tin of coconut milk
2 bundles of Thai rice noodles
From your kitchen
1 tbsp olive oil
Sea salt
600ml hot water
Freshly ground pepper
You'll need
Large pan or wok with a lid
Kitchen paper
Measuring jug
Step by step this way
1.

Finely grate or pare the zest from the lime. Rinse and pat dry the mint. Finely slice the leaves. Rinse the chilli. Halve, then flick out the seeds and white bits. Finely slice. Peel and grate the garlic and ginger.

2.

Bash the lemon grass a few times with the flat side of your knife. Rinse and finely slice the spring onions. Peel the sweet potatoes. Roughly chop them. Rinse and halve the cherry tomatoes.

3.

Warm 1 tbsp olive oil in a pan or wok. Add the spring onions. Season with a little salt. Fry over a low heat for 5 mins till they are soft and glossy. Stir often.

4.

Fill a kettle and boil it. Add the lime zest, chilli, ginger, lemon grass and lime leaves to the pan. Stir and fry for 2 mins till the pan smells aromatic.

5.

Add the sweet potatoes to the pan. Pour in the coconut milk. Add 600ml hot water from the kettle. Bring to the boil. Cover. Turn the heat down. Simmer for 10 mins.

6.

Add 2 bundles of Thai rice noodles to the pan along with the cherry tomatoes. Simmer for another 3 mins to cook the noodles.

7.

Juice the lime and add to the soup. Taste and add more salt and pepper if you think it needs it. Ladle the soup into warm bowls. Top with the mint leaves to serve.
Tip

Bish Bash Bosh Bashing the lemon grass before adding it to soup helps release it aromatic oils. Boosting flavour and relieving stress. Ooga chaga.