Sweet Potato Kibbeh
Prep: 15 mins
Cook: 55 mins
Kibbeh is the Arabic word for 'ball'. Which is also what you'll have making this incredible Middle Eastern dish. It's simpler than you'd think, and uses our incredible organic sweet potatoes instead of the traditional minced meat.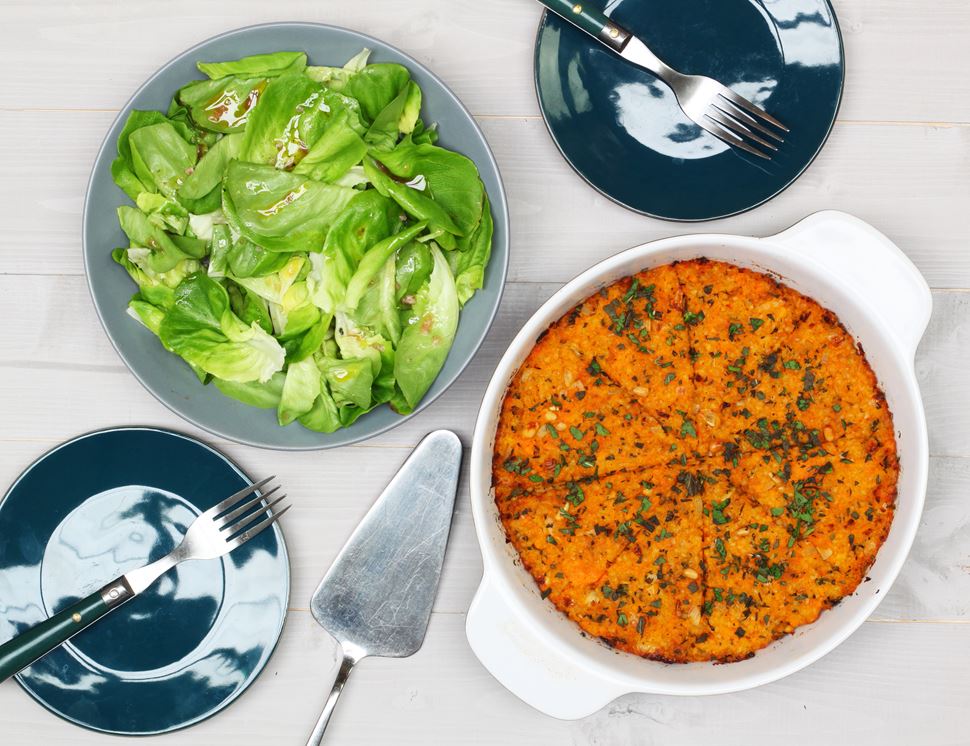 Ingredients you'll need
From your kitchen
Sea salt and freshly ground pepper
2 tbsp olive oil plus a splash for cooking
You'll need
Pan with a lid
Frying pan
Large bowl
Ovenproof dish
Small bowl
Step by step this way
1.

Fill a pan with water. Add a pinch of salt. Cover. Bring to the boil. Peel and chop the sweet potatoes. Add to the boiling water. Simmer for 10 mins till the potatoes are nearly soft.

2.

Heat your oven to 200°C/Fan 180°C/Gas 6. Rinse the bulgar wheat under cold water. Add it to the sweet potatoes. Simmer for 5 more mins till the potatoes are soft. Drain well.

3.

Warm a dry frying pan over a low heat. Add the flaked almonds. Toast for 1-2 mins. Keep shaking the pan till the nuts are golden. Tip into a large bowl.

4.

Peel and finely chop the onion. Add a splash of oil to a frying pan. Add the onion. Fry for 5 mins till the onion is soft and glossy. Tip into the bowl with the flaked almonds.

5.

Tip the sweet potatoes and bulgar wheat back into the pan. Mash them over a low heat till they're smooth. Add to the flaked almonds and onions.

6.

Measure out 1 tsp smoked paprika and add it to the sweet potatoes. Strip the leaves off the mint sprigs and chop them. Stir them into the sweet potatoes with a good pinch of salt and pepper. Kibbeh complete (nearly).

7.

Brush an ovenproof dish with oil. Spoon the kibbeh into the dish and press down firmly. Score into 6-8 slices. Drizzle with 2 tbsp. oil. Bake for about 40 mins till lightly browned and firm to the touch.

8.

Pull the large soft leaves from half a lettuce. Wash and dry them. Peel and crush or grate the garlic. Whisk with 1 tbsp vinegar, 2 tbsp oil and some seasoning. Toss with the lettuce. Serve with the warm kibbeh.Toss with the lettuce and serve with the warm kibbeh.