Sweet Potato Kebabs with Mango Barbecue Sauce
Prep: 30 mins
Cook: 40 mins
Fire up the grill for this brilliant barbecue veg combo. Perfect for dunking in to your own homemade mango barbecue sauce.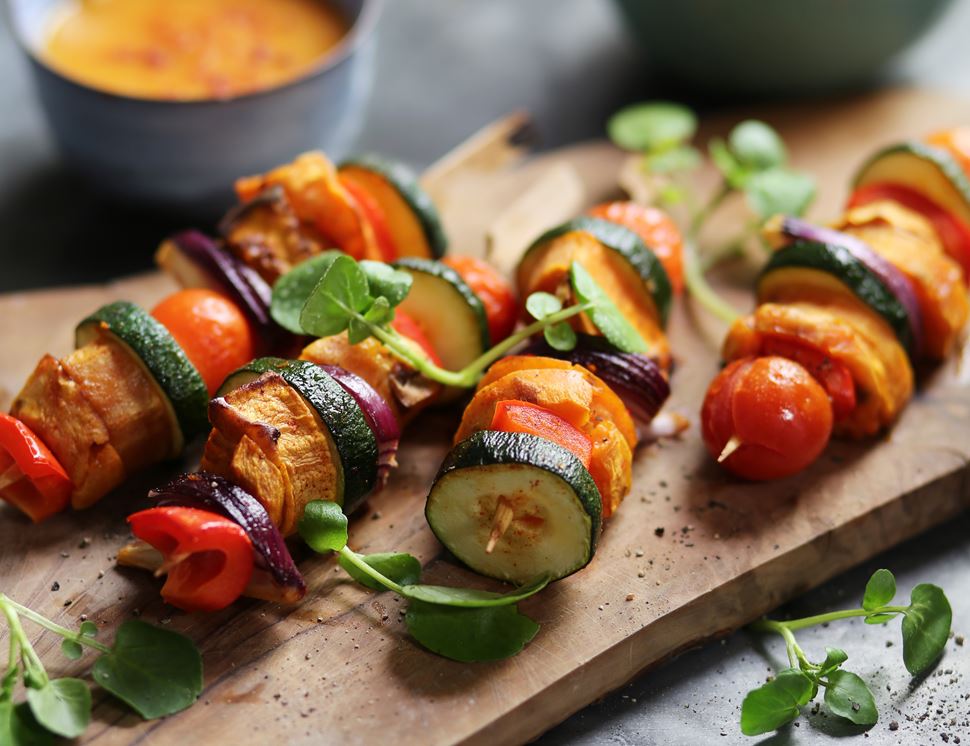 Ingredients you'll need
2 sweet potatoes
1 shallot
1 garlic clove
A thumb of ginger
250g cherry tomatoes
1 tsp smoked paprika
1 star anise
2 tbsp tamari
1 mango
1 red pepper
1 red onion
1 courgette
1 orange
75g wholewheat couscous
50g watercress
From your kitchen
2 tbsp + 1 tsp olive oil
350 ml boiling water
Sea salt
Freshly ground pepper
You'll need
Baking tray
BBQ or grill pan
Pan
Hnad blender or food processor (optional)
Skewers (soaked if wooden)
A couple of bowls
.
Step by step this way
1.

Heat your oven to 200°C/Fan 180°C/Gas 6. Fire up the barbecue if you're using.Peel and chop the sweet potatoes into 2cm thick cubes. Place on a baking tray. Drizzle with 1 tbsp olive oil and season. Slide into the oven to roast for 20 mins till just softened.

2.

Peel and thinly slice the shallot. Peel and grate the garlic and ginger. Warm a pan over a medium heat. When warm, drizzle in 1 tsp oil. Add the shallot and cook for 2 mins. Roughly chop 4 cherry tomatoes and add those to the pan with the garlic and ginger. Sprinkle in 1 tsp smoked paprika and drop in 1 star anise. Pour in 1 tbsp tamari and 200 ml boiling water. Simmer for 5 mins.

3.

Peel the mango and slice off the fat cheeks. Slice off the rest of the flesh from the stone. Roughly chop the flesh. Add to the pan with the simmering sauce. Cook for 10 mins. Turn off the heat. Leave the sauce chunky, or remove the star anise and blend till smooth.

4.

Halve the pepper. Scoop out the white bits and chop into chunks. Peel the onion and thickly slice it. Trim the courgette and slice it into 1cm thick rounds. If you're not using a barbecue, set your grill to a medium high setting.

5.

The sweet potato should be just cooked. Remove from oven and allow to cool a little. Thread the sweet potato and prepped veg onto skewers, adding a few cherry tomatoes too.

6.

Zest the orange and squeeze the juice from one half into a small bowl and add the remaining tamari. Whisk in 1 tbsp oil. Brush the kebabs with half of this marinade. Place onto the barbecue or under the grill for 8-12 mins till the veg is charred. Turn every now and then.

7.

While the kebabs cook, tip the couscous into a bowl. Pour over 150ml boiling water. Cover with cling film or a plate and leave to steam cook. Add the orange zest and remaining juice. Season. Fold through the watercress.

8.

Brush the cooked kebabs with any remaining tamari and orange marinade. Serve with the mango barbecue sauce and watercress couscous.