Sunny Spaghetti Bolognese
Prep: 5 mins
Cook: 40-45 mins
We've put some warm southern Mediterranean sunshine in our version of the Italian classic spag bol. There are sundried tomatoes for extra flavour, aubergine for an extra veggie hit and pine nuts for crunch.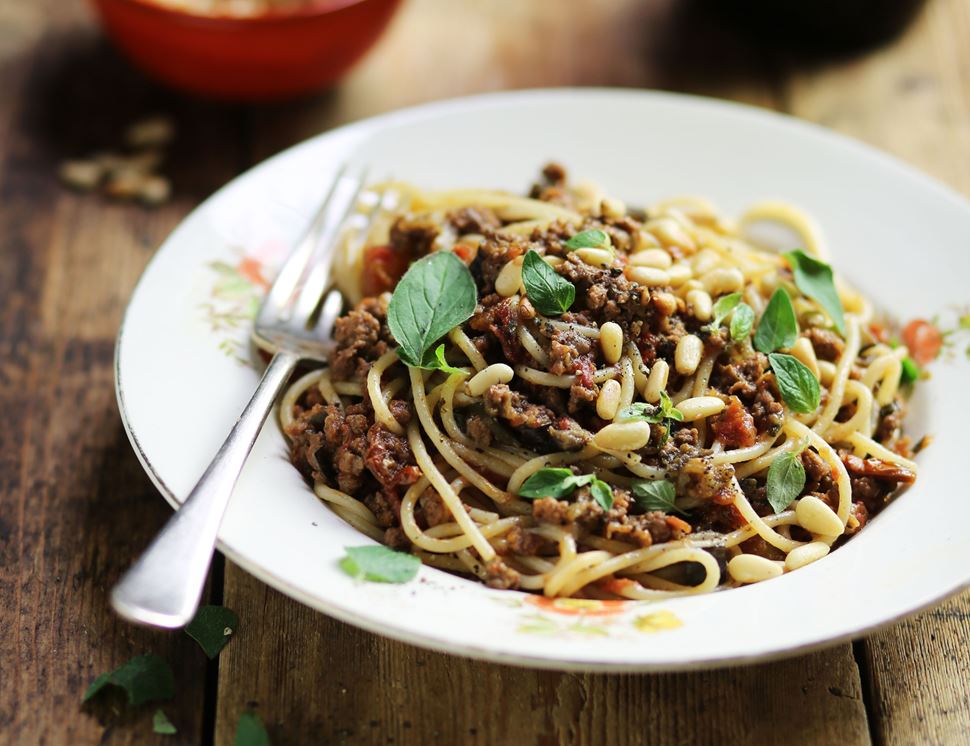 Ingredients you'll need
35g sundried tomatoes
1 aubergine
1 onion
1 garlic clove
25g pine nuts
A handful of oregano, leaves only
250g beef mince
400g chopped tomatoes
200g spaghetti
From your kitchen
2 tsp olive oil
Sea salt
Freshly ground pepper
200ml water
You'll need
Medium pan with a lid
Large pan with a lid
Colander
Step by step this way
1.

Tip the sundried tomatoes into a bowl. Pour in enough boiling water to cover them. Set aside for 10 mins to soak.

2.

While the tomatoes soak, trim the top off the aubergine and chop it into cubes around ½ cm across. Peel and finely chop the onion. Peel and grate or crush the garlic. Roughly chop the leaves from half of the oregano sprigs. Drain the sundried tomatoes and roughly chop them.

3.

Warm a medium pan over a medium heat. Tip in the pine nuts. Toast them in the dry pan for 3 mins till they're golden brown. Shake the pan regularly while they're toasting, so they keep moving. Tip the pine nuts into a bowl.

4.

Add 1 tsp olive oil to the pan. Add the aubergine. Season with salt and pepper. Cook and stir for 4-5 mins till the aubergine has browned. Tip out onto a plate. Set aside.

5.

Add another 1 tsp olive oil to the pan. Add the beef. Cook and stir for 5 mins till the mince has browned and any lumps have broken up. Add the onion to the beef. Season with a pinch of salt and pepper. Cook and stir for 3 mins till the onion looks glossy and soft. Stir the aubergine back into the pan.

6.

Stir the garlic, sundried tomatoes and chopped oregano into the pan. Tip in the chopped tomatoes. Half fill the tin with water (around 200ml) and pour into the pan. Cover and bring to the boil, then turn the heat down a little. Simmer for 25-30 mins, stirring now and then, till the sauce has thickened.

7.

While the sauce cooks, put a large pan of salted water on to boil. Add the spaghetti to the pan when the water is boiling (and the sauce has roughly 10 mins left to cook). Simmer for 8 mins till the spaghetti is cooked but not too soft.

8.

Drain the spaghetti. Taste the sauce and add a pinch more salt and pepper if you think it needs it. Add the spaghetti and toss to mix. Heap the spag bol up in warm bowls. Top with the pine nuts and the remaining oregano leaves to serve.