Sultan's Feast
Prep: 30 mins
Cook: 30 mins
Tonight you'll learn how to whip up a dinner fit for a Sultan. Our recipe guru Sorrel's here to help you make your own flatbreads and baba ghanoush. Take it away, Sorrel.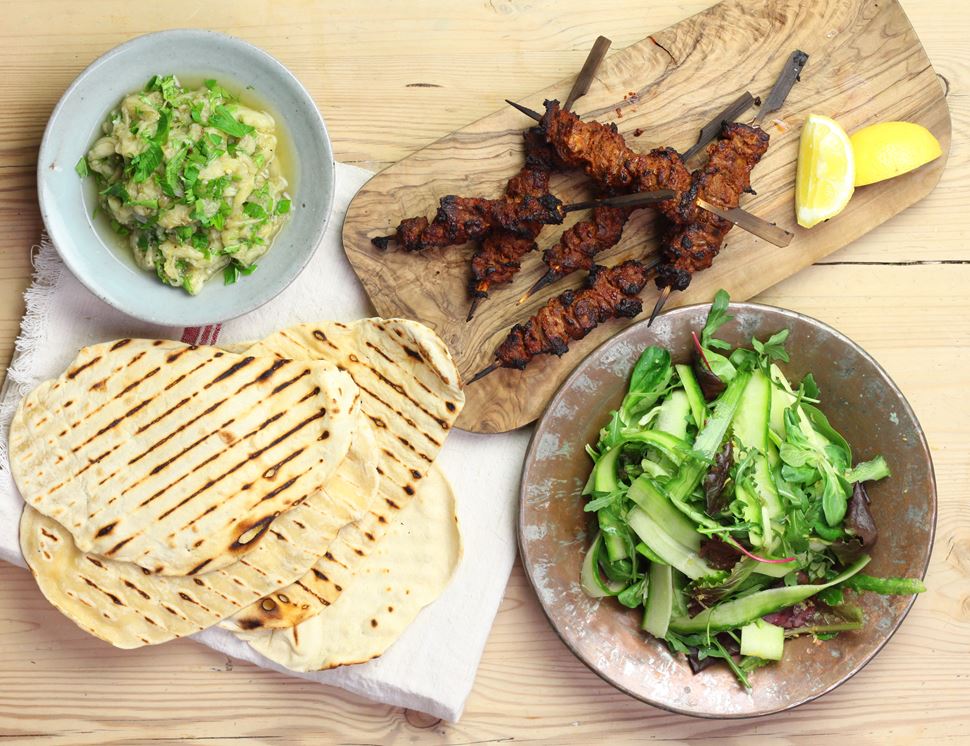 Ingredients you'll need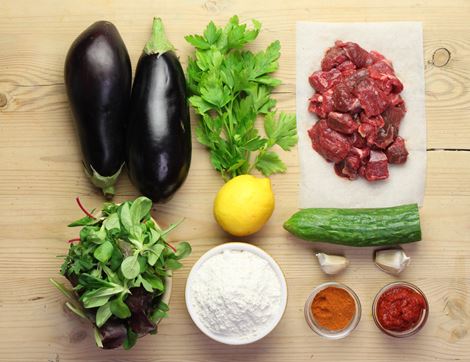 2 tsp ras el hanut
1 tbsp tomato purée
A pack of diced lamb
2 garlic cloves
2 aubergines
1 lemon
A handful of flat leaf parsley
A pot of plain flour
½ cucumber
2 large handfuls of baby leaf salad
From your kitchen
2 tbsp + 1 tsp olive oil
Sea salt
Freshly ground pepper
80ml cold water
You'll need
A few bowls
Metal or wooden skewers
Foil
Rolling pin
Griddle pan or non-stick frying pan
Step by step this way
1.

Measure out 2 tsp of the ras el hanut. In a large bowl, mix with 1 tbsp of tomato purée, 1 tsp olive oil and season. Add the lamb. Toss to coat in the marinade. Set aside to marinate. If you're using wooden skewers soak them in a bowl of cold water.

2.

Heat your grill to medium. Line the grill pan with foil. Peel and slice one of the garlic cloves into matchsticks. Prick the aubergines all over using a sharp knife. Push the garlic slivers into some of the holes. Pop on a rack in the grill pan.

3.

Grill the aubergines for about 15 mins, turning once, till they're soft and the skin is beginning to char. Set aside to cool for 5 mins, then peel off the skin. Roughly chop the flesh. Add to a bowl.

4.

Peel and crush the other garlic clove. Add it to the aubergine. Pare or grate the zest from the lemon. Juice it. Finely chop the parsley. Stir half the parsley into the aubergine with half the lemon zest and half the juice. Season. Mix well.

5.

Sift the flour into a bowl. Take out 1 tbsp of the flour and put to one side. Season. Make a well in the middle and add 1 tbsp olive oil and 80 ml cold water. Stir together to make a soft dough.

6.

Turn the dough out of the bowl. Knead for 2-3 mins till it's soft and supple. Cover. Leave for 10 mins to rest. Use a peeler to slice ribbons from half the cucumber. Pop in a bowl with the baby salad leaves. Combine the remaining lemon zest and juice with 1 tbsp olive oil. Toss to mix.

7.

Thread the lamb onto skewers. Stick them on the grill pan. Grill for 10 mins. Turn once or twice till charred and cooked through.

8.

Divide the dough into 4. Dust your work top with flour. Roll the pieces into long ovals. Heat a dry griddle or frying pan till hot. Cook the flatbreads for 2-3 mins, turning once, till golden. Serve with the skewers, salad and smoky aubergine.