Street Food Named Koshari
Prep: 10 mins
Cook: 40 mins
Street food Koshari is Egypt's national dish. This version is rice, fancy pasta and good old green lentils topped with crispy onions and a spicy tomato sauce. Goshari it's good.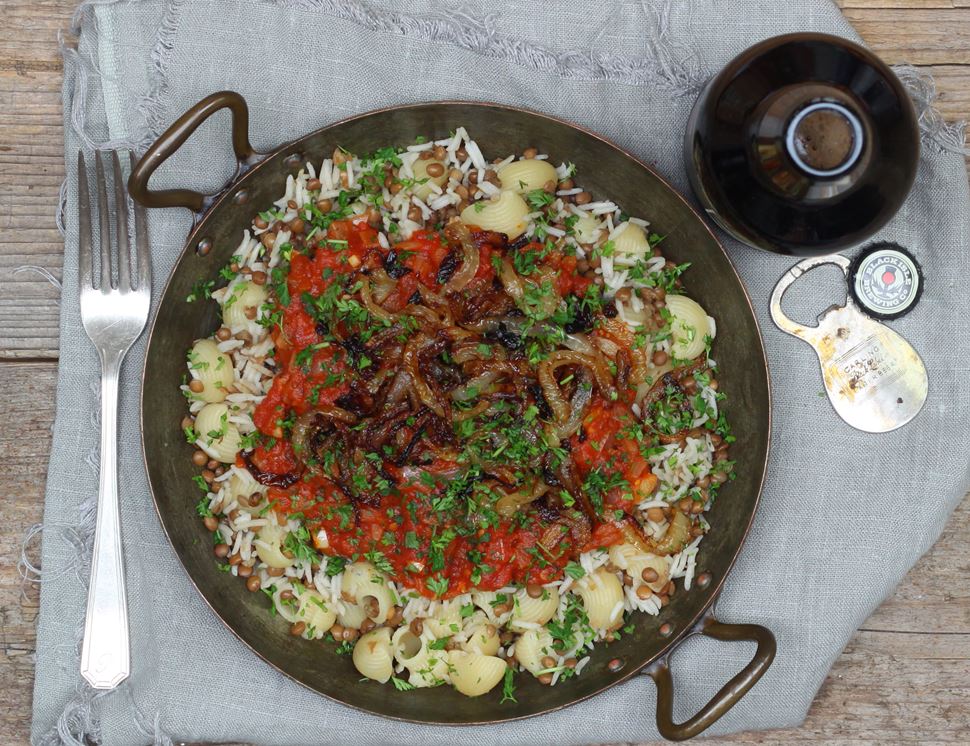 Ingredients you'll need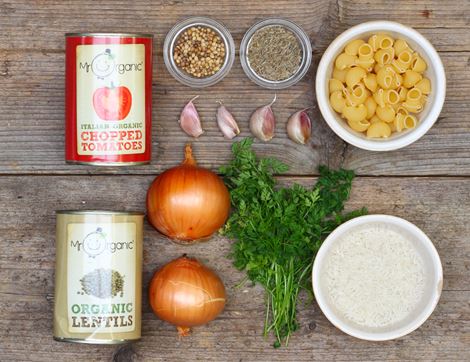 2 onions
4 garlic cloves
A handful of chervil
1 tsp cumin seeds
1 tsp coriander seeds
A tin of chopped tomatoes
A bag of white basmati rice
A tin of green lentils
A bag of chifferini pasta
From your kitchen
2 tbsp olive oil
Sea salt
Freshly ground pepper
200ml hot water
You'll need
Kitchen paper
Pestle and mortar or spice grinder (optional
A couple of pans with lids
Deep frying pan or wok with a lid
Measuring jug
Colander
Step by step this way
1.

Peel both the onions. Finely slice one of them. Finely chop the other onion. Peel and grate or crush the garlic. Rinse the chervil and pat dry. Finely chop the leaves. Fill the kettle and boil it.

2.

Warm a pan over a low heat. Add 1 tsp each of the cumin and coriander seeds. Toast for 1-2 mins till they pop and smell nutty. Tip into a pestle and mortar or spice grinder and grind them, or leave them whole if you prefer.

3.

Warm 1 tbsp olive oil in a pan. Add the chopped onion. Season with salt and pepper. Cook over a low heat for 5-8 mins till the onion is glossy looking and soft. Add the garlic, cumin and coriander. Cook and stir for 1 min till it smells spicy.

4.

Add the chopped tomatoes. Half fill the empty can with water. Add that too. Pop on a lid. Simmer the sauce for about 20 mins till it has thickened. Stir it every now and then. Taste and adjust the seasoning if needed.

5.

While the sauce cooks, warm 1 tbsp olive oil in a deep frying pan or wok. Add the sliced onion. Season. Gently fry for 10-12 mins over a low heat till the onion is golden and crisp. Lift out of the pan. Pop on a plate lined with kitchen paper.

6.

Add the rice and lentils to the frying pan. Stir them round to soak up the oniony oil. Pour in 200ml hot water. Cover and simmer for 8 mins till the water's absorbed and the rice is tender. Make sure the pan doesn't boil dry.

7.

Fill another pan with hot water from the kettle. Add a pinch of salt. Bring to the boil. Add the pasta. Simmer for 8 mins till the pasta is tender but still a bit chewy. Drain the pasta.

8.

Stir the pasta into the rice with half the crisp sliced onions. Serve the pasta and rice on warm plates topped with the tomato sauce, the rest of the crisp onions and the chervil sprinkled on top.