Stir-Fried Venison with Kohlrabi Rice
Prep: 20 mins
Cook: 10-12 mins
Kohl-who-bi? This UFO lookalike is crunchy and bright, ace for a stir fry. Add in some wild venison, fresh flavours and seasonal asparagus to really get into the spring of things.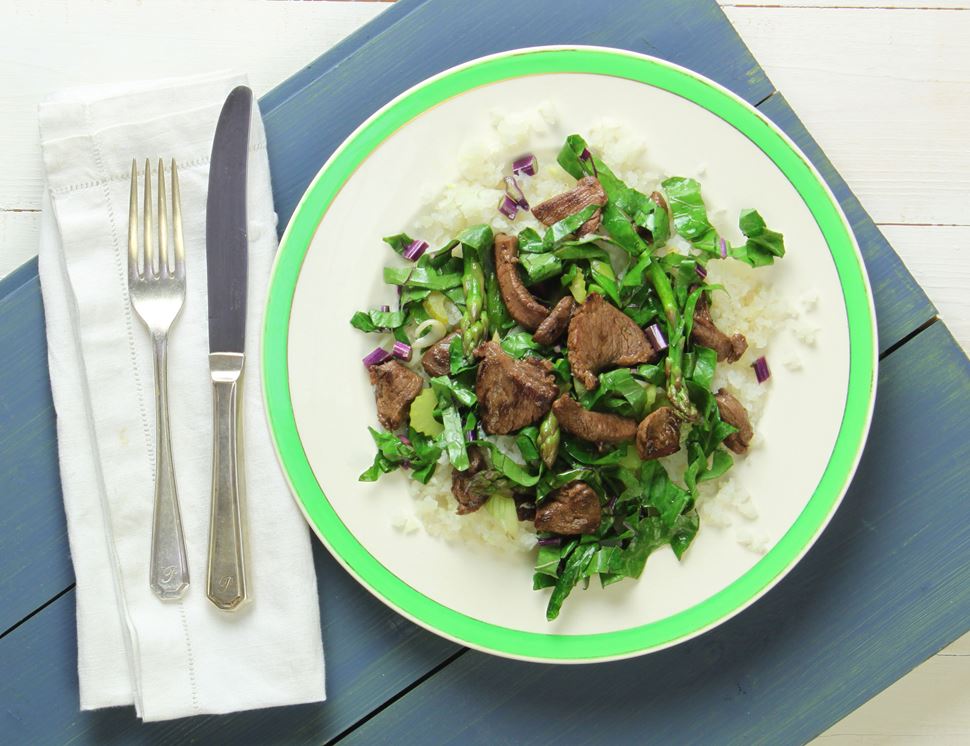 Ingredients you'll need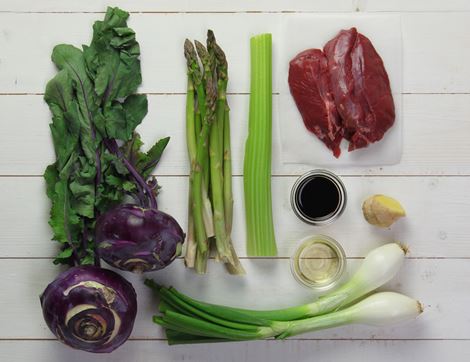 2 kohlrabi
2 spring onions
A stick of celery
A bundle of asparagus
A thumb of ginger
A pack of venison minute steaks
1 tbsp brown rice wine vinegar
1 tbsp tamari
From your kitchen
You'll need
Food processor or grater
Heatproof bowl
Deep frying pan or wok
Sieve
Step by step this way
1.

Trim the stalks and leaves off the kohlrabi (save them for later). Peel the kohlrabi. Chop them into chunks. Pop in a food processor. Pulse till you have fine 'rice'. No processor? Coarsely grate them.

2.

Pop the kohlrabi rice in a heatproof bowl. Fill the kettle and boil it. Add enough hot water to the bowl to cover the rice. Set to one side.

3.

Trim and thickly slice the spring onions and celery. Snap the woody ends off the asparagus spears. Trim them into 3 cm lengths. Peel and grate the ginger. Finely slice the kohlrabi stalks and leaves.

4.

Thinly slice the venison minute steaks - aim for pieces that are 1/4 cm thick.

5.

Warm 2 tsp olive oil in a deep frying pan or wok. Add the venison. Stir fry for 3-4 mins till the steak strips are browned. Lift the venison out of the pan. Pop on a plate.

6.

Add the spring onions, asparagus, celery and kohlrabi stalks to the pan. Stir fry for 5 mins till the veg has just lost some of it's bite and is warmed through. Stir in the ginger.

7.

Add the venison back into the pan with any juices from the plate. Add the kohlrabi leaves. Measure out 1 tbsp brown rice wine vinegar and 1 tbsp tamari. Add to the pan.

8.

Stir fry the venison and veg together for 2-3 mins to heat everything through. Drain the kohlrabi rice. Serve the rice with the venison stir-fry.