Sticky Lemon Chicken & Rice
Prep: 10 mins
Cook: 25 mins
Step into Hong Kong for a lighter version of a classic. Hold the batter, add plenty of organic veg then zing it all up with the sticky lemon sauce.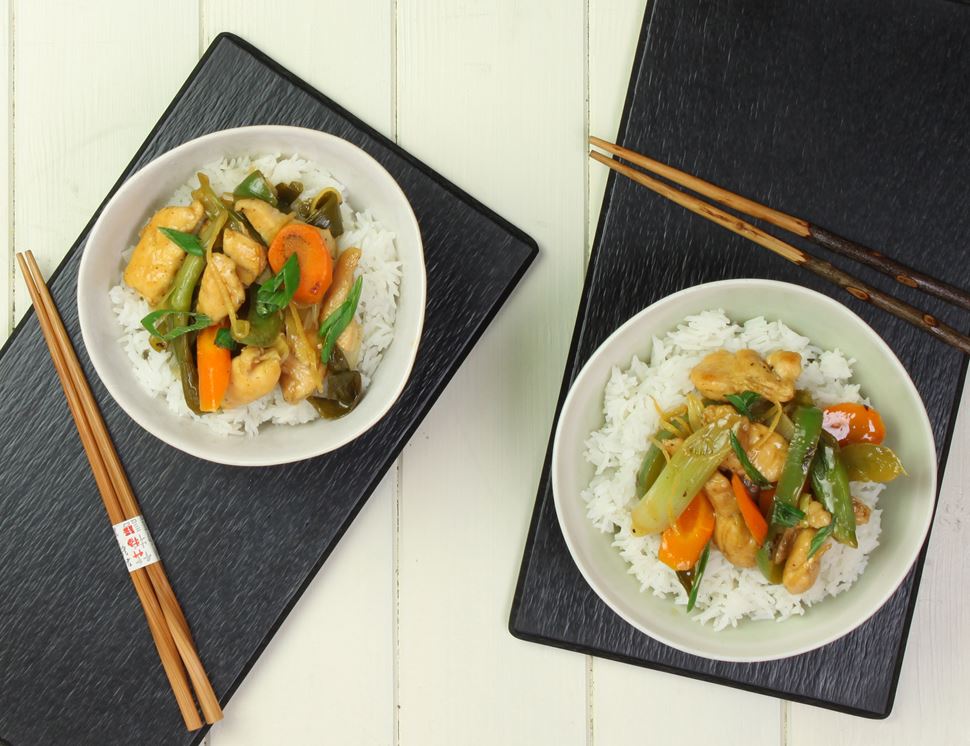 Ingredients you'll need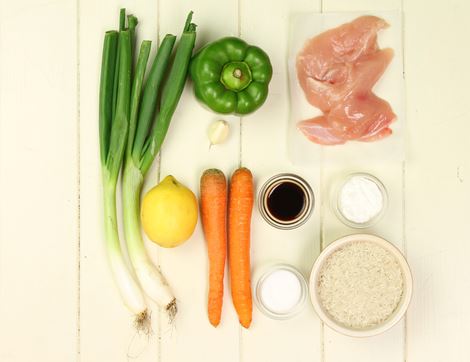 A 200g bag of white basmati rice
1 lemon
1 tbsp tamari
1 tbsp caster sugar
2 spring onions
2 carrots
1 green pepper
1 garlic clove
1 tbsp cornflour
A 250g pack of chicken breast mini fillets
From your kitchen
600ml boiling water
Sea salt and freshly ground pepper
1 tbsp sunflower oil
You'll need
A couple of bowls
Sieve
Small pan with a lid
Measuring jug
Deep frying pan or wok
Step by step this way
1.

Tip the rice into a bowl. Pour in plenty of cold water and whisk the rice for 1-2 mins to whisk out the starch. Drain the rice and rinse it. Tip it into a pan. Add 350 ml boiling water and a pinch of salt. Cover. Bring to the boil.

2.

Turn the heat right down. Simmer gently for 6 mins till the water has been absorbed. Take off the heat. Remove the lid. Wrap a tea towel round the pan. Pop the lid back on. Leave to steam to finish cooking the rice. It'll stay warm in the pan while you cook the sticky lemon chicken.

3.

Zest and juice the lemon. Measure out 1 tbsp of the tamari and 1 tbsp of the sugar. Whisk them with the lemon juice and zest and 250 ml boiling water. Put to one side.

4.

Trim the spring onions. Slice into chunky pieces around 2-3 cm long, keeping some of the green tops for garnishing. Trim and peel the carrots. Thickly slice on the diagonal. Halve the pepper. Scoop out the seeds and white bits. Slice into thick fingers. Peel and crush the garlic.

5.

Tip the cornflour into a bowl. Season. Chop the chicken into chunks. Add to the bowl. Toss to coat. Warm 1 tbsp oil in a deep frying pan or wok. Add the chicken, shaking off any excess cornflour. Stir fry for 5-8 mins.

6.

Add the carrots and pepper to the chicken. Stir fry for 2-3 mins till the veg are starting to soften and char. Stir in the garlic.

7.

Add the spring onions to the pan. Stir fry for 2-3 mins till all the veg are a little tender but still crunchy. Whisk any remaining cornflour into the lemon sauce. Pour it into the pan. Turn the heat down. Simmer for 8-10 mins till the sauce is thick and the chicken is cooked through.

8.

Taste the stir-fry and season with a little tamari if you think it needs it. Serve the lemon chicken with the fluffy cooked rice.

9.