Steamed Lemon Sole with Stir-Fried Greens
Prep: 20 mins
Cook: 10-15 mins
Our lemon sole is truly sustainably sourced, caught on small boats, sent up to Richard (he supplies all the great restaurants), and delivered to you within 3 days of being landed.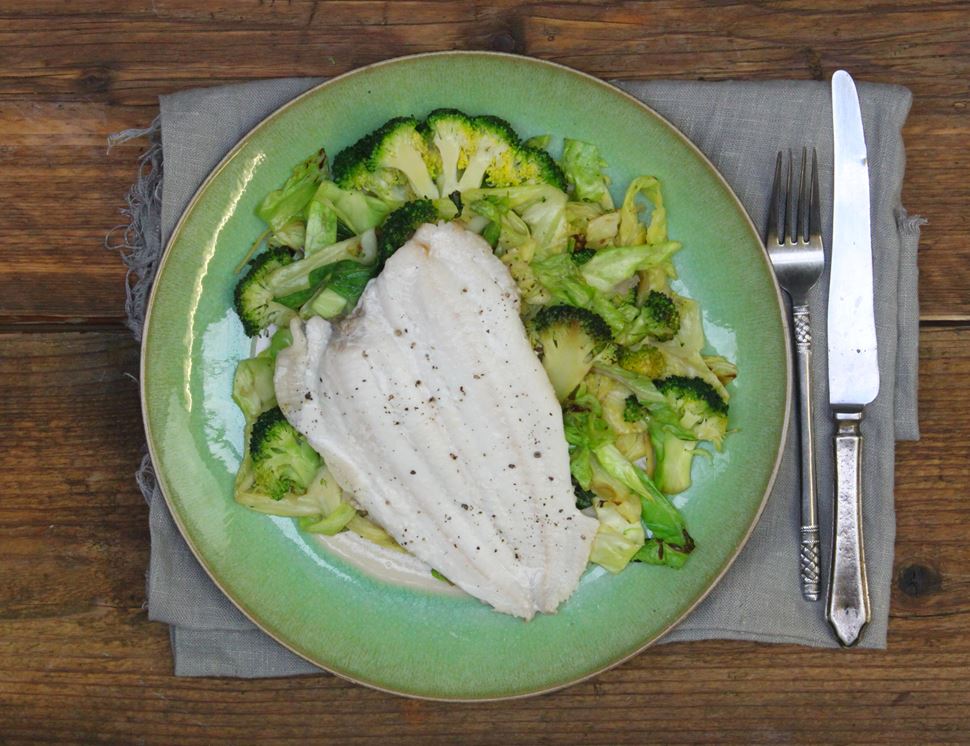 Ingredients you'll need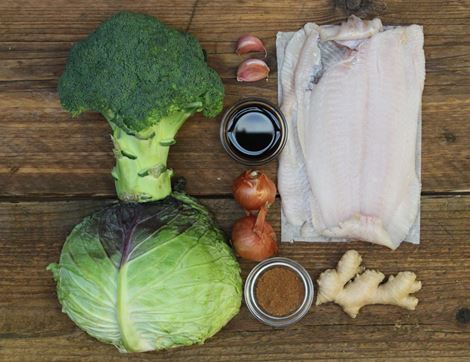 A thumb of ginger
2 shallots
1 tsp China 5 spice
2 tbsp tamari
2 lemon sole fillets
A head of broccoli
½ a green cabbage
2 garlic cloves
From your kitchen
1 tbsp olive oil
150ml hot water
Sea salt
You'll need
Bowl
Greaseproof paper
Colander
Large frying pan or wok
Steaming basket (optional)
Step by step this way
1.

Peel the ginger. Slice it into very thin matchsticks. Peel and finely slice the shallots. Pop half the ginger and shallots in a bowl. Measure out 1 tsp China 5 spice powder and 1 tbsp tamari. Add to the ginger. Mix.

2.

Spoon the ginger mixture onto a heatproof plate or sheet of greaseproof paper folded in half. Top with the lemon sole fillets. Put to one side.

3.

Rinse the broccoli. Break it into small florets. Halve the cabbage. Finely slice one half into thin ribbons. Rinse well. Peel and grate or crush the garlic. Fill the kettle and boil it.

4.

Warm 1 tbsp olive oil in a wok or deep frying pan. Add the remaining ginger, shallots and garlic. Stir-fry for 30 secs.

5.

Add the broccoli to the wok. Stir-fry for 3-4 mins till starting to soften. Add the cabbage, 1 tbsp of tamari and 150ml hot water. Stir-fry for 5 mins till the greens are tender but not too soft. Cover. Put to one side.

6.

Pour hot water into a large pan or wok so it's around 2 cm high. Pop the plate with the lemon sole on it into a steaming basket or colander. Carefully place in the pan. Cover. Steam for 5 mins to cook the fish.

7.

Taste the stir-fried greens. Add a pinch of salt if you think it needs it. Serve the steamed lemon sole with the greens.
Tip

Oven ready
If you don't want to steam the fish, you can bake them in the oven. Follow the recipe up to the end of step 2. Pop the fish on a baking tray lined with baking parchment. Bake in the oven for 10 mins at 180C/Fan 160C/Gas 4.