Steaks with Wild Garlic & Squashed Potatoes
Prep: 15 mins
Cook: 30-35 mins
Our Martin - quiz lover and all round Abel & Cole stalwart (he helps plan what goes in our boxes) - gathered all of the wild garlic that is going in tonight's dinner. Cheers Mart and cheers you.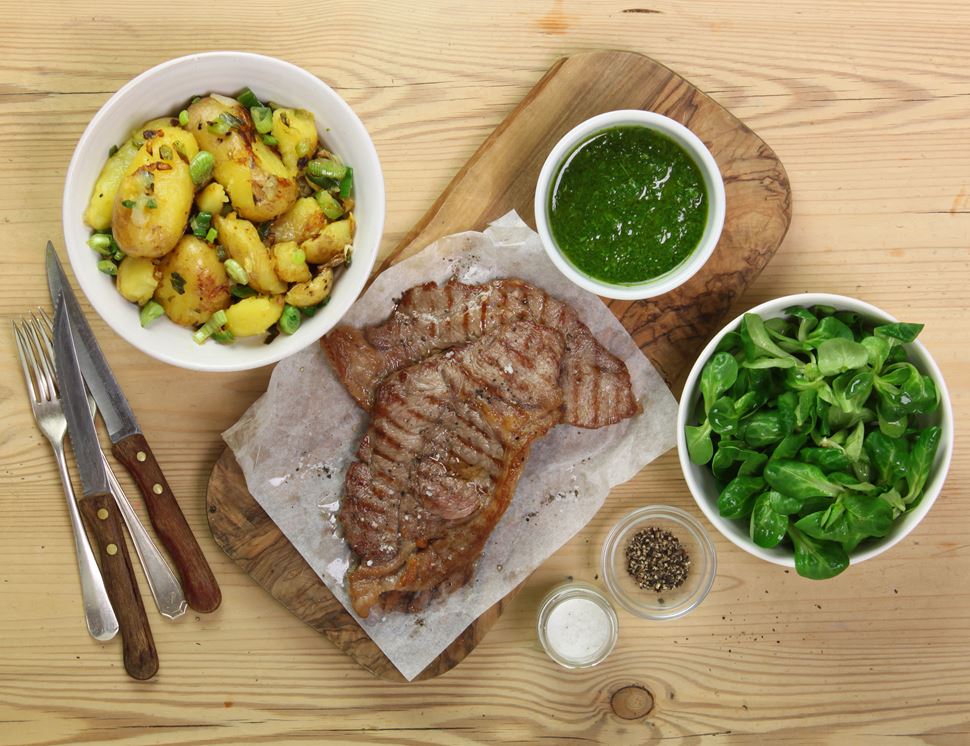 Ingredients you'll need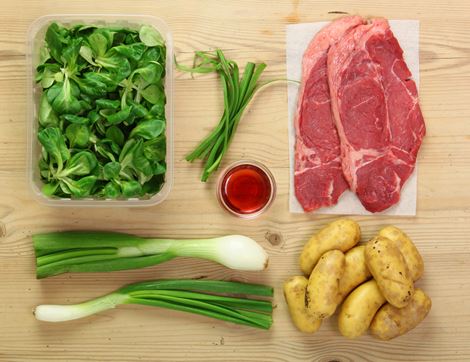 A bag of salad potatoes
A handful of wild garlic
1 tbsp red wine vinegar
2 spring onions
2 sirloin minute steaks
2 large handfuls of lamb's lettuce
From your kitchen
3 tbsp olive oil
Sea salt
Freshly ground pepper
You'll need
Pan with a lid
Colander
Small food processor (optional)
Griddle or frying pan
Foil
Step by step this way
1.

Fill the kettle and boil it. Scrub the potatoes in cold water. Pop them in a pan. Pour in enough hot water from the kettle to cover them. Pop on the lid. Bring to the boil.

2.

Turn the heat down under the potatoes. Simmer for 12-15 mins till the potatoes are tender when pressed by a fork. Drain them.

3.

While the potatoes simmer, give the wild garlic a good rinse. Roughly chop it. Pop it in a small food processor. Add 1 tbsp of the vinegar and 2 tbsp olive oil. Season. Blitz to make a sauce. No processor? Just finely chop the wild garlic and stir everything together.

4.

Trim and finely slice the spring onions. Put to one side. Tip the drained potatoes out onto a chopping board. Lightly squash them with a fork so they just burst. Put aside with the spring onions.

5.

Rub 1 tsp oil into each sirloin minute steak. Season with salt and pepper. Warm a griddle or frying pan over a high heat. When it's really hot, add the steaks.

6.

Fry the steaks for 1-3 mins. Flip them over, fry for another 1-3 mins (the less you cook it, the rarer it will be). Pop the steaks on a warm plate. Cover with foil. Leave the steaks to rest.

7.

Warm another 1 tsp in the griddle or frying pan. Add the spring onions. Turn the heat down. Stir and fry for 3-4 mins till the spring onions are soft and glossy looking.

8.

Add the potatoes to the pan. Fry the potatoes for 5-8 mins till they're a little golden. Turn every so often. Serve them with the steaks, the lamb's lettuce and wild garlic sauce.