Steaks with Lemon & Pomegranate Couscous
Prep: 20 mins
Cook: 15 mins
Pomegranates used to be known as the apples of Granada. The sweet sour seeds are a brilliant match with our high welfare steaks and fluffy lemony couscous.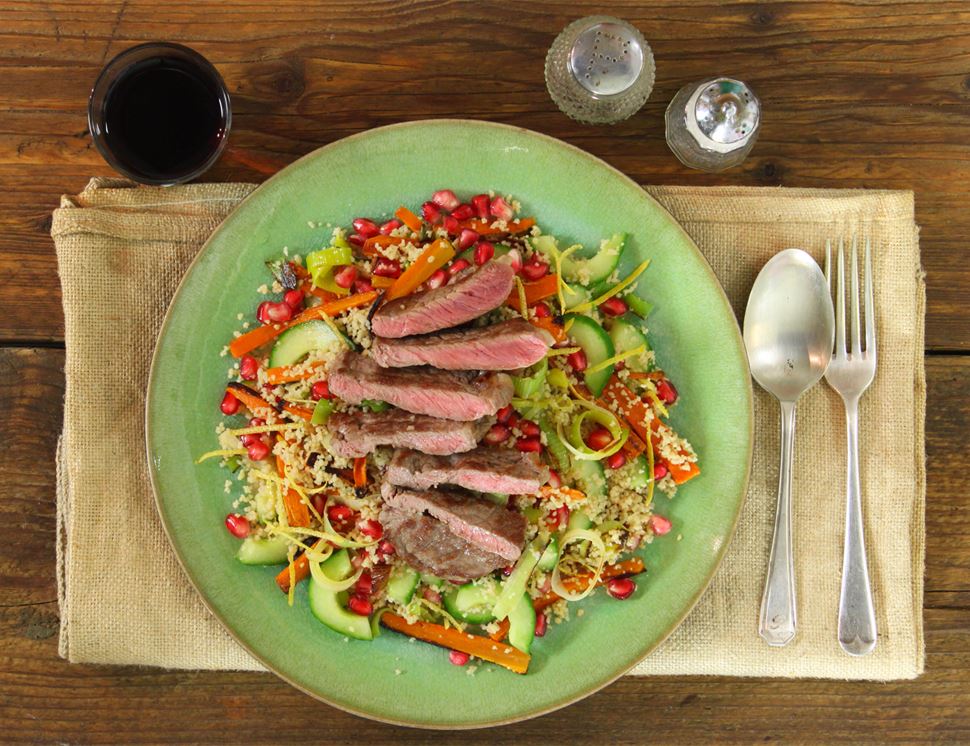 Ingredients you'll need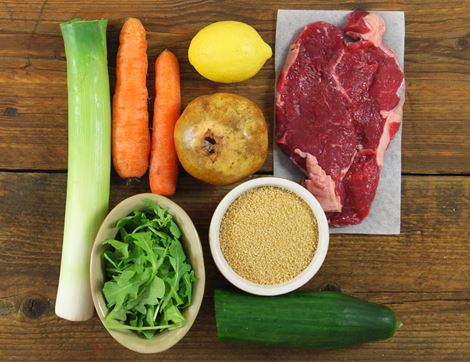 A bag of wholewheat couscous
2 carrots
1 leek
1 lemon
½ a cucumber
1 pomegranate
A pack of sirloin minute steaks
A bag of rocket
From your kitchen
100ml hot water
A splash of olive oil
Sea salt
Freshly ground pepper
You'll need
Heatproof bowl
Measuring jug
Cling film or saucer
Chopping board
Vegetable peeler
Knife
Frying pan
Wooden spoon
Grater or zester
Lemon juicer or fork
Tongs or spatula
Plate
Foil
Step by step this way
1.

Fill a kettle and boil it. Pop the couscous in a heatproof bowl. Pour in 100ml hot water from the kettle. Cover with cling film or a saucer. Put to one side to let the water soak in.

2.

Peel the carrots. Slice them into matchsticks. Pop the carrots in a pan. Cover with hot water from the kettle. Pop on a lid. Bring to the boil. Boil for 2 mins. Drain them.

3.

Trim the leek. Rinse and slice it. Heat a splash of olive in a frying pan. Add the carrots and leeks. Fry and stir for 8-10 mins over a low heat till the carrots are lightly browned and the leeks have softened. Take off the heat.

4.

Finely grate or pare the zest from the lemon. Juice it. Fluff up the couscous with a fork. Stir in the carrots, leek, lemon zest and juice. Season with salt and pepper.

5.

Halve the cucumber. Take one half and slice it lengthways. Run a teaspoon down the middle to scoop out the seeds. Slice the cucumber into crescents around 1/2 cm thick. Add to the couscous.

6.

Roll the whole pomegranate backwards and forwards a few times to loosen the seeds. Halve it. Tap each half with a wooden spoon to knock out the seeds. If that doesn't work, scoop them out and pull them off the membranes. Add to the couscous

7.

Put the frying pan back on the heat again. Add a little more oil if you think it needs it. Season the steaks with some salt and pepper. Fry them for 1-2 mins each side till browned. Pop on a plate. Cover with foil. Rest for 2 mins.

8.

Wash the rocket under cold running water. Dry with a salad spinner or kitchen paper. Divide the rocket between 2 plates. Top with the couscous and the steaks to serve.