Steak Frites with Oregano Sauce
Prep: 10 mins
Prep: 35-40 mins
Our twist on béarnaise sauce has sunny orgeano standing in for tarragon. Parfait with high welfare steak and homemade chips.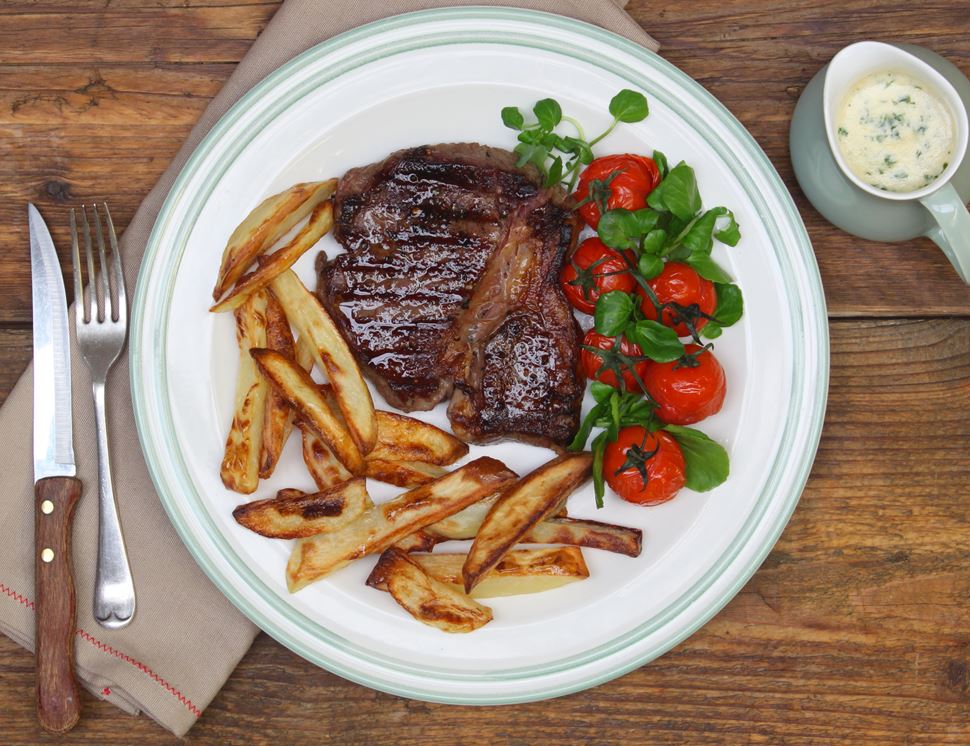 Ingredients you'll need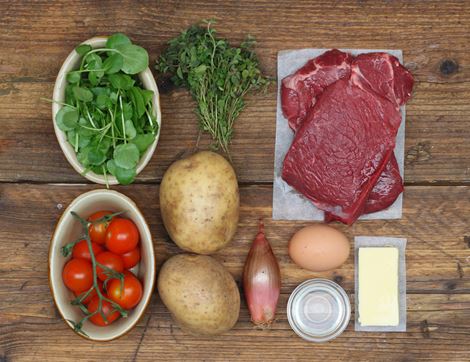 2 large potatoes
1 shallot
A handful of oregano
A pot of butter
1 tbsp brown rice wine vinegar
1 egg
A punnet of cherry tomatoes on the vine
2 rump steaks
A bag of watercress
From your kitchen
Sea salt
2½ tbsp olive oil
1 tbsp cold water
Freshly ground pepper
You'll need
Large pan with a lid
Colander
Kitchen paper
Roasting tin
Small shallow pan or frying pan with a lid
A couple of bowls
Baking tray
Griddle or frying pan
Step by step this way
1.

Heat your oven to 200°C/Fan 180°C/Gas 6. Fill a pan with water. Add a pinch of salt. Cover. Bring to the boil. Peel the potatoes. Slice them into chips around 1 cm thick. Add to the boiling water.

2.

Bring the water back to the boil. Simmer for 2 mins. Drain and pat dry with kitchen paper. Tip the chips into a roasting tin. Drizzle over 1 tbsp olive oil. Turn to coat. Bake for around 30 mins. Turn once or twice till they're golden.

3.

Peel and finely slice the shallot. Rinse, pat dry and finely chop the oregano leaves. Chop the cold butter into small chunks. Place a small, shallow pan or frying pan over a medium-low heat.

4.

Measure out the rice wine vinegar and add to the pan. Add the shallot. Simmer for 1-2 mins or till almost all the vinegar evaporates. Turn heat down. Crack the egg and separate the yolk from white. Add the yolk to the pan with 1 tbsp cold water.

5.

Whisk over a very low heat. Add the butter, bit by bit. Keep whisking, till the sauce slowly thickens. If it turns into scrambled eggs, take off heat and add 1 tbsp cold water. Once all the butter's in, take the sauce off the heat. Stir in the oregano. Cover.

6.

Pop the tomatoes on a baking tray. Drizzle with ½ olive oil. Pop in the oven on the shelf below the chips for the final 10-15 mins of cooking. Warm a griddle or frying pan. Drizzle ½ tbsp olive oil on each steak. Season them with salt and pepper.

7.

Fry the steaks for 6 mins, turning once, for rare steaks. Fry for 2-4 mins longer for medium or well done. Pop the steaks on a plate. Cover them with foil. Rest for 5-10 mins. Rinse the watercress under cold water. Pat dry with kitchen paper.

8.

Stir the oregano sauce. If it has thickened, stir in 1-2 tbsp warm water. Serve with the steak, chips, the roast tomatoes and the watercress.