Steak & Celeriac Chips
Prep: 10 mins
Cook: 25 mins
Who knew steak and chips would be on the menu for a light supper? Organic celeriac (virtuous potato-parsnip in disguise) is the ace up your sleeve tonight.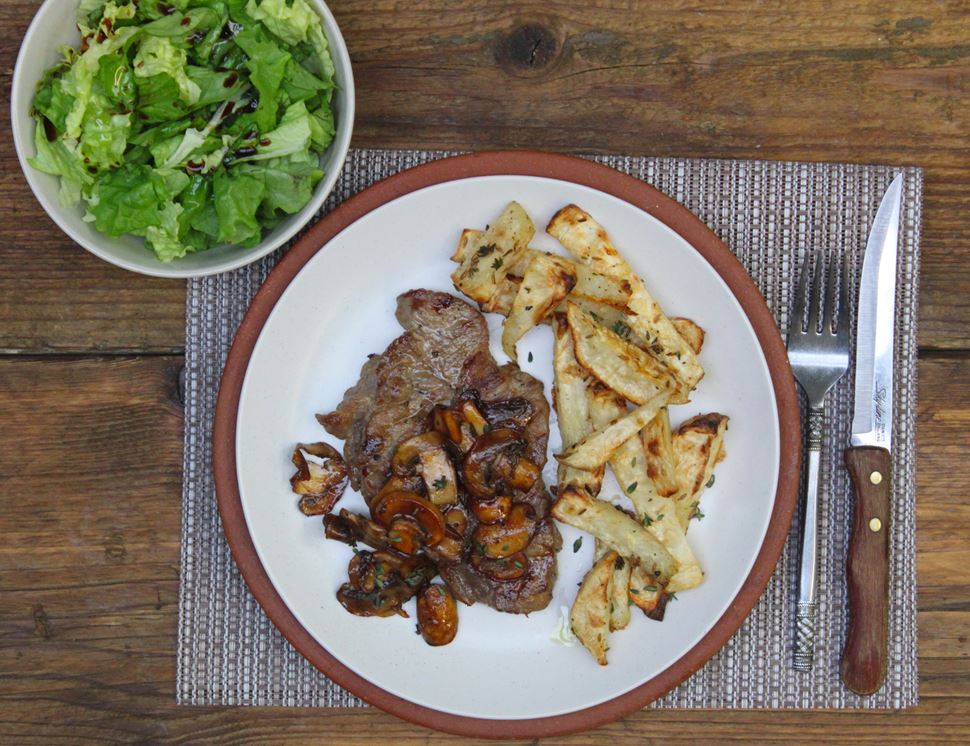 Ingredients you'll need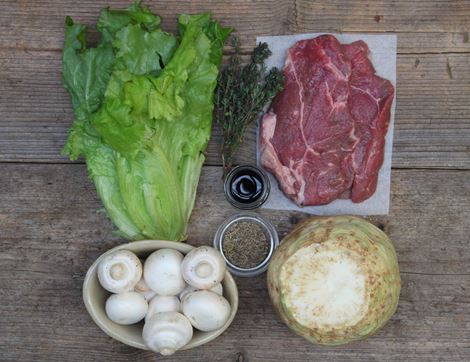 1 celeriac
A handful of thyme
1 tsp cumin seeds
A punnet of white mushrooms
2 sirloin minute steaks
½ a lettuce
1 tbsp balsamic vinegar
From your kitchen
3 tsp olive oil
Sea salt
Freshly ground pepper
You'll need
Pan with a lid
Kitchen paper
Colander
Bowl
Baking tray
Non-stick frying or griddle pan
Foil
Step by step this way
1.

Heat your oven to 225°C/Fan 200°C/Gas 7. Fill the kettle and boil it. Halve the celeriac. Peel it. Slice the celeriac into chunky chips. Rinse the thyme sprigs. Pat them dry. Pick the leaves from the stalks.

2.

Fill the pan with water from the kettle and add the celeriac chips. Bring to the boil. Simmer for 3 mins.

3.

Drain the celeriac. Pop in a bowl. Add 2 tsp olive oil with the thyme leaves. Measure out 1 tsp cumin seeds and add them to the bowl. Season with salt and pepper. Spread out on a baking tray. Bake for 30 mins till golden brown.

4.

Rinse and slice the mushrooms. Season the steaks with salt and pepper. Warm 1 tsp olive oil in a non-stick frying or griddle pan.

5.

Add the steaks to the frying pan and fry for 1 min each side over a high heat. Pop on a warm plate to rest. Cover with foil.

6.

Add the mushrooms to the frying pan with a pinch of salt and pepper. Stir and fry for 4-5 mins till golden.

7.

Halve the lettuce (save one half for later). Tear the leaves into bite-sized pieces. Rinse them in a colander. Drain. Dry in a salad spinner or pat dry with kitchen paper. Drizzle with a little of the balsamic vinegar. Put to one side.

8.

Add the rest of the balsamic and the remaining thyme to the mushrooms. Sizzle for 1 min. Serve with the steaks, salad and celeriac chips.