Sri Lankan Lentils with Parsnip Rice
Prep: 20 mins
Cook: 30-35 mins
Fresh turmeric gives these lentils their yellow glow and the ginger, cumin and curry leaves pile in the flavour. Parsnip rice? Who invents these things? Oh, Jassy, your very own recipe writer.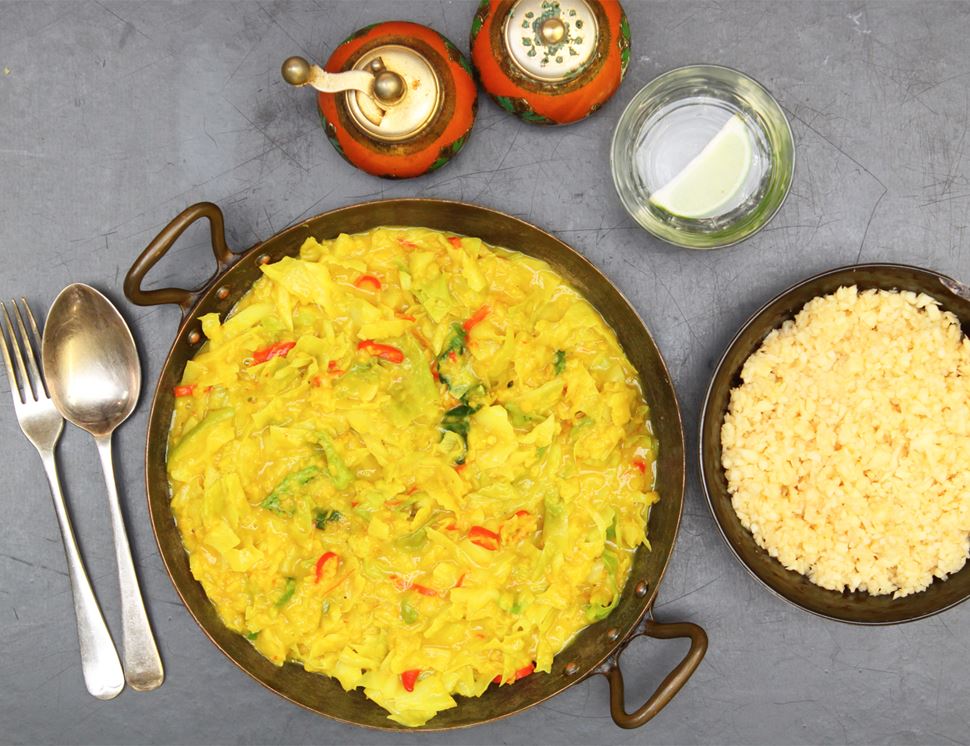 Ingredients you'll need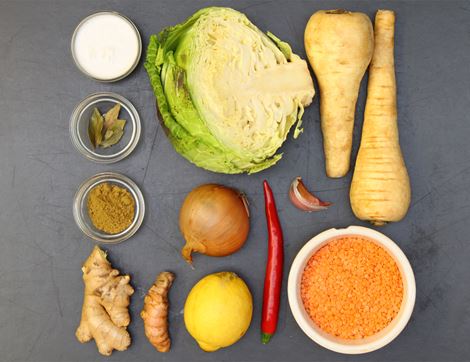 A bag of red lentils
1 onion
1 garlic clove
A thumb of ginger
A thumb of turmeric
1 chilli
1 lemon
1 tsp ground cumin
A sachet of curry leaves
2 tbsp coconut milk
½ a green cabbage
2 parsnips
From your kitchen
1 tsp olive oil
Sea salt
Freshly ground pepper
600ml hot water
You'll need
Bowl
Deep frying pan or wok
Measuring jug
Colander or sieve
Food processor or grater
Step by step this way
1.

Tip the lentils into a bowl. Pour in enough cold water to cover them. Leave to soak for 15 mins. Fill a kettle and boil it.

2.

Peel and finely chop the onion. Peel and grate the garlic, ginger and turmeric (grate them onto a plate to stop the turmeric staining your work surface or chopping board).

3.

Warm 1 tsp olive oil in a deep frying pan or wok. Add the onion. Season with salt and pepper. Fry over a medium heat for 5 mins till the onion is soft and pale golden. Stir every so often. Add a splash of water if it looks like the onion is sticking.

4.

Finely slice the chilli – flick out the seeds and white bits for a milder flavour. Grate or pare the zest from the lemon. Juice it. Stir the garlic, ginger, turmeric, chilli and lemon zest into the onion. Cook and stir for 1 min.

5.

Measure out 1 tsp of the cumin and add to the pan with the curry leaves. Drain the lentils. Stir them into the pan. Pour in 600ml hot water from the kettle. Add 2 tbsp of the coconut milk. Cover. Bring to the boil. Turn the heat down. Simmer for 20-25 mins till thick. Stir every so often.

6.

Halve the cabbage. Finely shred one half, slicing out the thick core. Rinse it. Peel the parsnips. Roughly chop them. Pop the parsnips into a food processor. Pulse a few times to make fine 'grains'. If you don't have a processor, use a grater.

7.

When the lentils are thick, stir in the cabbage. Cook, without the lid, for 5 mins till the cabbage is tender but not too soft. If the lentils seem a bit dry, add a splash more water. Stir in the lemon juice. Taste and adjust the seasoning.

8.

While the cabbage cooks, pop the parsnip rice in a heatproof bowl. Cover with hot water from the kettle. Leave for 5 mins. Drain in a sieve. Press to squeeze out any excess water. Serve with the Sri Lankan lentils.