Squash Soup with Crispy Sage & Smoked Mushrooms
Prep: 15 mins
Cook: 25 mins
Little finishing touches can transform even the simplest of soups into something special. Smoky gourmet mushrooms turn this autumnal soup into a showstopper.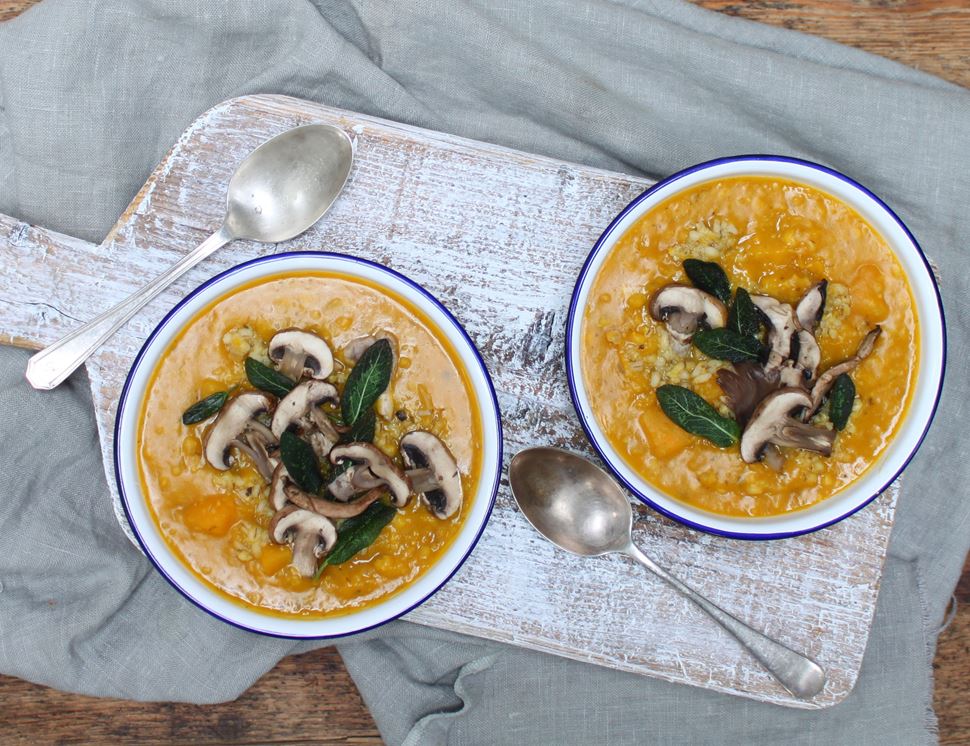 Ingredients you'll need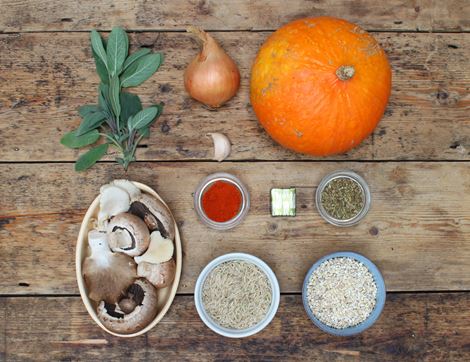 1 onion
1 garlic clove
1 red onion squash
A handful of sage, leaves only
1 tsp dried oregano
1 tsp smoked paprika
1 vegetable stock cube
A 75g bag of pearl barley
A 75g bag of brown basmati rice
A 200g punnet of gourmet mushrooms
From your kitchen
1 tbsp olive oil
Sea salt and freshly ground pepper
750ml boiling water
4 tsp cold water
You'll need
A couple of large pans with lids
Measuring jug
Foil
Blender or hand-held blender (optional)
Step by step this way
1.

Peel and finely chop the garlic and onion. Peel the squash, halve it and scoop out the seeds. Cut the squash into small chunks. Pick the sage leaves off their stalks and finely chop half of them.

2.

Warm 1 tbsp oil in a large pan. Fry the whole sage leaves over a medium heat for 30 secs till crispy. Remove and drain on kitchen paper. Add the onion, garlic, 1 tsp each dried oregano and smoked paprika, and the chopped sage to the pan. Fry for 5 mins to soften.

3.

Swirl in the squash chunks. Season well. Stir and fry for 5 mins to soften. Add the pearl barley. Pour in 750ml boiling water. Crumble in the stock cube and give it a good stir. Simmer for 20 mins till the squash and barley are tender.

4.

While the soup simmers, double line a large pan with foil. Tip in the rice with 4 tsp water. Loosely cover with a square of foil. Slice any large mushrooms. Lay them on the foil square. Cover with a tight fitting lid.

5.

Set the mushroom pan over a high heat. In 10- 20 mins it'll start to smoke as the rice catches and smokes. When this happens, set a timer for 8 mins. As soon as it goes off, take the pan off the heat.

6.

Ladle half the soup into a blender, blitz till smooth and return to the pan. Or, use a hand held blender in the pan so your soup is half smooth, half chunky. Or, you can leave it chunky.

7.

Taste the soup and adjust the seasoning. Spoon the soup into warm bowls. Sprinkle over the smoked mushrooms (throw away the rice) and crisp sage leaves, along with some black pepper. Serve straight away.
Tip

Smoke free zone
If you don't fancy smoking the mushrooms, you can fry them with a splash of water and seasoning till they're golden brown and use the fried mushrooms to top the soup.