Springtime Ramen Noodle Soup
Ramen is a Japanese noodle soup. It's so popular in Japan, they have a museum dedicated to it. You're making your very own tribute with the Hearne family's meaty Portobello mushrooms.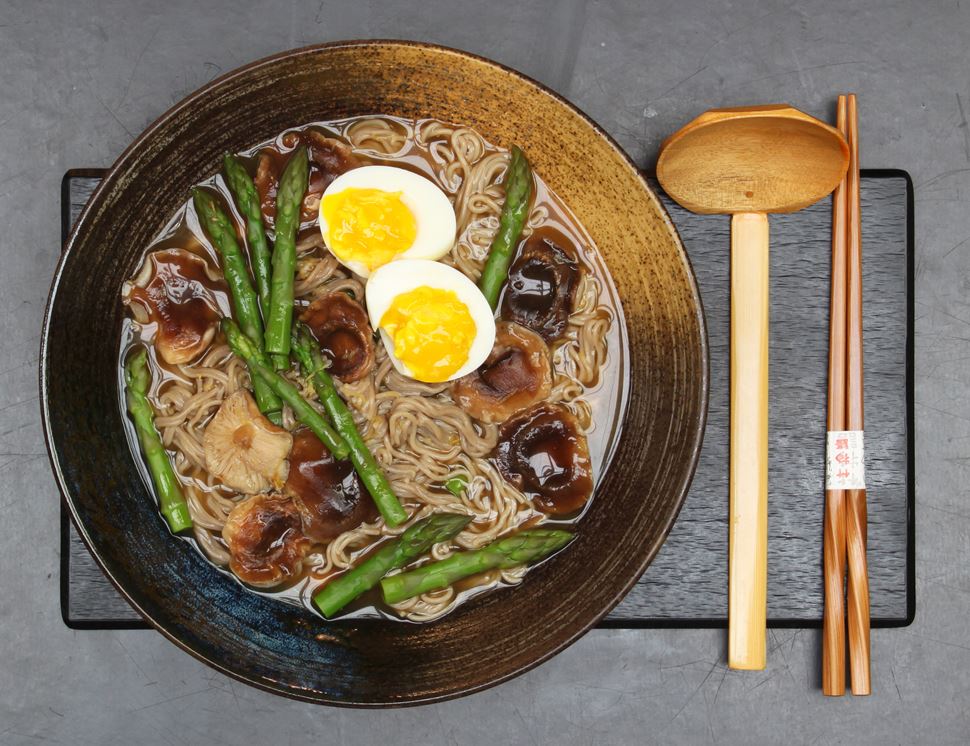 Ingredients you'll need
2 eggs
A bundle of asparagus
A punnet of portobello mushrooms
1 garlic clove
A thumb of ginger
1 tsp China 5 spice
1 nest of buckwheat ramen noodles
A sachet of tamari
From your kitchen
2 tbsp cold water
850ml hot water
Sea salt
Freshly ground pepper
You'll need
A couple of pans with lad
Measuring jug
Step by step this way
1.

Fill a kettle and boil it. Pop the eggs in a small pan. Pour in enough hot water to cover the eggs. Cover with a lid. Simmer for 6-7 mins. Lift the eggs out of the pan. Pop to one side.

2.

Snap the woody ends off the asparagus. Chop the asparagus into lengths around 3 cm long. Quarter or slice the Portobello mushrooms if they're large.

3.

Peel and grate or crush the garlic. Peel and grate the ginger. Fill the kettle and boil it again.

4.

Pop the ginger, garlic and 1 tsp China 5 spice powder in a large pan with 2 tbsp cold water. Cook and stir over a medium heat for 1-2 mins till the pan smells aromatic.

5.

Add the asparagus and portobello mushrooms to the pan. Pour in 850ml hot water from the kettle. Simmer for 2-3 mins to just cook the asparagus.

6.

Add 1 block of the buckwheat noodles to the pan with the sachet of tamari. Simmer for 3 mins to just cook the noodles.

7.

While the noodles simmer, peel the eggs. Halve them. Taste the ramen and add some salt and pepper if you think it needs it.

8.

Ladle the ramen noodle soup into two warm bowls. Nestle the halved eggs in the bowls. Serve straight away.