Spring Chicken Noodles
Prep: 15 mins
Cook: 15 mins
There's a chow mein for all seasons and this one's gorgeous with our organic spring veg, like seasonal treat purple sprouting broccoli from John Guerin's farm in Somerset.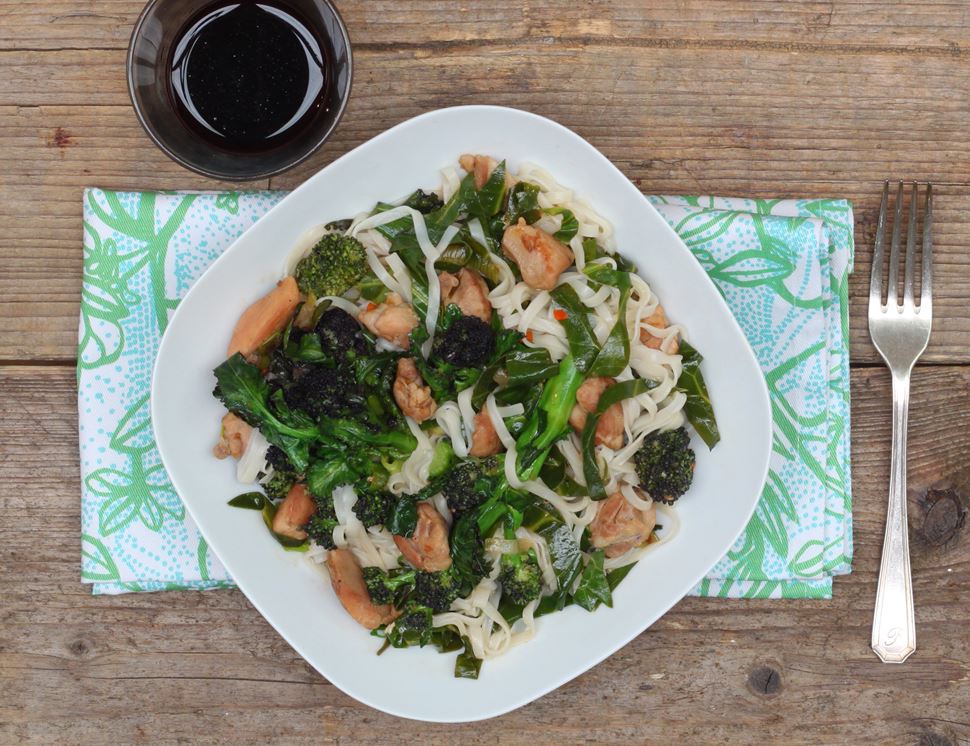 Ingredients you'll need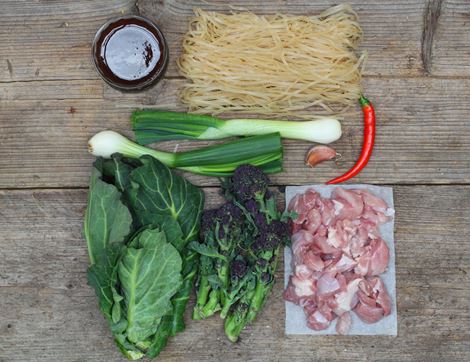 1 garlic clove
1 chilli
A sachet of hoisin sauce
2 spring onions
A bag of purple sprouting broccoli
A bag of spring greens
½ a pack of pad Thai noodles
A pack of diced chicken leg
From your kitchen
Sea salt
1½ tbsp olive oil
150ml hot water
You'll need
Small bowl
Pan with a lid
Colander
Wok or deep frying pan
Measuring jug
Step by step this way
1.

Peel and grate or crush the garlic. Rinse and halve the chilli. Flick out the seeds and white bits for less heat. Finely chop. Mix them in a bowl with the hoisin sauce and a pinch of salt.

2.

Fill the kettle and boil it. Rinse and trim the spring onions. Finely slice. Rinse the broccoli. Pick off any big leaves and pop them to one side. Trim the stems into 3 cm lengths. Shred the spring greens, throwing away the thick core.

3.

Pop the noodles into a pan. Cover with hot water from the kettle. Simmer for 3 mins. Drain and rinse under cold water. Pop back into the pan. Stir through ½ tbsp olive oil to stop them sticking together.

4.

Heat 1 tbsp olive oil in a deep frying pan or wok till it's really hot. Add the chicken. Stir-fry for 5 mins till the chicken is golden brown all over.

5.

Add the broccoli stems and spring onions to the wok. Stir-fry for 2-3 mins till the broccoli has picked up some colour.

6.

Add the broccoli leaves and spring greens. Stir-fry for another few mins till the leaves have started to wilt a little.

7.

Add the hoisin sauce mix and 150ml hot water from the kettle. Let the sauce bubble for a few mins to heat through.

8.

Stir the noodles into the wok. Stir to mix everything together. Taste. Season with more salt if you think it needs it. Serve straight away.