Spiced Jersey Royals with Baked Eggs & Chilli Yogurt
Prep: 15 mins
Cook: 40 mins
Our twist on the classic Indian dish saag aloo, starring seasonal super spuds Jersey Royals, a fragrant mix of spices, organic eggs, and a blanket of organic yogurt to keep things cool.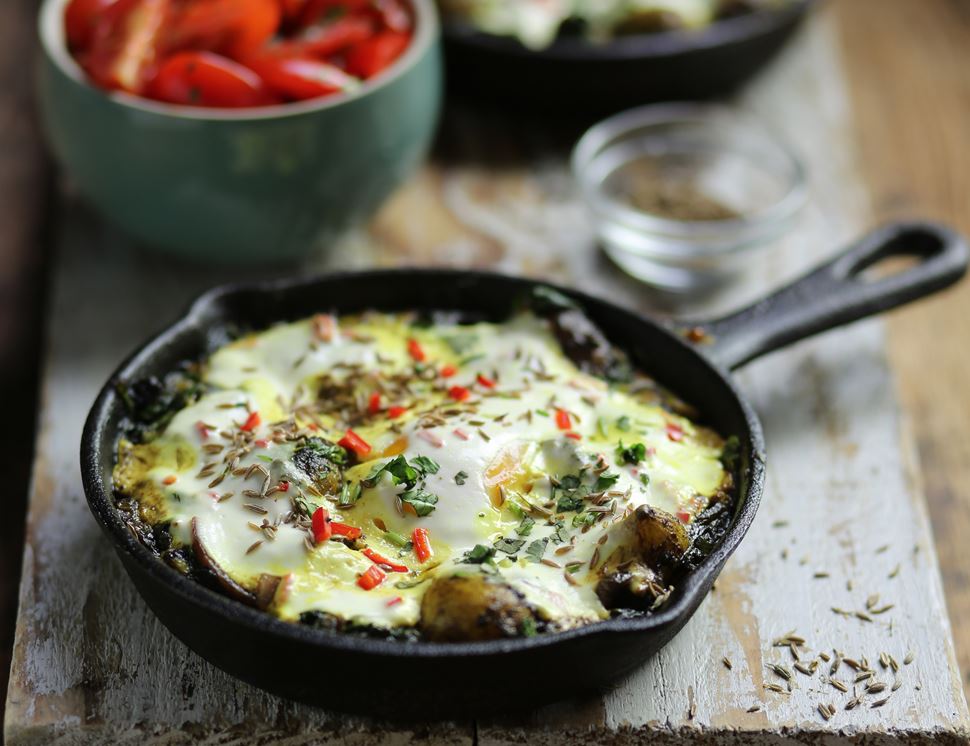 Ingredients you'll need
½ tsp cumin seeds
500g Jersey Royal potatoes
1 garlic clove
A thumb of ginger
1 tsp turmeric
1 tsp garam masala
1 red onion
100g baby leaf spinach
1 chilli
150g yogurt
A handful of chervil
250g cherry tomatoes
4 eggs
From your kitchen
Sea salt
3 tbsp olive oil
2 tbsp cold water
Freshly ground pepper
Step by step this way
1.

Heat your oven to 180°C/Fan 160°C/Gas 4. Put a large pan of salted water on to boil. Fry ½ tsp cumin seeds in a dry frying pan for 1-2 mins till fragrant. Tip into a bowl and set aside. Scrub and halve or quarter the potatoes so they're all roughly the same size. Add the potatoes to the boiling water and simmer for 10 mins till just cooked.

2.

While the potatoes cook, peel and grate the garlic and ginger. Place in a mortar and pestle with 1 tsp each turmeric and garam masala, half the toasted cumin seeds and 1 tbsp olive oil. Grind to form a paste (or use a small bowl and a jam jar to crush everything together). Peel and slice the onion.

3.

Add the garlicky spices to an ovenproof frying pan set over a medium heat (if your pan isn't ovenproof, use a normal frying pan and see our tip in step 6). Fry for 1 min. Add the onion and fry for 2 mins. Drain the potatoes while the onion cooks. Add 1 tbsp olive oil to the frying pan and toss in the drained potatoes. Cook over a medium heat for 5 mins, stirring often, till charred and coated in the spices.

4.

Add the spinach to the potatoes with 2 tbsp water. Cook for 2 mins till wilted, stirring constantly. Take the pan off the heat.

5.

Halve the chilli. Scoop out the seeds and white bits. Finely chop it. Stir most of it into the yogurt. Season with a pinch of salt and pepper.

6.

If your pan isn't ovenproof, transfer the curried potatoes to an ovenproof dish, otherwise leave them in the pan. Make 4 holes in the potatoes. Carefully crack an egg into each hole. Spoon over the chilli yogurt. Slide into the oven and bake for 10-12 mins till the egg whites are set and the chilli yogurt is thick.

7.

While the potatoes and eggs bake, halve the tomatoes. Roughly chop the chervil. Place the tomatoes and chervil in a bowl with 1 tbsp olive oil and seasoning. Toss together. Set aside.

8.

Sprinkle the baked potatoes and eggs with the remaining cumin seeds and a little more chopped chilli. Serve with the tomato salad.