Spiced Griddled Nectarine, Buckwheat & Feta
Prep: 20 mins
Cook: 20 mins
We're griddling seasonal star nectarines to get that smoky taste of summer. Fresh basil and fragrant ras el hanut pack more flavour into this vibrant salad.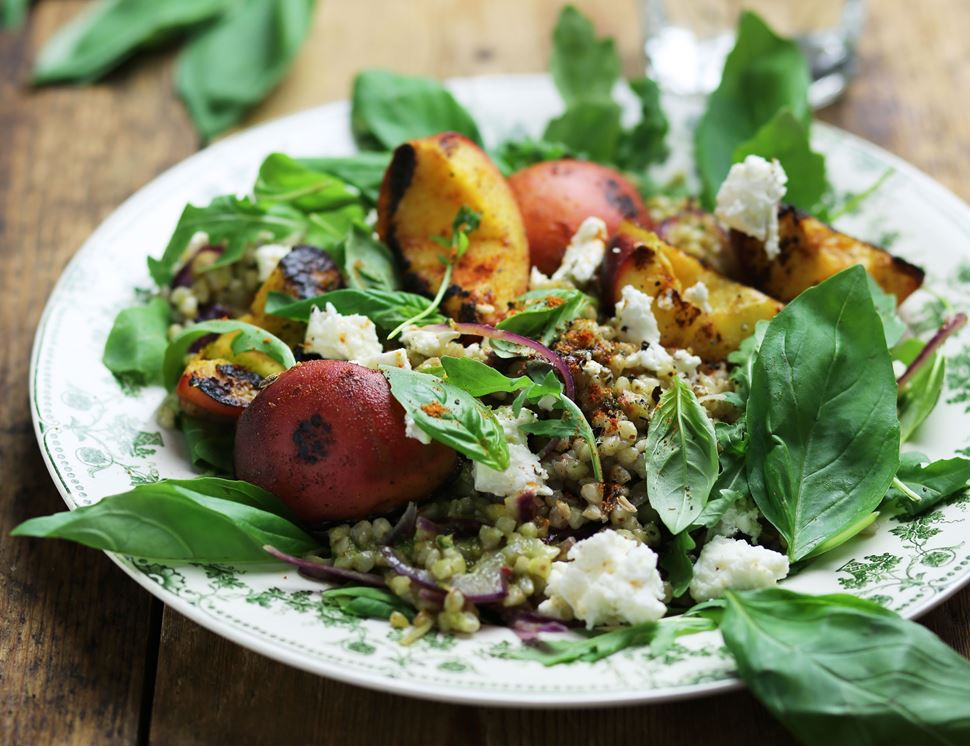 Ingredients you'll need
150g buckwheat
A large handful of basil
400g nectarines
1½ tsp ras el hanut
1 red onion
100g rocket
½ x 200g feta
From your kitchen
250ml boiling water
Sea salt
2½ tbsp olive oil
1 tbsp cold water
Freshly ground pepper
You'll need
Mini processor (optional)
Small pan with lid
Large bowl
Griddle pan
Platter
Step by step this way
1.

Tip the buckwheat into a pan and cover with 250ml boiling water. Add a pinch of salt. Pop on a lid and bring to the boil. Simmer for 6 mins. Turn off the heat and let it sit for 2 mins, then drain off any excess liquid. Pop on a lid to keep warm.

2.

Meanwhile, put half the basil in a mini processor. Roughly chop the ripest nectarine, discarding the stone. Add to the basil with 2 tbsp oil and 1 tbsp cold water. Season. Whizz till smooth. This is your dressing. No processor? Finely chop the basil and a nectarine. Crush with the back of a fork. Add the oil and mix together.

3.

Cut the remaining nectarines into quarters. Put in a bowl with ½ tsp ras el hanut and ½ tbsp oil. Turn to mix.

4.

Heat a griddle or frying pan for 2-3 mins till smoking hot. Add the nectarine wedges and griddle for 1-2 mins on each side till charred. Set aside on a plate.

5.

Peel the onion. Slice it into wedges. Char in a griddle pan for 2-3 mins. Toss the buckwheat with the griddled onion, nectarine and basil dressing and 1 tsp ras el hanut in a large bowl. Add half the rocket and toss that through.

6.

Arrange the remaining rocket on a serving platter. Spoon over the nectarine dressed buckwheat.

7.

Top with the griddled nectarines and crumble over half the pack of feta. Add a pinch or two more of the ras el hanut if you wish. Garnish with the remaining basil. Serve.
Tip

Let's get ready to crumble
You only need half the pack of feta for this recipe, although can use it all (this will affect the nutrition). Crumble your leftover feta into omelette, scatter over tomato salads or try adding it to potato salads with capers, olives and lemon zest.