Spiced Cod with Roast Cauliflower Couscous
Prep: 10 mins
Cook: 30 mins
Fillets of our sustainably sourced cod go for a dip in a tangy yogurt marinade spiked with ground coriander and cayenne and a zing of lemon zest and are roasted till flaky and flavoursome. Served with nutty cauli florets and fluffy couscous on the side.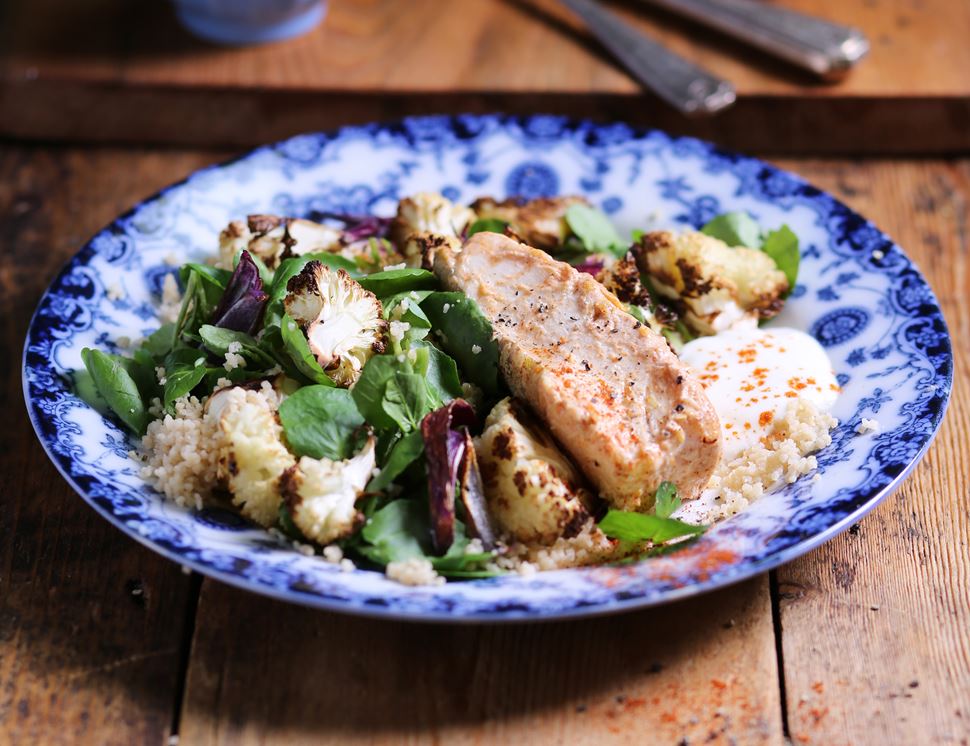 Ingredients you'll need
1 cauliflower
1 red onion
150g 0% fat yogurt
1 garlic clove
1 lemon
1 tsp ground coriander
A pinch of cayenne
2 cod fillets
75g wholewheat couscous
50g watercress
From your kitchen
½ tbsp olive oil
Sea salt
Freshly ground pepper
150ml boiling water
Step by step this way
1.

Heat your oven to 200°C/Fan 180°C/Gas 6. Strip the leaves off the cauliflower and break it into small florets. Tip them into a roasting tin. Peel and slice the red onion into around 8 wedges. Add to the tin. Drizzle over ½ tbsp olive oil and a pinch of salt and pepper. Tumble together and slide into the oven. Roast for 20 mins.

2.

While the cauliflower roasts, spoon 1/4 of the yogurt into a dish. Peel and grate in the garlic. Finely grate in the lemon zest and squeeze in the juice from half the lemon. Add 1 tsp ground coriander and a pinch of cayenne (it's spicy, so use as much or as little as you like) and a pinch of salt. Stir together to make a marinade.

3.

Add the cod to the dish and turn a couple of times to coat it. Leave it to marinate for 5-10 mins.

4.

Tip the couscous into a heatproof bowl and pour in 150ml boiling water. Swirl to mix, then cover the bowl with a plate and leave to soak for about 10 mins. The couscous will absorb the water and 'cook', becoming tender and fluffy.

5.

When the cauliflower has roasted for 20 mins, move it down to the middle shelf in the oven. Line a baking tray with baking paper, lay the cod on the tray, skin-side down. Roast for 10-15 mins till the cod is cooked through and flakes easily when pressed with a fork.

6.

While the cod roasts, pick any thick stalks out of the watercress till you have just the tender leaves and sprigs left.

7.

Fluff the couscous with a fork and add the watercress, a squeeze of lemon juice and a pinch of salt and pepper. Heap the couscous up on 2 warm plates. Top with the roast veg and the cod fillets. Serve with the rest of the yogurt on the side.