Spiced Beef Koftes with Fruity Couscous
Prep: 20 mins
Cook: 15 mins
Koftes get their name from the Persian word koftan, which means to pound or grind. We've done the grinding for you and sent you a pack of brilliant organic British beef mince that just needs mixing with some warming spices and flavours, then you can griddle it till it's browned and caramelised. A fruity couscous side salad is the perfect match.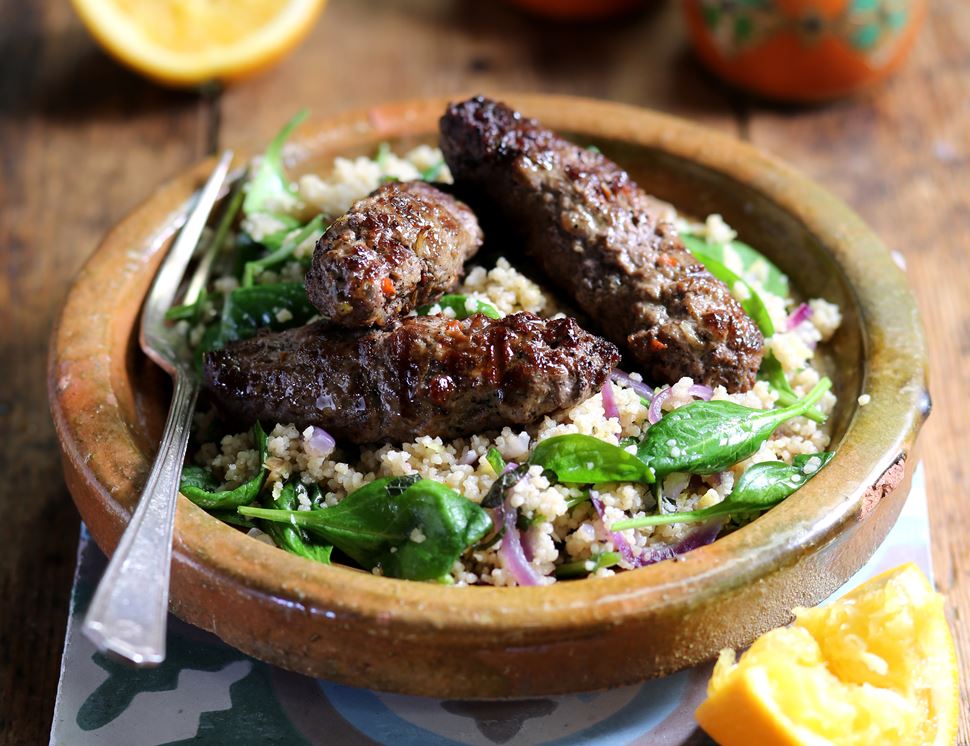 Ingredients you'll need
From your kitchen
Sea salt
Freshly ground pepper
2 tbsp oil
300ml boiling water
Step by step this way
1.

Crumble the beef mince into a large bowl. Halve the chilli, flicking out the seeds and white pith for less heat, and finely chop the chilli. Peel and finely chop or grate the garlic cloves (set 1 chopped clove aside for later in the recipe). Slide the chilli, 1 garlic clove and 1 tsp cumin seeds into the mince. Sprinkle in a generous pinch of salt and pepper and mix well to combine.

2.

Peel the red onion an thinly slice it. Peel and finely grate the ginger. Finely chop the dried fruits, if necessary.

3.

Pour 1 tbsp oil into a pan and bring to a medium heat. Slide in the sliced onion, the reserved chopped garlic and the grated ginger. Sprinkle in a pinch of salt and pepper. Cook for 5-6 mins, stirring occasionally, till slightly softened.

4.

Stir the dried fruit into the pan. Spoon in the honey and tip in the couscous. Pour in 300ml boiling water and stir well to combine. Bring to the boil, then cover with a lid or plate and remove from the heat. Set aside to soak in the pan for 15 mins.

5.

Meanwhile, shape the mince into 4 cigar-shaped koftes. Pour 1 tbsp oil into a heavy-based frying pan or griddle and bring to a high heat. Add the koftes to the hot pan and fry for 8-10 mins, turning occasionally, till browned and caramelised. Transfer to a side plate and cover with foil to keep warm.

6.

Pick and roughly chop the herb leaves. By now the couscous should be tender. Fold the chopped herbs and salad leaves through the couscous till wilted. Squeeze in the juice from half the orange. Have a taste, and add a little more orange juice, salt or pepper if needed.

7.

Pile the couscous onto plates and top with the koftes to serve.