Spice Shop Minute Steaks with Lemon & Herb Couscous
Prep: 20 mins
Cook: 30 mins
Ras al hanut is top of the spice rack, and its fragrant, flavoursome blend of spices makes it an ideal rub for organic minute steaks, served with warm, lemony couscous tossed with fresh herbs and roast veg.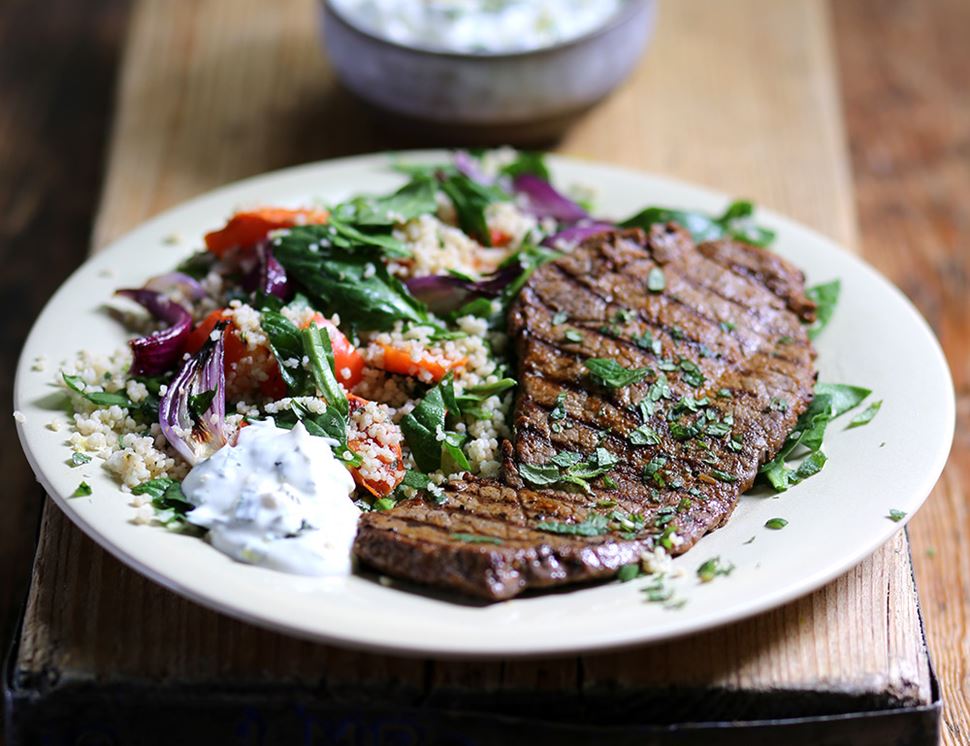 Ingredients you'll need
1 red onion
1 red pepper
1 carrot
2 top rump minute steaks
1 tsp ras al hanut
150g wholewheat couscous
½ vegetable stock cube
A handful of mint, leaves only
1 lemon
150g Greek style yogurt
50g baby leaf spinach
From your kitchen
½ tbsp + 1 tsp olive oil
Sea salt
Freshly ground pepper
300ml boiling water
Step by step this way
1.

Heat your oven to 200°C/Fan 180°C/Gas 6. Peel the onion and slice it into thick wedges. Halve the pepper. Scoop out the seeds and white bits, then thickly slice the pepper. Trim, peel and thickly slice the carrot.

2.

Chuck all the veg into a roasting tin. Add ½ tbsp olive oil and plenty of salt and pepper. Stir to coat the veg in the oil and seasoning. Roast for 30 mins till the veg are tender and a little charred.

3.

While the veg roast, pop the minute steaks in a dish or on a plate and prick them all over with a fork (this helps tenderise them). Rub ½ tsp ras al hanut and ½ tsp olive oil into each steak. Set aside to marinate for 10-15 mins.

4.

Crumble half the stock cube into a heatproof bowl and pour in 300ml boiling water. Stir to dissolve the stock cube. Tip in the couscous and swirl a few times to mix. Pop a plate on the bowl to cover it, then set aside for 10-15 mins to soak.

5.

While the couscous soaks, finely grate the zest from the lemon. Finely shred the mint leaves. Stir half the lemon zest and half the mint into the yogurt with a pinch of salt. Set aside.

6.

Put a heavy-based frying pan or griddle pan onto heat for 2-5 mins. When it is smoking hot, add the steaks and fry for 30 secs-1 min on each side, depending on how well done you like your steaks. Lift them out of the pan, pop them on a board and loosely cover with foil to rest for a few mins.

7.

Roughly chop the baby spinach leaves. The roast veg should be done by now, so take the tin out of the oven. Tip in the couscous and add the remaining lemon zest and mint. Add the chopped spinach and a squeeze of lemon juice. Toss a few times to mix together.

8.

Divide the couscous between 2 warm plates. Serve the steaks alongside the couscous with spoonfuls of the minted yogurt.
Tip

Cool couscous
If you don't eat all the couscous with your steak, you can store it in an airtight tub in the fridge for up to 3 days. Eat it cold as a salad with an extra handful of rocket, salad leaves or shredded lettuce stirred in.