Spice Rubbed Roast Chicken
Prep: 15 mins
Cook 1 hr 20 mins
This week's roast is based on an American mix of spices that has a deep, rich warming flavour that's delicious with roasts, grills and stews. We think it's the perfect rub for our organic chooks – and we hope you'll think so too.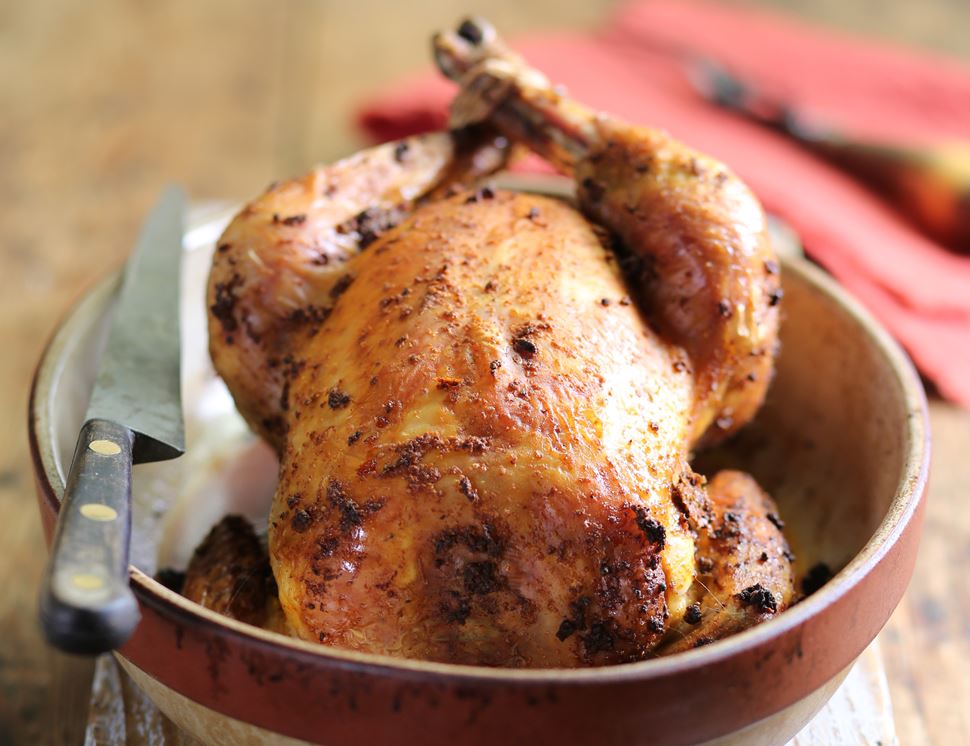 Ingredients you'll need
1.7kg av. whole chicken
4 cardamom pods
10 black peppercorns
1 tsp smoked paprika
1 tsp cinnamon
1 tsp ground ginger
A pinch of cayenne
¼ nutmeg
1 tbsp wholegrain mustard
From your kitchen
½ tsp sea salt
1 tbsp olive oil
Step by step this way
1.

Heat your oven to 190°C/Fan 170°C/Gas 5. Take the chicken out of the fridge, unwrap it and remove the giblets (see our note on what to do with them). Pop the chicken in a roasting tin. Let it come to room temperature (around 30 mins should do).

2.

While the chicken is warming up, make the spice paste. Place 4 cardamom pods in a pestle and mortar and roughly crush to open the pods up. Shake out the seeds and discard the papery skins. Add the peppercorns to the pestle and mortar and grind as finely as you can. No pestle and mortar? Use a small bowl and a jam jar or the end of a rolling pin to crush the spices.

3.

Stir 1 tsp each of the smoked paprika, cinnamon and ground ginger with ½ tsp salt and a pinch of cayenne (it's spicy, so use as much or as little as you like). Grate in a quarter of the nutmeg. Stir in 1 tbsp wholegrain mustard and 1 tbsp olive oil.

4.

Rub the spice paste all over the chicken to coat it. You can tie the legs together with kitchen string to keep them neat, or just leave them as they are. Loosely cover the chicken with a large sheet of foil, scrunching it onto the sides of the tin. Slide into the oven and roast the chicken for 1 hr. Remove the foil and roast the chicken for another 20 mins.

5.

Take the chicken out of the oven and check whether it's done by inserting a skewer into the thick part of a thigh. If the juices run clear, it's ready. If not, slide back into the oven for another 5-15 mins.

6.

When the chicken is cooked, take it out of the oven and rest it on a warm plate or board, loosely covered with foil, for 20 mins before carving.
Tip

Next week...
It's hard to improve roast pork and crackling, but we think we've done it. Fennel, Black Pepper & Lemon Roast Pork combines a warming mix of spices with a zing of lemon zest to make a rub that adds plenty of extra oomph to our favourite roast.

Tip

On the side
Roast pork is a rich, juicy meat that is a great match with mustardy celeriac remoulade. Mix together a cupful of mayo, a few tbsp Dijon mustard, a squeeze of lemon juice and some salt and pepper and use it to dress coarsely grated celeriac. You can make it ahead and keep it in the fridge for a few hours before serving on the side of the pork, along with roast spuds and your favourite green veg.

Tip

Good gravy
While your chicken is roasting, pop the giblets in a pan with 1 carrot, 1 onion and 1 celery stick, all roughly chopped. Add a bay leaf, a few peppercorns and 600ml water, cover and bring to the boil. Once it's boiling, reduce the heat and simmer for at least 45 mins - this makes a great stock you can use to make gravy. Strain the stock, discarding the giblets and veg. Once the chicken is resting on a board, place the tin on the hob on a low heat and add 1 tbsp butter. Once it's melted, stir in 2 tbsp flour and cook for 2 mins. Slowly whisk in the stock till it's smoothly combined. Simmer for 5-10 mins, taste and season, then serve with your roast chicken.