Spanish Tortilla with Tomato & Pepper Salad
Prep: 10 mins
Cook: 50 mins
What do you get when you cross an omelette with fried potatoes? It's a trick question. The answer could be a Spanish Tortilla or food heaven, either one.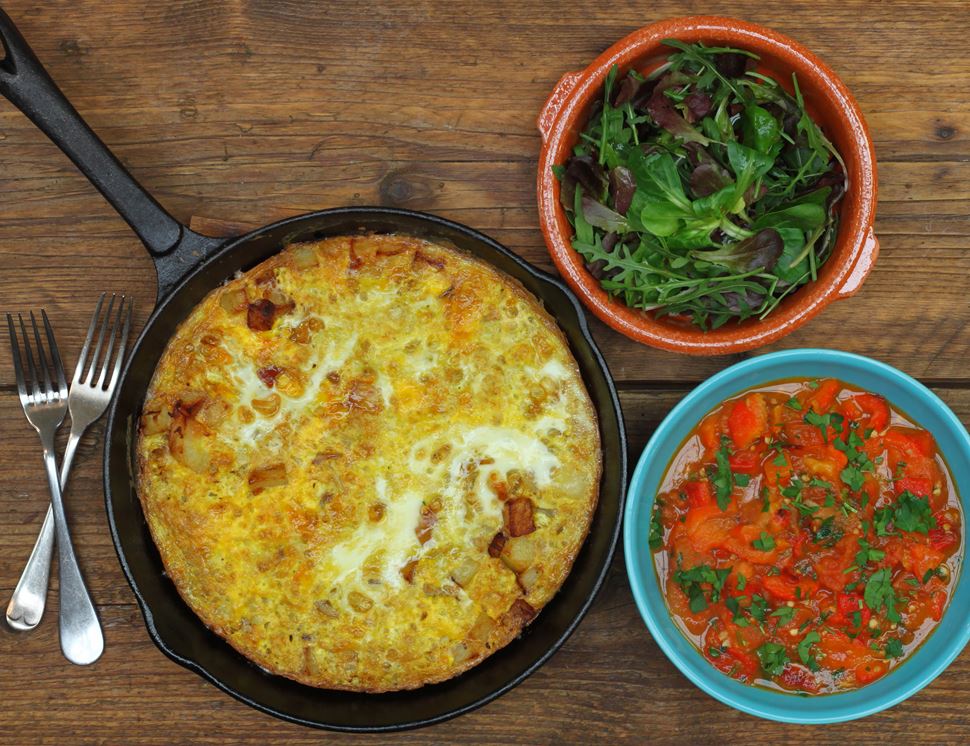 Ingredients you'll need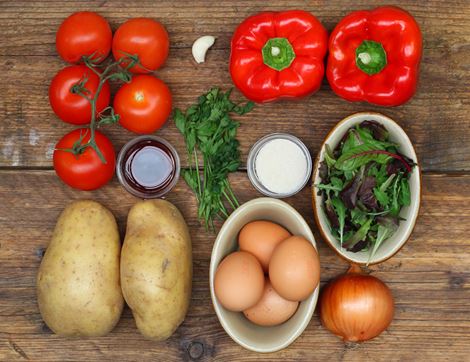 A punnet of vine tomatoes
2 red peppers
2 potatoes
1 onion
1 garlic clove
A handful of flat leaf parsley
1 tsp caster sugar
5 eggs
1 tbsp red wine vinegar
A punnet of baby leaf salad
From your kitchen
150ml olive oil
Sea salt
Freshly ground pepper
You'll need
Foil
Small frying pan
Colander or sieve
Pan with a lid
A couple of bowls
Kitchen paper
Step by step this way
1.

Heat the grill to high. Rinse and halve the tomatoes. Rinse the peppers. Pop them both on a grill pan lined with foil. Grill for 15-20 mins. Turn them every so often till they're charred all over. The tomatoes may cook faster then the peppers.

2.

While the veg are grilling, rinse and dice the potatoes into 1/2 cm sized chunks. Finely chop the onion. Warm 150ml olive oil in a small frying pan over a very low heat. Add the potatoes and onion. Cover. Cook for about 30 mins.

3.

Pull the skins off the tomatoes and discard. Roughly chop them. Peel the skins off the peppers and discard. Roughly chop them, throwing away the seeds. Peel and finely slice the garlic. Rinse and finely chop the parsley leaves.

4.

When the potatoes are soft, drain them into a colander or sieve set over a bowl to catch the oil. Spread out on a plate lined with kitchen paper to dry them off.

5.

Warm ½ tbsp of the oil from the potatoes in a pan. Add the garlic. Fry for 1 min. Add the peppers and tomatoes with 1 tsp of the sugar. Taste and season as needed. Stir in the parsley. Warm through and put to one side.

6.

Beat the eggs together. Add the potatoes and onion. Add a good pinch of salt and pepper. Stir. Warm 1 tbsp of the oil from the potatoes in the frying pan. Pour in the potato mixture.

7.

Cook the tortilla over a low heat for 4-5 mins. Shake and swirl the pan every so often so it doesn't stick. When the bottom is set, pop under the grill for 3-5 mins till it's golden and just set.

8.

Measure out 1 tbsp of the vinegar and whisk with 1 tbsp of the oil from the potatoes. Season. Use to dress the salad leaves. Serve with the tortilla and warm pepper and tomato salad.